Ninety one years on, the 'boys' of Rashtriya Swayamsevak Sangh (RSS) have finally outgrown their trousers. With the sale of brown pants instead of khaki trousers being launched at the organisation's headquarters in Nagpur, there won't be chubby thighs and hairy legs on show anymore.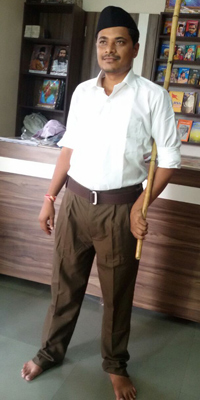 The decision to replace khaki half-pants with brown pants was taken at a three-day annual conclave of the Akhil Bharatiya Pratinidhi Sabha, RSS's highest decision-making body, in Nagaur in Rajasthan. Grey, and even black pants were considered. In fact, when fashion designer Suket Dhir was consulted on the new uniform, he, too suggested grey, but the Sangh settled for brown. Dhir's father has been associated with the RSS for many years, and he had attended a few shakhas as a boy.
Colourful T-shirts and white canvas shoes were also discussed, but these suggestions found few takers. The RSS hopes the change might encourage the youth to join the Sangh.
Priced at Rs 250, the new uniform will include the old favourites—black cap, white shirt, canvas belt and black shoes. There have been minor changes over the years, with the only constant being the khaki socks! The Sangh will formally adopt the new uniform at its annual Vijayadashmi programme on October 11. Here's the look at the changes in the 'ganvesh' over 91 years:
1925: The khaki cap, khaki shirt and khaki trousers were adopted as the first uniform. It was similar to that of the Congress Seva Dal, which was founded in 1924 and had khaki cap and shirt and black knee-length trousers.
1926: The stick (lathi) was introduced.
1930: Black cap replaced the khaki one.
1940: Khaki shirt made way for the white one.
1962: Long boots and brown leather belt were introduced.
1973: Regular shoes of lighter shade and khaki socks came in.
2011: Jain muni Tarun Sagar's remark that the use of a leather belt was "not so related to non-violence", led it to be replaced by a canvas one.
(With inputs from Vijaya Pushkarna)