"The first thing they said was: 'it is a masculine job' and I'm not cut out for it."
Driving on the busy and traffic-chocked roads of Bengaluru is not easy. It takes a strong mind to deal with the equally frustrated fellow commuters who are stuck on jammed roads and at punishment lights (read traffic lights) for hours.
There have been several road rage incidents in the past involving staff of Bangalore Metropolitan Transport Corporation (BMTC), courtesy stress. However, Prema Ramappa Nadapatti, BMTC's first and only woman bus driver, seems to have mastered the technique of keeping stress and rage at bay while steering the wheels of the heavy vehicle.
Prema, who drives on Majestic-Jayanagar route, besides debunking the fact that women cannot be good drivers, has established that women drivers can cope with the stress and deliver better results than men, provided they are willing.
Prema is popular among the commuters. With her grit and determination to break into a 'male bastion' and succeed in it, she has, over the years, successfully managed to make a name for herself and win the respect of her colleagues and passengers. "Everyone was sceptical and they behaved in a very predictable way when I first decided to become a bus driver. The first thing they said was: 'it is a masculine job' and I'm not cut out for it," says Prema.
"It actually motivated me to work hard and prove them all wrong, which I hope I did. However, the first week on the job was very hard as I had to endure heavy body pain."
Prema comes from Bhairnaddi village of Karnataka's Belgaum district. The death of her husband in 2005 turned her life upside down; the responsibility of bringing up their son fell entirely on her shoulders.
During trying times, it was her mother, Gangamma, who stood by her and persuaded Prema to breathe life into her passion: driving.
Gangamma continues to support Prema by taking care of her 12-year-old son in her absence.
"My mother encouraged me to go ahead and apply for the driver's job," says Prema. "She knew I was interested in driving, and I had also secured a driving licence. When she suggested this, it occurred to me that while we have hundreds of women staff working in the BMTC, we don't have a single woman driver." She quit her job as nurse, which is typically a 'woman's work', to step into the male bastion. As a result, she is not just good at her job, but has also become a 'poster woman' in the battle against stereotyping women.
"At this job I also saw an opportunity to make a difference by breaking stereotypes," she says.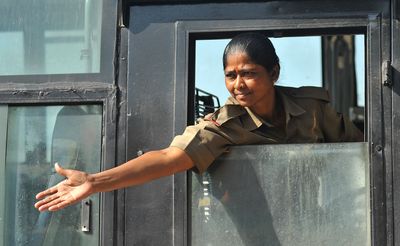 She believes that she is better than her male colleagues in terms of handling passengers, following all the safety procedures and traffic rules. She was appreciated and rewarded for her work ethic and dedication when she reported for duty while BMTC drivers went on a day-long strike in 2012.
Ever since she started work in 2010 after a week of training, she says she has enjoyed every single ride, which allows her to meet new people every day and some of them have also become her friends.
"When people see my bus pulling into the stand, people on my route, even though they have already boarded another bus, get off that one and hop on to mine," she says. "Some regular passengers on my route also bring me chocolates, flowers and gifts."
It has been nearly six years since Prema broke the glass ceiling. Today, she continues to hold the distinctive title of 'the first and only woman bus driver' in BMTC. During every recruitment cycle, the BMTC invites applications to fill the 38.3 per cent job reservation for women in the organisation. BMTC has over 2,500 women, 1,700 of them are conductors and one, driver.