Bandhavgarh National Park is a lonely place for the city-bred. After the tourist season draws to a close, all one can hear are the screeches of the birds and the roars of tigers. For art connoisseur Neelam Verma, however, it is her home.

She was born and brought up in Ahmedabad, but decided to shift to Tala in Bandhavgarh in Madhya Pradesh. One of the popular national parks in India, Bandhavgarh was declared a national park in 1968. The four main zones of the national park are Tala, Magadhi, Khitauli and Panpatta. Tala is the richest zone in terms of biodiversity—mainly tigers.

Neelam's move might not have been overnight, but it was swift and brave. She was looking after a travel agency in Ahmedabad. When she got bored with it, she decided to help out a friend and came to Tala to take care of his resort in 2007. She stayed there for four months and it was in Tala, she found her true calling.

Initially, she thought she would hire a place and sell tea and coffee to the tourists who woke up early to queue up before the forest gates to go in to catch a glimpse of the big cat. There would be another lot in the afternoon and she thought that would be one way of starting off some business. Meanwhile, she had also thought of renting rooms to tourists. And then she found the place, from where she has not moved for the past eight years, though she has renovated it to make it look like a friendly cottage, with cow bells at the gate and so on. Her 'home' is near one of the gates leading into the forest.
Even as she was scouting around for a place, she would meet many people since there was only one STD booth where they would gather to make a call, have tea and to chat with each other. Here, she met an international photographer who was there for more than a month and who told her that the need of the day was a meeting point, where people could get together, grab a bite and, maybe, also buy souvenirs.
Keeping it in mind, she returned to Ahmedabad to buy a few knick-knacks and returned to Tala in July 2008. By October, she had started her shop, which she decided to call Malaya. Tourists would visit her shop and buy souvenirs, which made her realise that the photographer's words were true. She realised that Tala needed a shop with handicrafts and probably a cozy nook where they could sip on a coffee and eat something.
"Basically, I love to drive and so, from 2009, I started travelling across the country for three months when the park is closed," says Neelam. Now that she is experienced and much travelled, she knows where to look for when she wants something for the shop. Earlier—and sometimes, even now—she used to refer to the book Handmade in India: Crafts of India, an encyclopaedia on Indian handicrafts. While there are no addresses in the book, they have names of some villages and some districts. The rest is for Neelam to find out.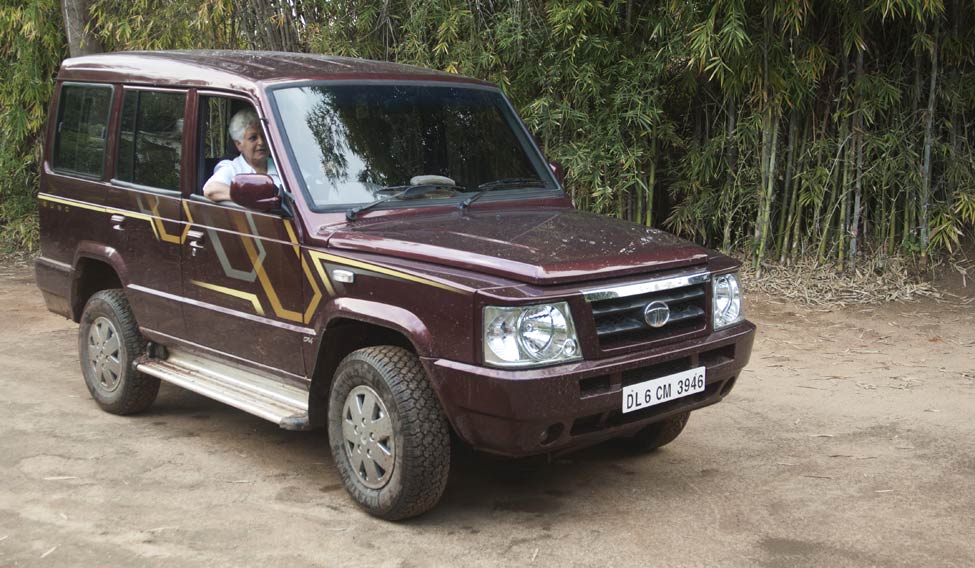 Malaya is, now, literally a one stop shop, with handicrafts from different parts of the country, hand-picked by Neelam. The keen Gujarati sense for business helps, for she can judge what kind of items people would like and she picks more of that. No sleazy and cheap items, though, for the shop. She buys expensive stuff and people are ready to buy it. In fact, because of her good rapport with all the shop owners and artisans, Neelam has to only call up or write them a note and it gets couriered. Instead of travelling to the place it is made, she picks it up from Umaria, about 60km from Tala. Her handicrafts comprise little toys to large spears, from bamboo tiffin carriers to bell metal bells, from traditional textiles to brass vessels.

During the tourist season, Neelam is busy throughout the day, with orders for breakfast and afternoon tea, and so on. "I make super coffee and cake, which people love. In fact, there was this 12-year-old boy who, after having a cold coffee, said, 'that was delicious'. My breakfasts are sumptuous and people enjoy the meal and go back with a satisfied smile on their faces," says Neelam. She tries a few Indian treats with the foreigners and they are always a hit. "My guest book is full of compliments, because people find this place comfortable," she adds.

Neelam is full of pep and, of course, information. So, when a visitor comes and is curious about an object, he or she will get the history and geography of the same. Many appreciate it and some, tempted by the detailing, end up buying it.

She has been living here long enough for her to be recognised and Neelam says, "I don't think I will move from here, having invested so much in this shop and house. I have a great rapport with the people here and have built an identity here. Lonely Planet has written about Malaya and Western Union approached me. The only chance of my moving would be if there is some extraordinary attraction." But, she is not averse to being a supplier for a larger shop or even keeping a little piece of Malaya in another resort.

Her relation with the villagers extends beyond friendship. She helped three of them get plastic surgeries done at Amarkantak-based Kalyan Ashram where plastic and rehabilitative surgeries are done once every year. She has also employed physically-challenged people, of which one works at her shop.

She never gets lonesome and, when free, does crossword or watches TV. "Sometimes, I do nothing at all and I am comfortable," she says. She has settled down and when the urge comes, she gets into her Tata Sumo and drives around for days on end. "I love driving and have had no bad experiences. People are very nice and they get very enamoured of me when I tell them that I drive alone for days," she says.

"Only in the latest trip I had some misgivings," says Neelam. She was crossing Andhra Pradesh to enter Chhattisgarh and because it was late she had to stay at Etturnagaram, once a naxal-infested village. This one-horse town had a so-called hotel. "I carry my own bedsheet and pillows but it is the unclean toilets and the Indian toilets that defeat me," she says. She was out of Etturnagaram soon but was stranded on a road with a puncture and no humanity around. "I felt like it was the end of the world. It was discomfiting. I was not scared but I would have liked to see a living soul," she signs off.