Aamir Khan has made a reel hero of Mahavir Singh Phogat, a simple pehelwan from Haryana, with a golden dream. All those who have seen Dangal are impressed with Aamir and his acting. But what is the real Mahavir like?

I have had the chance to interact with Mahavir and his family when they were not celebrities—simple folk, themselves stunned by the success of their daughters Geeta and Babita at the 2010 Commonwealth Games in Delhi. I met them again when Mahavir's girls—daughter Babita and niece Vinesh—returned from the 2014 Commonwealth Games in Glasgow, bathed in glory.

Phogat was a reasonably well-off farmer who wrestled in dangals (wrestling competitions). "Doctors want their children to become doctors, engineers train their children to be engineers. I am a pehelwan, I could only teach my girls this art," he told me. Phogat was not the first pehelwan in Haryana to train his daughter in kushti, but he has certainly trained more girls than any other father (four daughters and two nieces).

In 2010, when we first went to interview Geeta and Babita, we did not know that Phogat was running an academy of sorts for his girls. But when he told us about the younger girls—Sangeeta, Vinesh—we requested him to allow us to talk to them. Soon, a teenager clad in a collared T-shirt and track pants and sporting a crew cut came in and offered us sliced apples and milky tea. We requested him politely, "Can you please send your sisters?" Over the next hour, similarly dressed youngsters in various stages of their teenage years came into the room, politely attending to us. We kept asking the same question, "Where are your sisters?" to each newcomer. Finally, with five teenagers in the room, I decided not to wait for the "sisters'' and talk to these youngsters. "What's your name?'' I asked the one closest to me. "Priyanka," came the answer and I blinked. All of these, except the youngest, were girls! But their androgynous looks had misled us. That was when I realised that my story was not Geeta and Babita, it was Mahavir himself.

All these girls were champions already. Each had brought in a haul of medals from various competitions in the juniors, nationals and other categories and competitions. "How many medals have you won," I asked them. None knew the exact number and they asked their little brother to get the medals. He grimaced and was away for long, When he returned, he was groaning under the weight of several kilos of metal. He had strung the medals from a lathi (stick) and had slung it over his shoulder, like a bangle vendor!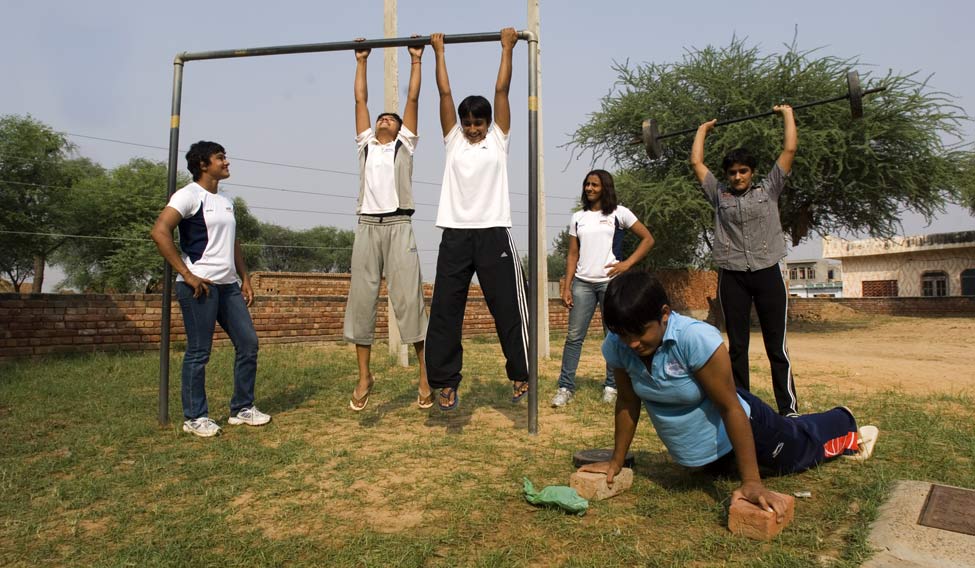 We were then treated to a sumptuous Haryanvi lunch—chapatis, bottle gourd, dal, white butter, thick curd and a glass of even thicker buttermilk. Dessert was more fruit, no rich sweets. "My girls feed off the produce of the land. We ensure they get fresh milk and vegetables," said Mahavir, who kept special buffaloes for his girls. "My girls cook the meals, too," chipped in Daya, the mother, keen to establish that she had not been a lax parent, either.

The early winter light was fading, so we decided to get a family picture outdoors. The girls came in a disciplined line behind Geeta and Babita, and arranged themselves around their parents. Their mother was the village sarpanch then (the post was reserved for women that year). Nearby, a group of village elders were passing the hookah and looking at the proceedings. Daya had her veil right down to her abdomen. We requested her to lift the veil. She refused. Phogat made some indistinguishable noises. Flouting convention for his daughters was one matter, for wife is an entirely different one. Finally, the elders put them out of their misery. "Bahu (daughter-in-law), we are turning our backs, go ahead and get the picture clicked," said one, and the men turned in unison. Daya quickly lifted her veil, we took our pictures and left.

Four years later, when I visited the family after the Glasgow Games, so much had changed, yet so much was unchanged. In 2010, Phogat had managed to acquire a second-hand training mat for his daughters—it was their most prized possession. Now, he had an air-conditioned gymnasium with a range of treadmills and weightlifting equipment. The prosperous household was now a rich one. The rooms had split air-conditioners, the bathroom had a washing machine and the box colour television was replaced by a massive flat screen mounted on the wall. Outside the gym, the elders smoked hookah in an air-conditioned ante room—no longer under a tree.

The Phogats had become famous, and extremely busy. Geeta was in need of a surgery, one sister was heading to a training camp while a third was returning from a camp. Daya was busy, coordinating arrivals and departures. Each daughter was a star, yet they were in awe of Papaji, whose rules were not meant to be broken and severe. His benign side was carefully hidden, but oozed out from the corners of his demeanour. He made Babita tackle him, for the camera, then patted her back, trying to hide his pride but in vain. He has strict rules about bringing up children and coaching. 'No sign of weakness' is a cardinal rule.

"I haven't set out to change the village or the society. All I have is a dream and I have daughters who will help me attain it," said Mahavir. Yes, the villagers who once booed him for chopping off his daughters' tresses and making them wear track pants instead of salwars now want him to train their daughters, too. "But they want instant success. That doesn't happen. These medals you see today weren't won overnight. They are the work of a lifetime." And though Mahavir is now drenched in glory, his dream remains unfulfilled. Each daughter is painfully aware of it. "Papaji wants the Olympic gold," they once said. The girls will leave no stone unturned to fulfil his biggest dream.