"We are looking for the next Gandhi. This could be anybody. There is a Gandhi in all of us and we have to keep a lookout. It is a slow process," says Birad Rajaram Yajnik, who, inspired by the 1982 film Gandhi, lives by Mohandas Karamchand Gandhi's words. "Be the change that you wish to see in the world."
"He [Gandhi] is there around us. It is necessary that we start recognising the Gandhi in all of us. There is no need to wear khadi and go vegetarian," he says. Birad decided to start a small museum at the Bapu Ghat at Langar Houz in Hyderabad. "But, I had to shut it down in three months because people thought there was nothing new about Gandhiji. They said everything was available on the internet. It was a challenge to me and I set about figuring out why should people come to Bapu Ghat."
He published a book MKG—Mahatma Gandhi—Imaging Peace, Truth & Ahisma. It was launched in London in 2010. Priced at 400 pounds, it is the most expensive book on Gandhi so far, though Birad prefers to call it "priceless". It started selling like hotcakes. Birad did not know what to do with the unexpected windfall. He reproduced the expensive coffee table book on Gandhi in the form of a student version. It was priced at Rs 1,100 and 20,000 copies were printed. "It was a give-away and we gave it free at museums. Now, the same version has been translated into Russian, French and Spanish," he says.
The entire project is self-funded. Every rupee earned is brought back to the museum. "Profit is an ugly word for people. What you do with the money you receive is important," says Birad, who is an author, curator and speaker. He has brought out books on Tirupathi, great Indian yoga masters, on ancient trade routes, and other coffee table books, which have been translated into nine international languages.
"I have an expertise in building communication platforms for Fortune 500 companies and am skilled in visual and interactive medium. The transfer of information is done faster through digital media as compared to any other form of media," says Birad, who understands the significance of digitising information and art. He runs a company called Visual Quest India. So, it was a happy marriage of his expertise in technology and writing to create the museum.
Between 2007 and 2010, when the book was launched, Birad travelled to London, Germany and the US, buying 'affordable' memorabilia. "I could not afford many other stuff," Birad says. He has a newspaper printed in 1930 in Cairo with Gandhi on the cover. It is about the Dandi March and the headline says 'God is truth'. He also has a comic book on Gandhi in Spanish from the 1950s.
"Once we started on the book it became part of my daily life," he says. Thanks to the book, Birad got a call from the then Gujarat chief minister Narendra Modi's office in late 2010. "He wanted just infotainment and in 7,000 square feet we created the first digital installation, which, he said, will be visited by 6,000 people. We wanted 60,000 and actually clocked 1,10,000 people," he says.
Birad had now found opportunity with Gandhi. So, he combined information with entertainment in the digital medium and built a wall of 40ft x 10ft in 2011 and showed a video film, stock footage of Dandi March and Quit India Movement. In fact, the voice-over for the film was by American broadcast journalist Walter Cronkite and Birad managed to buy the can of film at a mere $72. "The decade has gone like a flash with so many events," he says. "We have had 50 international events in the last four years, and 20 events in India. We have attended Vibrant Gujarat, Jaipur Literary Festival, Gandhi Smrithi and in Hyderabad, it is an everyday feature." He says, thoughtfully, "He is there with us but in our blind spot," and shows a currency note with Gandhi's face. "It needs to come to every city in India. It is digital and we can curate the experience and localise it."
He was invited to speak to the delegation at the Harvard Model UN India where he delivered an interactive talk on Gandhi in the 21st century. He brought in the 'Ahimsa Harley' for a change and now it is the mascot of peace around the world. The Black Harley Davidson or the Ahimsa Bike has a pride of place at the Bapu Ghat. What started as a gimmick to attract a group of students has now become an attractive proposal. "I told them about this group called Bikers Against Animal Cruelty (BAAC), which follows the Gandhian philosophy against animal cruelty." He then invited the 900 students to sign on the bike. Every time the cover is removed from the bike there is a collective 'ahh'!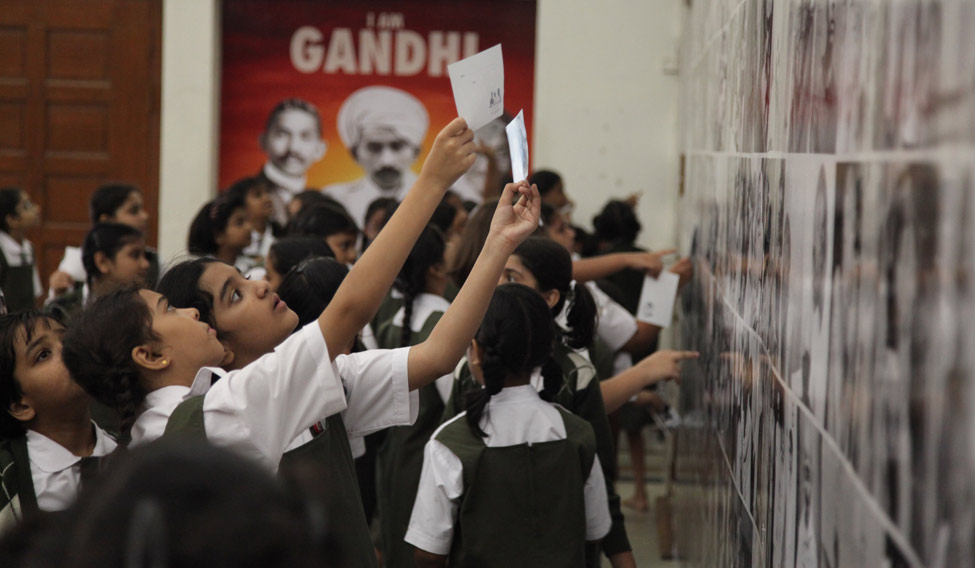 "Bapu Ghat was an empty space and we had two functions there, one on October 2 and another on January 30. Then, I thought, why not use the place and make the installation permanent. We did it and no one came." Well, that was then.
In order to draw younger crowds, Birad decided to involve schoolchildren. Thus, 'a classroom a day' programme was started. And since Birad believes that no child should learn on an empty stomach, the children are served lunch, provided by Akshaya Patra caterers.
"It was magical when the girls from Nasr Girls School came. I asked them who will pay for the lunch and they collected some white paper and crayons and they created their own money. They delivered 8.2 crore to me that day. It is all the power of mind," says Birad. When he asked the same of a group of 50-year-olds, they gave him only Rs 50,000 in fake notes!
There are framed pictures of Gandhi, Kasturba and others in the dining hall. Every single steel plate has a quote by Gandhi etched on it.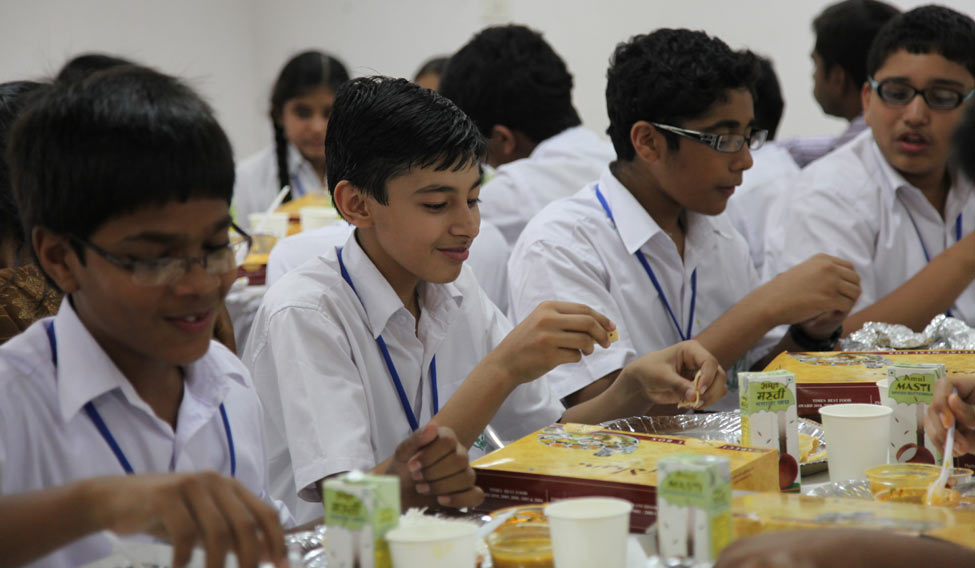 Birad's first digital installation was an art installation at the Nelson Mandela Foundation in Johannesburg in South Africa in July 2014, after which he curated Mandela Gandhi digital exhibition in Cape Town in August and another in Pretoria. Birad now has interactive installations in three continents, including The King Gandhi Wall at Howard University in Washington, D.C., The Mandela Gandhi Digital Exhibition at Constitution Hill and The Mandela Gandhi wall at the Nelson Mandela Foundation, Johannesburg.
At the behest of the Prince of Thailand, there was an installation in Bangkok. The latest was in Belgrade. And, of course, the largest engagement wall in the world on Gandhi is at the Peace Truth Ahimsa Museum in Hyderabad, where you are greeted with a 78ft x 10ft wall as you enter the museum. The wall is adorned with over 400 images of Gandhi, with interactive displays like exhibits with QR codes that will throw up a video or message by Gandhi. There are index cards, too, with questions that need to be matched with the relevant answers on the wall. The museum has user-friendly technology such as touch screens and audio guides to interact with graphics and visual media on display.
Large video walls and multiple interactive systems take you into the past in real-time rendering of Gandhi's speeches. You can experience unique information on Bapu that is relevant even to this day and age. Did you know Gandhi climbed Eiffel tower three times? Did you know he read the Gita for the first time in his life with two Englishmen, when he was in London? Such interesting facts about the Father of the Nation are some of the many attractions at Peace Ahimsa Truth, the first-of-its-kind digital interactive museum at Bapu Ghat.
"The wall is an engagement tool. The images on the wall teach you more about Gandhi. It allows you to play games on it, attempt a quiz, find the right image based on an index card, etc," says Birad.
The synergy of technology and the values of Gandhi took him over six years to build. Today, the museum is more of a knowledge hub. Over sessions of five hours, the museum engages the individuals through interactive tools, apart from displaying memorabilia about Gandhi. Birad informs that the new version of interaction will use robotics.
Innovation is the keyword for Birad to sustain interest. When he spoke at the Harvard Model UN 2014, he introduced the new concept of 'The World Citizen Passport', a tool that, he believes, can connect people across the world. As an experiment, he issued 1,300 of these passports at HMUN 2014 in a bid to kickstart this process.
The World Citizen Passport was announced at the Mandela-Gandhi Youth Summit in South Africa; the students attending the summit were handed over a personalised passport. The students were encouraged to carry this token and become ambassadors of peace. The passport is given only to those students who are involved and have qualities like integrity and perseverance. Students attend four-hour seminars made specifically for them, called 'I am Gandhi', while adults attend an advanced programme called 'Invoking Gandhi'.
The former targets one classroom at a time and encourages the students to spend a day at the museum. Right from taking a walk around to an interaction with Birad himself, students get to experience Gandhism.
The whole idea, says Birad, is to borrow from Gandhi's ideologies and adapt them in today's day and age. And the message seems to have reached, for sometimes, as a return gift, the children clean up the lawn for them.
Birad is fascinated that there is an opera called Satyagraha by Philip Glass running in New York. The three-hour opera in Sanskrit has had seven shows so far. Once, at the immigration, an officer complained to him, "You will be going tomorrow to the opera, right? There is no translation."
He has small films about Gandhi. For instance, US President Barack Obama was asked "Who would you want to have a meal with—dead or alive?" And Obama replies, "Mahatma Gandhi. It will be a small meal. He ate little."
Birad says a PR person can learn a lot from Gandhi—how he grabbed media attention, including international coverage, during the Dandi March. "Let us think of him every day. Unfortunately, nowadays we think of him only on October 2 and January 30," he laments.
He says the country needs a new charkha. "The charkha was first used in Persia in the 12th century and then in England in the 15th century. Gandhiji adopted it because it was the need then. The need of the hour now is sanitation, bathrooms and clean water. These should be our new charkhas," says Birad.