Mahaprasthanam is the first of the 40 crematoriums in Hyderabad to get a face life. Situated at thefag end of Jubilee Hills, Mahaprasthanam was a forgotten space used by the people from Shaikpet village. The Greater Hyderabad Municipal Corporation (GHMC) and Phoenix Foundation undertook the refurbishment of the crematorium under public-private partnership (PPP).
The revamped crematorium has bathrooms, lockers, electric pier, storage rooms, waiting rooms, flower-arrangement facilities and car parking space that can accommodate around 50 vehicles. It also has a small canteen.
The crematorium's landscaped walking area and a rock formation nearby adds to its stark beauty. Its three cremation centres, including an electrical one, can function simultaneously. It also offers mortuary van facility to bring the bodies to the crematorium.
The Mahaprasthanam crematorium operates a website that offers a platform for people to live-stream last rites of their loved ones to their other family members and friends. "This (live-streaming) is done on our website and those keen on watching the funeral are issued a online user ID and password to log in to the website. This way anyone can watch it from any part of the world," says SureshChukapalli, chairman of Phoenix Group.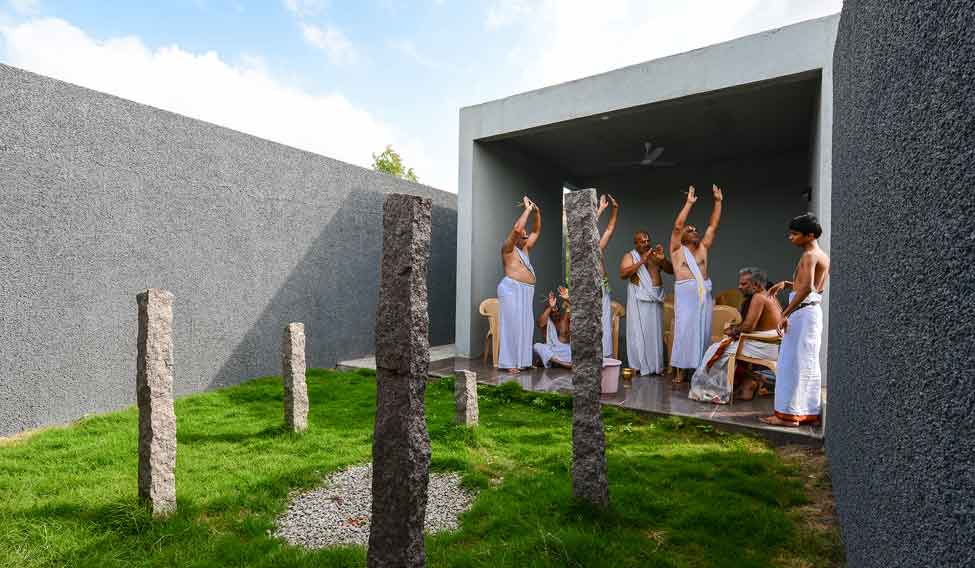 In 2007, Chukapalli's father's last rites were performed in Guntur. He remembers the crematorium as a pleasant place, with a lot of greenery, in a traditional sort of way. Such good condition of the crematorium was possible because some locals had got together and contributed towards the beautification and landscaping of the place. "About 3,000 people had come for my father's cremation and that place could accommodate all of them. Also, the surroundings and ambiance were such that it eased our pain," he says. This memory played a major role in his meeting with the then municipal commissioner Sameer Sharma, where he shared his thoughts on the revamping cremation grounds in Hyderabad. Sharma agreed to his plans and approved the project in 2012.
The road to refurbishment was not easy. "People from Shaikpet did not want to let go of this place. We had to resolve their issues before we could upgrade the existing crematorium," says Chukapalli. However, issues were sorted, designs were approved by the then municipal commissioner Somesh Kumar and the renovation works were carried out.
The crematorium stretches across 3.7 acres. It was revamped at a cost of Rs 3 crore. The modernised structure reopened for the public on March 30, 2015. Since then, 700 cremations have been performed on this ground. Almost, 60 per cent of graveyards and crematoriums in Greater Hyderabad have no compound walls, leading to unlawful encroachments. Almost none of the crematoriums have basic amenities such as storerooms, public toilets, bathrooms etc. In fact, most of these places have inadequate burning platforms.
"Crematorium grounds are usually used by the local mafia," says Chukapalli. The open spaces in these areas are rented out install hoardings, but the money is not used to improve the conditions and maintenance of these spaces. "The government has took notice of the situation and a movement has started," adds Chukapalli.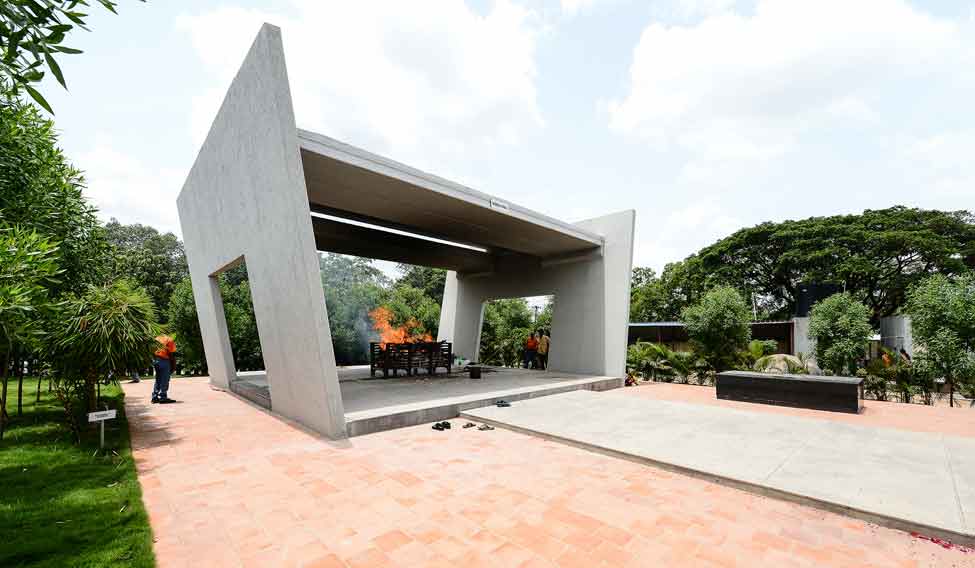 According to Chukapalli, Telangana chief minister, K. Chandrashekar Rao, wants a well-designed crematorium in his constituency, Gajwel, and MLA Harish Rao, besides the modern crematorium at Prasantnagar, wants one more in the Siddipet area. Already, a crematorium is being developed at Ramalakunta. The upcoming projects include the ones in in Gajwel and Khammam in Telangana and one in Visakhapatnam, Andhra Pradesh. The crematorium at Panjagutta, Hyderabad, will also be rebuilt.
"The municipal commissioner wants help with six crematoriums in the prime areas. We will be giving design concepts and advice the team on how to maintain these crematoriums," says Chukapalli. Thereare close to 40 crematoriums that need an urgent face lift.
Impressed with the work done at the Mahaprasthanam crematorium, Telangana district and joint collectors, mayors and zilla parishad chairmen visited the modernised graveyard. The stategovernment has asked the administration officials to take up such renovation activities in their respective districts.
"The trend has set in," says Chukapalli. "Maybe other states too might want to modernise their crematoriums," he adds.