He may not have burnt dishes in the kitchen. But 40-year-old celebrity Lebanese chef Ahmed Ammouri did burn his fingers by turning an entrepreneur and opening a restaurant in Lebanon some years ago.
Ammouri who minces the meat for his dishes does not mince his words.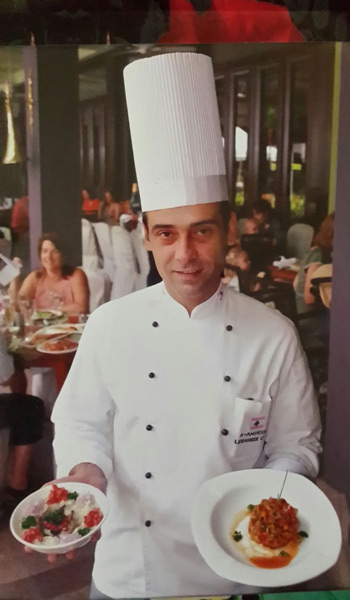 "To be a successful restaurant owner in Lebanon one should be strong enough to charge all, irrespective of friends or relatives. It was difficult for me to do that and I soon closed down the outlet," Ammouri said.
He is here hosting the Mezze Merise Lebanese food festival at the star hotel Raintree St Mary's Road in Alwarpet locality in Chennai between October 2 and 18.
Ammouri started his career at the Syrian Club in Cyprus for which he was an opening team member after completing his baccalaureate.
He has also worked as the chef at the residence of Najib Azmi Mikati, a former prime minister of Lebanon.
Ammouri had also worked in India for eight years with the Taj group of hotels in Mumbai and Bengaluru as a speciality Lebanese master chef.
"One of the first things I did after landing here this time was to order a plate of chicken tikka and eat it. I had missed the dish for a long time. Though the dish is available in Indian restaurants in the Middle East, it is not as tasty as it is made here," Ammouri said, serving two traditional dishes.
The hummus was a mezze dip of boiled chickpeas, tahini and garlic and moutabel also a mezze dip of roasted aubergine, tahini and garlic.
Both are to be taken with pita bread.
"Some of the Lebanese dishes are not taken hot or even warm and hummus, moutabel and pita bread belong to that segment," Rakesh Sethi, general manager of the hotel, said.
Both the dishes tasted nice while the moutabel left a smoky flavour in the mouth.
They were followed by healthy rahab—roasted aubergine salad with walnuts, onions, tomatoes, garlic, peppers and cumin and tabouleh—burghul and parsley salad with lemon juice and onions.
Ammouri said he wanted to be a designer and choose the culinary line.
Queried as to why he did not opt to become a pastry chef where he can showcase his creativity rather than becoming the hot kitchen chef, he said: "Fifteen years back the prospects for a pastry chef was not great in Lebanon."
According to him, Lebanese dishes are also spicy; they are not hot like the Indian dishes.
He said lots of olive oil is used in Lebanese cuisine.
"At my place I have 253 olive trees and we sell olives," he added.
By this time, Lebanese lamb chops—lamb marinated with signature spice mix and grilled—arrived at the table. Even the lemon piece was grilled.
With a squeeze of lemon, the lamb chop tasted good.
"The marination is done with a mix of seven spices, ginger, onion and garlic juice," Ammouri said.
Ammouri, who also likes dosas and Hyderabadi biryani, said there is a craze among the Lebanese for Indian television serials.
"At night people sit before their TV and watch the Indian serials dubbed in Arabic," he said.
Meanwhile, the tasty samake harra—baked fillet of fish with coriander sauce—arrived on the table and soon vanished from the plate.
However, the jewel in the crown was the lip smacking sweet baklava, a baked dessert of phyllo and pistachio nut, scented with rose water and orange blossom.
One can be excused for having more than two pieces of the tasty dish and the taste would linger in the mouth for a considerable time.