Jonathan Hollander, president and artistic director, Battery Dance Company and Dancing to Connect, is fascinated by the diversity of Indian dance and has been choreographing modern dance to Indian classical music. His latest production, Shakti, is currently touring India.
Excerpts from an interview:
You said you want to make dance more meaningful by connecting it to people. What do you mean by that?
Battery Dance has always concerned itself with the question: 'What can a dance company be in the world?' We continually discover new answers to that question. For example, today we shared skills with Bharatanatyam dancers at the Bickram Ghosh Music Centre, and with 80 contemporary dancers in the orbits of Tanusree Shankar and Sudarshan Chakravorty in Kolkata. Then we will perform for 1,200 people at Kala Mandir, and the next day we fly to Dhaka where, among other programmes, we will work with a transgender dance company. Through dance, we are able to transcend linguistic borders and find fellowship with people all over the world because of the universality and primal quality of dance.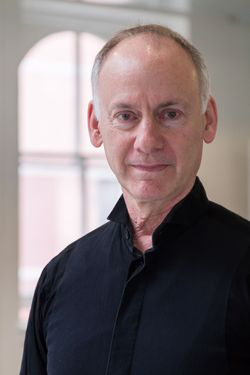 Your themes have dealt with marginalised people like immigrants and sex workers. You have got these people to perform on stage, too, like the survivors of human trafficking in Mumbai, during your outreach programme there.
We have not yet found a group of people, whether afflicted with HIV or stigmatised because of sexual preferences or disabilities, with whom we cannot elicit moments of joyful self-discovery through our Dancing to Connect programme which has, to date, reached over 50 countries.
You have had a 50-year-old association with India, ever since you came as an exchange student here. What has been your opinion of India, its people and art?
I cannot look at India and Indians with any distance whatsoever because I feel that I have been adopted by the country and vice versa. I have hundreds of friends scattered all over the subcontinent and am making new friends every day.
From the point of view of dance, I am frequently pointing out the uniqueness of India as a country with multiple and distinct classical dance styles. These days dance seems to be coming into its own, with young people of all economic brackets gravitating to one form of dance or another. The potential is tremendous, but there are barriers that need to be addressed: lack of proper infrastructure (most studios and theatres are not up to international standard); funding streams are not distributed equitably; individual philanthropy is not directed towards dance and the other arts and neither is corporate CSR. Why not? India gains in worldwide prestige because of the brilliance of its dancers and musicians. Shouldn't the country respond with resources to ensure that the talent pool is properly supported? And as a democracy, I would think that accessibility of all to arts training should be included in the national agenda.
You have collaborated with some of the great names in performing arts in India. Can you name some of them?
I have organised American tours for Jhaveri sisters who are Manipuri Dancers, C.V. Chandrasekhar and Mallika Sarabhai as well as the late Arjun Mishra, Sasidharan Nair, Vithal Pasumarthy and others. Mallika has danced in my Songs of Tagore; Rajan and Sajan Mishra have contributed their music for the current production, Shakti: A Return to the Source which was inspired by their rendition of Raag Durga. In the context of Battery Dance Festival and the Erasing Borders Festival of Indian Dance, I have introduced many great dancers to the New York audience including Shanmugham Sundaram, Rama Vaidyanathan, Avijit Das, Rakesh Sai Babu and Pallavi Krishnan, among many others.
Some of your productions have been informed by your connection to India. Can you elaborate on this?
I have created over 75 pieces of choreography and five have been directly related to India. Those five—Seen by a River, Moonbeam, Songs of Tagore, Layapriya and the newest work, Shakti—have been highly regarded and have propelled us on seven tours of India.
Please tell us about your latest project Shakti (or Durga)
Inspired by Raag Durga, the work is the product of a collaboration with Indian classical dancer Unnath Hassan Rathnaraju, who entered into an innovative process with our dancers in 2015. We approached this creation without any preconceived notions of what the results might be and attempted to shed formulaic approaches in order to allow unexpected discoveries to be made, and they were. Audience in the US, Sri Lanka and in the Indian cities where we have presented the work this month, have responded enthusiastically.
Is it about feminine energy, or about the religious icon?
We changed the name so as to lessen the chance that audiences would enter the theatre expecting to see depictions of the deity Durga. Because, honestly, the piece is abstract and intends to be open to individual interpretation. There are definitely references to female power and energy as personified by our three fabulous female dancers—Robin, Mira and Bethany—but the male presence is also there in force with Sean and Clement and Unnath.
Where is it touring in India? I know you have already had shows in Bengaluru and Kolkata.
We started in Mumbai on January 9th and will continue up until reaching the Delhi audience at Kamani Auditorium on January 31st. We have invitations to return in 2019 to perform in Chennai and Ahmedabad and would love to do so if we can find sponsors. This year we are lucky to have both the Indian and US governments supporting, as well as Air India, State Bank of India, and the Oberoi Bengaluru, JW Marriott Pune and many local host institutions. But next year will be tough.
Tell us about your Battery Dance Festival in New York. Have many Indian artistes participated in it?
We inaugurated our first festival 37 years ago, calling it the Downtown Dance Festival. Now renamed Battery Dance Festival, we enjoy one of the most beautiful sites in New York—overlooking the Hudson River and the Statue of Liberty, at Robert Wagner Park in Battery Park City. We have presented Indian dance almost every year since 1993 in a multiplicity of forms and by a roster of brilliant artists.