The AIADMK has always been a one-man party with MGR ruling it with a firm hand not allowing any voice of even the vaguest dissent. And that is why when SDS (as Somasundaram is popularly known) raised the issue of taking disciplinary action against those in the party who have 'amassed wealth in a short time,' the high command felt embarrassed and expressed anger. There were other issues in which Somasundaram differed with the party line; MGR's alliance with Mrs. Gandhi and the 'inadequate' response from the state and Central governments to the problems of Sri Lankan Tamils. Also, he openly criticised MGR's decision to introduce entrance tests for admissions into professional colleges on the ground that they might harm the interests of the backward classes. But it was corruption that he stressed the most.
Ironically, the chief minister himself had chosen a public function – the marriage of a party functionary – at Madras to complain that the party had become the breeding ground for the corrupt and liquor barons. MGR had at the time declared that he would cleanse the party of such elements and restore the 1972 spirit to it. "I chose to make public statements about complaints only after the CM himself spoke about the evils in the AIADMK in that marriage function," said SDS. "I spoke in public because I wanted to bring to the notice of the people who have voted the party to power what I have been telling the chief minister and the party general secretary P.U. Shanmugham in private and also on party platforms. I have only reflected the CM's own sentiments about corruption in the party," he added.
And while the propaganda secretary unleashed a tirade against the 'indisciplined' partyman, MGR relegated him to the charge of portfolios of lesser importance. In the reshuffle that took place about six months ago, SDS lost the excise portfolio and in another reshuffle last month he was again cut to size, having to give up revenue and take food instead.
Encouraged by MGR who, at the beginning of the tug of war with SDS, did not want to directly attack the minister, Jayalalitha allegedly issued instructions to her various district party units directing them to pass resolutions condemning SDS for his public statements and also to declare him persona non-grata for party functions in their respective areas. Jayalalitha however denied having issued any such instructions to the district units.
"She was lying," charged SDS. "She had directly spoken to the Tiruvelveli district secretary Karuppusami Pandian, MLA and was responsible for passing the resolution by that district unit not to invite me for party functions there. In the same way, she also spoke to the Dharmapuri district secretary K.R. Chinnaraj, MLA, but he did not oblige. He refused to pass a similar resolution. Can she deny all this?" SDS asked.
So the battle continued with SDS pointing an accusing finger at the party high command, and MGR fighting back through his ex-heroine. It became quite clear that SDS had decided to get out of the AIADMK and was attacking MGR in person in order to be expelled. People would surely sympathise with him, SDS thought, if he was thrown out of the AIADMK for asking for a clean and corruption-free administration.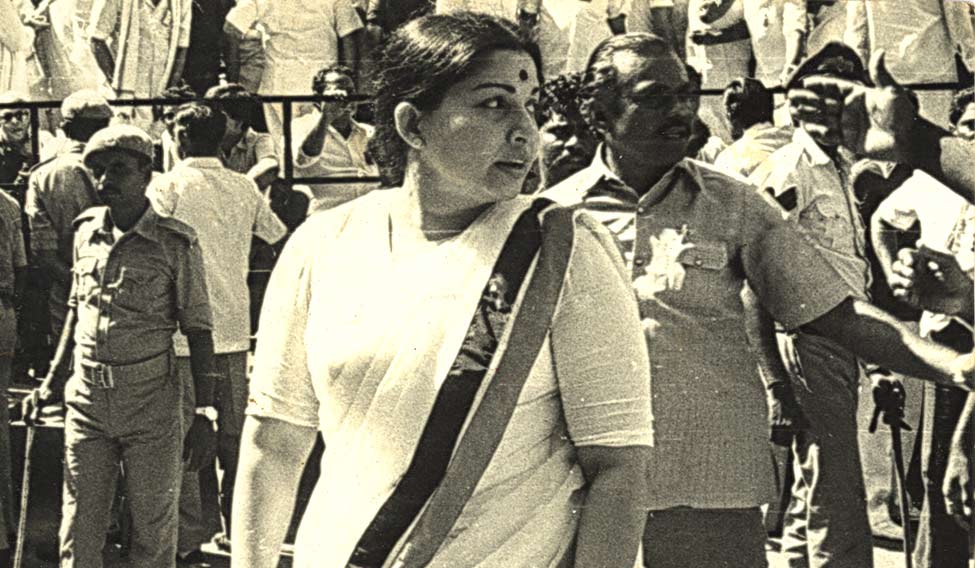 MGR saw through the game and was unwilling to oblige SDS. Credited with a temper that erupts at the slightest opposition to him, it came as a surprise to all when MGR swallowed all the charges that his cabinet colleague was making against the government, which in effect were accusations made indirectly against MGR himself. Yet MGR allowed SDS a very long rope and tried his best to pacify the minister.
At the peak of the Somasundaram controversy, when expectations ran high that either he would quit or be dismissed, MGR silenced his critics and speculators by convening cabinet meetings wherein he claimed, the issue was settled once and for all and that Somasundaram would no more make any controversial statements. The very next day, however, Somasundaram addressed a press conference at Trichy where he denied the CM's statement and asked how the problem could be considered as settled when so many issues that he had raised during the last several years remained unsolved.
"My fight is not against the chief minister or any particular individual, not even Jayalalitha. I am fighting only against corruption and other evil practices that have unfortunately polluted our party after 1980. Should I be penalized if I genuinely want to cleanse the party?" Somasundaram asked.
What was more, SDS repeatedly said he had no intentions of leaving the AIADMK and starting a new party. "I will not leave the AIADMK. My only aim is to cleanse the party and bring back the 1972 spirit, SDS said at one point.
During this period, SDS frequently spoke of the golden days of the late N.N. Annadurai, who he said, had dethroned the mighty Congress party by his progressive policies. And when SDS spoke of Anna and his good deeds, he insulated himself from criticism that he was attacking MGR. Who can complain when an AIADMK minister speaks highly of the supreme mentor for all party men?
But the lady did not like it at all. She saw in this an attempt by SDS to indirectly denigrate MGR. She complained that SDS was praising only Anna in his public meetings and did not speak highly of the Puratchi Thalaivar (revolutionary leader) MGR. "That showed he did not consider MGR as his leader. There is no place for anyone who did not believe firmly that MGR is his leader," Jayalalitha declared.
Pro-Jayalalitha factions in the party then started exerting pressure on MGR to take action against SDS and MGR called for a meeting of the party legislators and other leaders at his Sathya Studios on August 10 and 11. Somasundaram abstained from the second days' session on the ground that he wanted to give his critics freedom to express themselves against him, if they chose to.
There were heated exchanges at the meeting between the various groups. The MGR fans association president Musiriputhan was criticized by some for having attacked Somasundaram and Ponnaiyan in his paper, Mandram Murasu. Kanyakumari's Muthukrishnan is said to have criticized Minister M. Veerappan.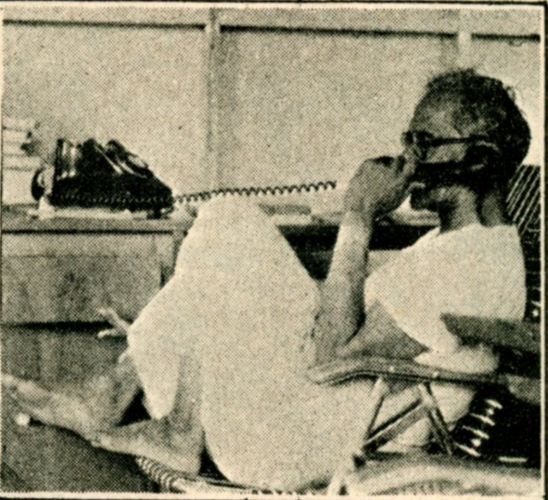 MGR himself had come armed with a fantastic method to test his ministers' popularity with the legislators. He distributed 'ballot' papers and asked his MLAs to indicate their rating of each minister by placing a 'tick' or a 'cross' against their names listed out in the paper. He collected them all and went away. It is said that contrary to his hope, Somasundaram did not fare poorly in this 'opinion poll' but that someone close to him got the poorest rating.
Later SDS told a press conference that many MLAs, such as R.K. Perumal, had told him that they were pressured to bring in a resolution condemning SDS. The resolution, however, was not moved.
"Ministership is but a temporary advantage and it may vanish at any time." SDS quoted Anna, and went on unperturbed with his campaign against Jayalalitha and the party high command. But he was getting restless at the tolerance of the chief minister, for he wanted to launch his party before Anna's birthday on September 15.
Meanwhile, MGR called a cabinet meeting and obtained resignation letters from all the 22 (at the time) ministers, though it was obvious that his target was going to be only SDS. MGR had decided to sack his old friend and was waiting for an opportune moment to do so.
In fact, it was not just with MGR and Jayalalitha that SDS was having a running battle. He was having problems with another minister, R.M. Veerappan as well, especially over the issue of exemption of temple lands from the purview of tenancy laws. RMV was minister in charge of temples while SDS held the revenue portfolio at the time. This controversy led to other verbal duels between the two over other issues and no doubt was a factor in MGR's final decision to sack SDS as Veerappan is considered MGR's alter-ego in the ministry.
At the cabinet meeting where MGR had taken his ministers' resignation letters, MGR had also formed a high-level ministerial committee to go into complaints for corruption against ministers and MLAs, including oppositior members. He offered a seat on the committee to SDS but the latter said he was not interested and agreed to MGR's suggestion that his place could be given to minister Kalimuthu.
Though he had agreed to the chief minister's proposal for the constitution of the committee, SDS later saw in it a move to harass him and his followers. "What is the guarantee that this committee will not work against me only?" he asked at a press conference soon after. He said the chief minister himself knew who had amassed wealth and he had all the facilities to check on the information he got about his ministers and MLAs. Instead of taking appropriate action against such persons, the state CID was checking up properties of ordinary workers, SDS alleged.
SDS named three of his supporters as having been subjected to harassment by the CID-Mohideen Maraikkar, Thanjavur district party secretary, Thangamuthu of Thiruvonam and Alagu Thirunavarasu, a former student leader in the AIADMK.
The final decision to expel SDS was made at a meeting of the party executive on September 1. The executive in a resolution moved by Madras district secretary Jeppiyar, MLC, asked the chief minister MGR to dismiss SDS from the cabinet and expel him from the party. The resolution also accused SDS of indulging in 'large-scale' corruption by misusing his position as minister of revenue, excise and commercial taxes. Interestingly, Jayalalitha was not present at either of these two meetings. She had in fact, left town a few days before.
The executive committee's resolution was, as expected, adopted by the general council which met that afternoon and also the next day. However, there was drama till the very end. First, party general secretary P.U. Shanmugham had announced on September 1 that SDS had been expelled from the party. But hours later, MGR told newsmen it had not been yet. The reason was that MGR had not yet met the Governor and recommended his being dropped from the cabinet. If SDS was first expelled from the party, a strange situation would have arisen where a non-party man remained a cabinet minister.