At 33, she has already produced notable films in Bollywood like Masaan, Gangs of Wasseypur and The Lunchbox. For her upcoming film, co-produced by Anurag Kashyap and edgily titled Haraamkhor, she received hate mail from the self-proclaimed moral police. But that didn't deter Guneet Monga—one of the few women producers in Bollywood who is keenly supporting independent cinema—from going ahead with the film. She recently won a case against the censor board to get a U/A certificate for the film, which stars Nawazuddin Siddiqui and is set in a small village in Gujarat. She spoke to THE WEEK about her journey so far and her latest venture. Excerpts:

Tell us about your journey as a film producer in Bollywood?

I graduated in mass communication from a Delhi college and started interning with my best friend's mother who used to handle production. I tried my hand at odd jobs prior to that but once I experienced working on a film set, I knew this is what I wanted to keep doing. After being involved with some international films that were shot in India, I independently produced by first film, Say Salaam India, a children's cricket film which didn't work out as it released when India had just lost the 2007 World Cup.

Soon after, I partnered with Anurag Kashyap and produced films like That Girl in Yellow Boots, Shaitan, Gangs of Wasseypur and Shahid. For the past few years, I have been producing films under my own banner, Sikhya Entertainment, to continue telling stories that are not restricted to an Indian audience, like The Lunchbox and Masaan.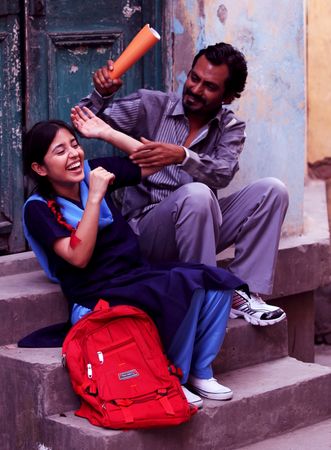 How different is it for a woman film producer?

While it is true that women are not always adequately represented in Bollywood, personally, I have not experienced issues based on gender from the time I was doing international films in Delhi. I have had people say I was too young—so that was discrimination based on age—but not so much for being a woman. Times are also changing and we are seeing more women get into production (including leading female stars). So, things should only get better.

Tell us about your upcoming film Haraamkhor that won the case against the censor board? What is the film about?

Haraamkhor has had its own journey. We raised money for it through crowdfunding on Facebook. There were individuals who believed in the film who helped. It has been made on a tight budget. Since the subject deals with a sensitive issue, the Central Board of Film Certification felt it was too strong for the Indian audience. It is a story of a married professor who has an affair with one of his students but Shlok (director), despite it being his first feature film, has narrated the story in a humorous style without trying to sensationalise it. As a result, the audience at Mumbai Academy of Moving Image and in other international festivals, came out of the hall laughing and crying. We are grateful to the Film Certification Appellate Tribunal for giving us a go-ahead with a U/A certificate.

Do you plan to tackle edgier subjects in the future?

It's not that we choose to make subjects that are edgy. Ultimately, it's about the director and the story he or she wants to tackle and whether we can buy into that vision. All other aspects like commercial viability, marketing, come in after that. So, the intention is to never pro-actively choose edgier or provocative subjects, but if they happen to be stories that we like, then that's just a coincidence.