Honestly, for me, there were absolutely no challenges at all, no male, female issues to deal with, whatsoever. In fact, back in 1981, when I started, there were hardly any guys (bartenders) at all and also they looked at it mostly as "Hotel Management" of which F&B was a part," Shatabhi Basu said. Basu is India's first female bartender. She was interested in cooking and had wanted to be a Chinese Chef. She started with food and after spending a year in the kitchen, was pushed into F&B. "I spent a lot of time teaching myself things about mixing drinks because all my knowledge was merely theoretical from my college days. I was very interested in creating things all the time and this came closest to being a Chinese Chef and creating different, intricate flavors," Basu recalls.
Basu had full support from her near ones. She has fond memories of how they helped her learn. "My family and friends were very supportive always and considering it was the pre-Internet era they would send me books, magazines, write ups and even clippings of articles on food and drinks from around the world. In fact, my family and friends were also the guinea pigs for all my trials and they would taste every mad drink that I prepared and give me their honest feedback."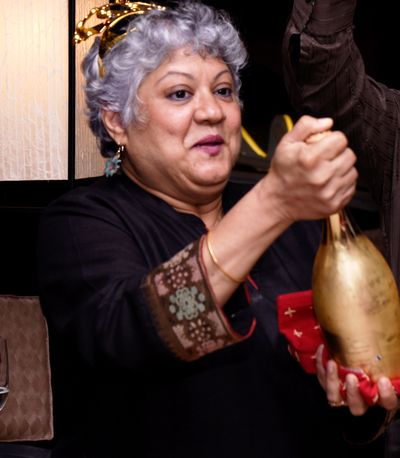 Basu says that meeting experts and other people from the world of F&B was one way she managed to learn a lot. She says that this is the profession which has made her who she is today. "This profession has taught me so much and has made me the kind of person I am."
By the time she became good at bar tending, she was already a Manager, who was also testing and training men on their bartending skills. And so, she says, most of the men were quick to realise that it would work better for them if they befriended her, she adds in jest, "As they could bunk work and go and meet their girlfriends."
This worked to Basu's advantage. Being barely 5'2'', her colleagues were better than bouncers when it came to protecting her. "If they notice somebody who they felt would pose a threat to me at the bar, they would suggest we go out for a walk, despite my vehement protests of 'I can handle this! Later when they feel it is safe, we would return."
"Women also loved me. They found it very refreshing to see a woman behind the bar. They would walk up to me and ask me 'What will you make for me?'", Basu said.
Basu creates a drink that suits the customer. "For me, its all about what the person is thinking, finding their palette and creating a drink that suits their palette." A big part of Basu's job also involves creating non-alcoholic cocktails for people who don't drink alcohol and preparing a range of good-looking drinks for them.
When Basu takes bar tending classes, she tells youngsters that they're not just going to be learning about alcohol but also history, geography and science. "I mean they learn so much when they read about Prohibition, for instance, maybe they will just go on to remember historical events better this way and also get a sense of geography. Also, I tell them that bar tending is all about atoms and molecules and suspensions and solutions, so, its about time that the young people also learn about science and things such as the colour wheel for instance. It is vital that they know their primary colors from their secondary colours because at the end of the day the drink has to be good looking too," she says.
Basu feels that there is a myth about women behind bars not being respected. "I have never, in all my years behind the bar, faced a situation where I've felt uncomfortable," Basu says. "I guess a lot depends on your own professionalism."
But she has a word of warning for those who aim for the job. "A lot of women get into this profession for the glamour, to be popular and get attention. But what they forget is that respect comes from knowledge. Also, a great deal depends on your body language, which must be professional and you must of course have dignity in the way you work. A lot of young women, somewhere down the line, lose the idea of being a professional," says Basu.