When you think of cycling in the open, the image that comes to the mind is of your hair being ruffled in the wind, but the reality is entirely different. Says Jasmeet Singh Gandhi, who is leading a team of 12 cyclists from Mumbai to Hyderabad on a 1,000-km Umeed Cyclothon—all for a cause.

Ten days into their journey, they have faced all kinds of weather. While it was searingly hot even as they left Panvel on December 9, chilling rain welcomed them when they reached Lonavala. Jasmeet is a 'cyclothon' veteran, but several other cyclists accompanying him were first timers, who came along to lend a helping hand to the cause—girl child education.

"I lead an active life," says the man, who has completed a hat-trick of cyclothons now. "But, nothing prepares you for the road and nature," says a humble Jasmeet. More than once they had to abandon the highway. The dirt tracks were treacherous, he says, some slick with rain and some with loose soil and ditches.

Jasmeet embarked on his first solo cyclothon in 2014 from Mumbai to Bengaluru for the NGO Iksha Foundation, a public charitable trust which focuses on retinoblastoma (a rare malignant tumour of the retina, affecting young children). It took him eight days and he raised Rs 25 lakh for the foundation.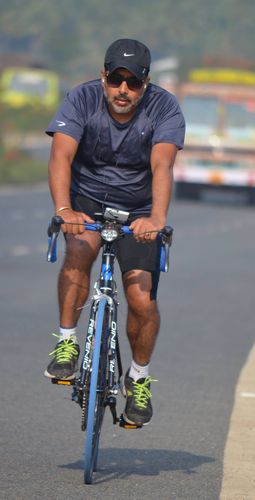 The second trip—from Mumbai to Delhi—was in 2015 and he was joined by three others. It was for IIMPACT, which was established by the alumni of IIM Ahmedabad to educate girl children who had dropped out of school. Jasmeet and the team raised Rs 1.4 crore. Today, IIMPACT educates 38,000 girl children in 1,000 villages across 10 states in the country.

Jasmeet recently quit Microsoft. Before hitting the pedal, he was a runner but a knee surgery forced him to turn to cycling, as per his doctor's advice.

"I also think it is a nice way to see the country," says Jasmeet. "There are miles and miles of road to cover and there is no escape from the elements and the long hours of solitude."

He says a cyclist has to dig deep into his reserves to find inner strength. "And when you are with a group, there is a strong element of bonding, exchange of notes, discussions on our weaknesses and strengths," says Jasmeet. He feels such interactions are good relationship builders.

In the cyclothon to Hyderabad, he is joined by 12 RBL Bank employees, as the event is sponsored by the bank. The beneficiary will be Udbhav School, for poor children, which is run by IIMA Alumni Association, Hyderabad. The cyclothon has, so far, collected Rs 81 lakh and Rs 60,000 for the school. A further Rs 20 lakh is expected from another source.

The route was chalked by the bank. The team visited far-flung villages to raise awareness about girl children education "since the government alone cannot reach the last person", Jasmeet says.

An experienced cyclist, Jasmeet says there are days when a cyclist can feel low. But, not in case of the Umeed cyclothon, as the team was welcomed at several points. "The affection shown by strangers and their enthusiasm encouraged all of us," he says. While they were welcomed with traditional aartis and hats at Pune, at Zaheerabad in Telangana, they were flagged off by the Mahindra & Mahindra tractor team. Then, they went to a village where they were welcomed by 800 cheering schoolchildren who showered flower petals on them.

At Vikarabad, about 100km from Hyderabad, they were felicitated by the police chief, which was followed by a dance session in a remote village of Yerravally, where the team danced forgetting their pains. Here, the team donated 35 cycles to girls, to facilitate their travel to the nearby high school.

"Smaller things in life don't matter any more since we are strengthened by our experiences during the cyclothons," says Jasmeet.