Je est un autre. 'I is someone else'. Singer-songwriter Bob Dylan, in his biography Chronicles Volume One, reminisces about the time that he came across this famous phrase by poet Arthur Rimbaud. "When I read those words, the bells went off. I wished someone would have mentioned it to me earlier. It went right up along with Johnson's dark night of the soul and Woody's hopped-up union meeting sermons," he wrote.

Rimbaud's devilish, multi-layered reference to the variant inner self—the pathological desire to free oneself of any definition or imposed identity—would later turn out to be the simplest four-word description for the roller-coaster ride that was the life of the legendary folk singer. In a career that spanned half a century and counting, the taciturn troubadour alienated his audience, sneered at his critics and remained a divisive figure, right until the day he became the surprise choice (and a highly polarising one at that) for the 2016 Nobel Prize in Literature.

Born Robert Allen Zimmerman, he started performing folk and country under the name Bob Dylan (the origin of the name is still hotly debated. While some say that the name was a hat-tip to poet Dylan Thomas, others claim that he named himself after a character in a popular TV show or even that he named himself after a drunken uncle). He signed his first contract with Columbia records in 1961. (By his own admission in his biography, there was no lawyer present and "he would have signed any piece of paper they handed down to him".) With his 1963 release of the Freewheelin' Bob Dylan (songs like Blowing in the Wind and A Hard Rain's A-Gonna Fall), the lean, dishevelled young man with his gravelly voice (or as someone famously remarked, 'like a dog with its leg caught in a barbed fence') was catapulted into stardom as the voice of the 1960s counterculture movement.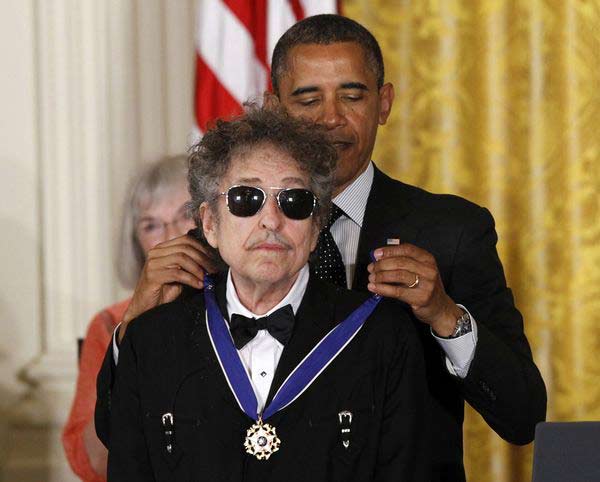 His later songs like Times They Are A-Changing became the anthem for civil rights protest movements. He was associated with leading artistes of the protest genre like Joan Baez (with whom he was romantically involved for a brief period). The following years would witness a radical shift from his topical protest anthems (like Hattie Carroll) to a more abstract, introspective lyrics, clearly enunciated in his 1964 record Another Side of Bob Dylan. Songs in that record were widely acknowledged as proof that he had cut off all ties with the counterculture movement. Sample this deliciously divergent refrain from the song My Back Pages, which activist Mike Marqusee dubbed as one of the "most lyrical expressions of political apostasy ever penned".

Equality, I spoke the word, as if a wedding vow
But I was so much older then, I'm younger than that now.

In those words lay hidden hints of a deeper, more personal rebellion. "An examination of his work up until this point reveals a very talented songwriter, but the limitations of topical material became the impetus for Dylan to break out of the mold others cast for him. The irony was that, by writing songs concerned with the freedom of others, he had lost much of his own, at least artistically speaking," notes J. Taylor and C. Israelson in their book, The Political World of Bob Dylan: Freedom and Justice, Power and Sin. Strikingly, he would claim in an interview for the Playboy magazine that he had stopped either composing or singing anything that has either a reason to be written or a motive to be sung.

His most significant political statement, though, was yet to come. In 1965 Newport festival, he went electric for the first time in his life (Up until Another Side of Bob Dylan, he had accompanied himself on guitar and harmonica, as was the folk tradition)—the subsequent 'folk rock' set elicited loud boos from an enraged audience and almost drowned out his voice. (Folk purists would later label him as a sell-out). Exactly one year before the debacle, in the 1964 Newport festival, Dylan was introduced to the audience by Ronnie Gilbert of The Weavers. "I don't have to tell you. You know him, he is yours." An agitated Dylan would later write about the event in Chronicles Volume One: "What a crazy thing to say. As far as I knew, I didn't belong to anybody, then or now. "

"The type of music Bob Dylan was making, suggested an artiste replacing the confinement of serious political songwriting with the new personal type of freedom advocated by so many others of his time. When the public brought into 'Dylan the protest singer' and began to demand a prescribed image, he understood the artistic limitations that accompanied these expectations," wrote Taylor and Israelson. His later albums (and some of his most popular ones) like Bringing It All Back Home in 1965 (with songs like Mr Tambourine Man) and Highway 61 revisited (which contained his masterpiece Like a Rolling Stone) and Blonde on Blonde in 1966 all abandoned the topical protest genre in favour of his new artistic path of abstract lyrical panorama (commonly described as 'impressionist'). One of the few major exceptions were songs like Hurricane (written in defence of Rubin Hurricane Carter, a Canadian boxer , who he believed to be wrongly convicted of murder). In 1979, he declared himself a born-again Christian. He was inducted into the Rock and Roll Hall of Fame in 1989 and won a Grammy in 1994. He received the 2012 Presidential Medal of Freedom from Barack Obama.

Given his surly demeanour and his intensely private life, Dylan remained an inaccessible figure, save a few interviews that appeared in print and television over the years. Dylan's quirky (stoned?) exchanges with hapless reporters—on many occasions, he spoke with the coherence and clarity of a surrealist painter who overdosed on acid—only added to the thick cloud of inscrutability that surrounded him.

Critic Louis Menand wrote in The New Yorker: "He enhanced his folk persona by spreading make-believe accounts of his past: he told people (including reporters) that he was brought up in Gallup, New Mexico; that he had travelled through South Dakota, Kansas, Texas, Mexico, and other places, some of which he had never set foot in; that he had run away from home many times; that he had worked on and off for six years in a carnival. It wasn't until Newsweek ran a nasty story on him, in 1963, that the truth began to come out—that he was a bar-mitzvah boy named Robert Zimmerman from a middle-class family in Hibbing, Minnesota, the birthplace of Roger Maris."

You that hide behind walls
You that hide behind desks
I just want you to know
I can see through your masks.
(Masters of War, from the album Freewheelin' Bob Dylan)

Irony, thy name is now a Nobel prize laureate.