It is a universally acknowledged fact that a film, once completed, must be in need of a distributor. Distribution has always remained the big ugly elephant in the room for film studios. It was in June in 2017 that producer-director A. L. Vijay, having completed his film Vanamagan, was on the lookout for the same in Kerala.
Vijay wanted to give this Jayaram Ravi-starrer maximum exposure. However, Eid festivities were in full swing and quite a few releases were expected to jostle for screen space. On his ability, Ravi had been able to command a maximum of 60 screens in the region. Little did Vijay know that he would get a call from Manju Krishnan, the CMO of a still-formative entity called Bid Cinema. Its CEO Jeevan Eyyal had initiated the start-up with an aim to provide a digital platform to smoothen distribution logistics of completed films. Thus, with Vanamagan, Bid Cinema successfully laid claim to be known as India's first film bidding portal.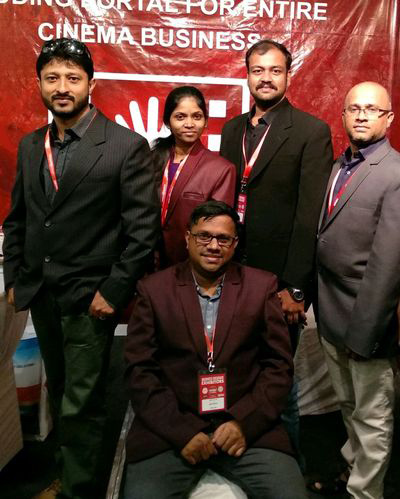 It did help that Eyyal was pally with Padma Shri Sunder Menon, a producer-distributor who has so far produced one and distributed three films. Vanamagam obtained a 30-35 per cent increment in fees than the expected median and Ravi ended up beaming from an unprecedented 106 screens.On his experience with the portal, Menon said: "It was a wonderful experience. They were very systematic and professional. Their way of dealing and behaviour was commendable."
Such trading will soon become a norm rather than an exception, if Eyyal is to be believed. He has created a transparent digital transparent platform to ease the process of securing distributors and satellite TV rights for films across India.
The operatives are very simple. A producer or director has to log on to the portal and feed in the required data and mention preferences. After stringent identity verification, this data will be automatically circulated to all registered distributors and channel officials. "But the amount of the bid will be for all to see except of course for the identity of the bidder. It will only be revealed once the bidding process has concluded," said chief technology officer Santhosh Thomas. Producers can accept the bid that works the best for them and once a deal is zeroed upon, Bid Cinema will foot the entire bill of bringing in the successful bidder to meet the producer.
His own share of lessons learnt prompted Eyyal to come up with this venture. "Having been an ad filmmaker since 2006, I formally entered the feature film market in 2012 when I distributed the Anil Kapoor-Kangana Ranaut starrer Teez. I had to burn my fingers to get the correct price and faced unwanted touts. By 2013-14 I owned a film theatre, Remya Kottayi at Palakkad, Kerala and began to learn more about the business side of films. I even distributed a Taiwanese film, Black & White: The Dawn of Justice, just to know the status of importing foreign films, knowing fully-well it will a loss endeavour," explained Eyyal in one long breath.
Another one of their key motives will be a shot in the arm for regional cinema—they plan to forgo commission for transacting distribution of films in languages like Tulu, Rajasthani, Chattisgarhi, Punjabi, Assamese and such. Registered users can also avail a five-day free location scouting opportunity in Cambodia. Regional language films are low budget and generally 'low tech', so they don't get mass audience. Hence distributors don't 'block' their money by investing their time and wealth in these films. If regional filmmakers sell through a mediator they have to pay a commission to the broker and many a times films get blocked from being distributed because of that.
Not having to part with a commission will encourage distributors to be adventurous with taking chances on regional cinema as well. Also, by seeking distributors through the portal, filmmakers get to meet a wider resource-base, without having to move anywhere or face unwanted middlemen and a chance to get themselves unanticipated offers. Distributors and channels also can get a measure of regional content at their disposal and may devise specific programmes to bite a bunch of them for exhibition, thereby helping the cause of regional cinema.
Maverick director Ram Gopal Verma had ventured into a democratic distributional experiment via filmauction.in, while releasing his 2014 Telugu film Anukshanam, where 330 enthusiasts had responded. Could that incident have been an inspiration? "Honestly I only came to know of it in a recent film carnival where we took up a stall. But then it was just a gimmick and for one film but we are here with a serious agenda," said Eyyal.
He further said: "One can make an overall savings of 30 to 35 percentage securing distribution and or satellite-rights through our portal. Producers can take their regional films to more profitable regional territories, or country-wide without any networking hassles."
Smooth and professional service is one aspect that all customers vouchsafe. Be it Mohan or producer Dileep Kumar and Sarath of Sopanam Entertainments both of whom sold the TV rights of their dubbed film, Achayans and Kashmora, respectively, via the portal.
So far, Bid Cinema has done about Rs 5 cr business without much publicity. Now Eyyal and his team have tied up with Khans Media City to accelerate their growth. They now will be pushing for direct tie-ups for TV satellite rights across India.
They soon plan to launch film-distribution online charting software which can be activated world-wide. "India is a large market and if the business is transparent, everyone can do proper business and the growth can only go upwards", said Eyyal.
With a digital broom in hand, Bid Cinema seems set to cleanse and lend clarity to one of the murkiest of all industries.