It is difficult to trace the witnesses after lapse of so many years. The original video cassettes are to be screened in the open court in presence of the witnesses who recorded it. The evidence is to be brought in court records. Tracing the witnesses and requesting them to come to court is a big task
Babri Masjid was demolished on December 6, 1992. Ram Janmabhoomi-Babri Masjid structure was disputed as Hindus believed that Lord Ram was born in the middle dome and that there was a temple in its place, which was destroyed by Mirbaki, commander of Babur in 1528 AD. At the front gate, he placed a shila lekh, in which it was inscribed in Persian language that, on the orders of his master, he has constructed a place for the descent of angels. Muslims, on the other hand, believe that it was their place of worship since 1528. This disputed structure was under litigation in various courts, especially since 1949.
According to the police station and court, on December 21-22 night, a Muslim constable on duty told the inspector, who was a Hindu, that he saw a light coming from heaven and landing inside the middle dome. When he ran there, he saw the idol of Lord Ram. The inspector abused him, saying he was drunk, and rushed to that place, when he saw a number of people performing aarti and prayers. Next morning there was trouble, and the place came into possession of the administration. Litigation started. The site was locked; puja and namaaz were allowed from the outside. In 1986, one civil court in Faizabad allowed Hindus to perform puja inside and the gate was opened. But the litigation continued. I investigated this demolition case.
A place of worship, which was in dispute, was destroyed in 1992. A case was registered in the police station against lakhs of kar sevaks, name and addresses not known, on charges of demolition and dacoity. Another case was registered at the same police station against eight leaders from BJP and other outfits, for shouting provocative slogans, encouraging kar sevaks who were demolishing the structure. During the process of demolition, media persons were beaten up by the kar sevaks; on such complaints by 47 media persons, 47 separate FIRs were registered.
Thus, in total, 49 FIRs on the same incident in the complex were registered. The Central Bureau of Investigation (CBI) took up investigation of the first and main case on December 13, 1992. Subsequently, the remaining 48 cases were transferred to the CBI, and accordingly we re-registered them on August 27, 1993. It was a challenging case. When we reached Ayodhya, there was nothing but a makeshift temple and rubble all around. I, along with Inspector Jogendra Nayak and Inspector Hari Singh, contacted large number of police personnel, members of the Muslim community, and examined video footage by various TV channels. In 1990, two years before demolition, some damage was caused to the structure by kar sevaks. There was an attempt to construct the Ram temple at the same place.
Investigation disclosed that there was a single general conspiracy to destroy the disputed structure and construct the Ram temple at that place itself without bothering to waitfor court orders. The momentum was generated by Lal Krishna Advani's rath yathra in October 1990. He was detained on the way. But the steam generated by the rath yatra resulted in kar sevaks storming the structure and causing damage; in the police firing, deaths were reported.
A mandir can be built by demolishing the structure only. In the process many things happened and many leaders made provocative speeches. Bajrang Dal, VHP, Shiv Sena, BJP—all trained kar sevaks for the purpose. A decision was taken by the margdarshak mandal in the meeting held in Ujjain in May 1992: Kar seva should be done. Just like Babur did not fix a date for demolition of the temple and construction of a masjid at that place, they will not give a date for demolition of the masjid and construction of Ram temple.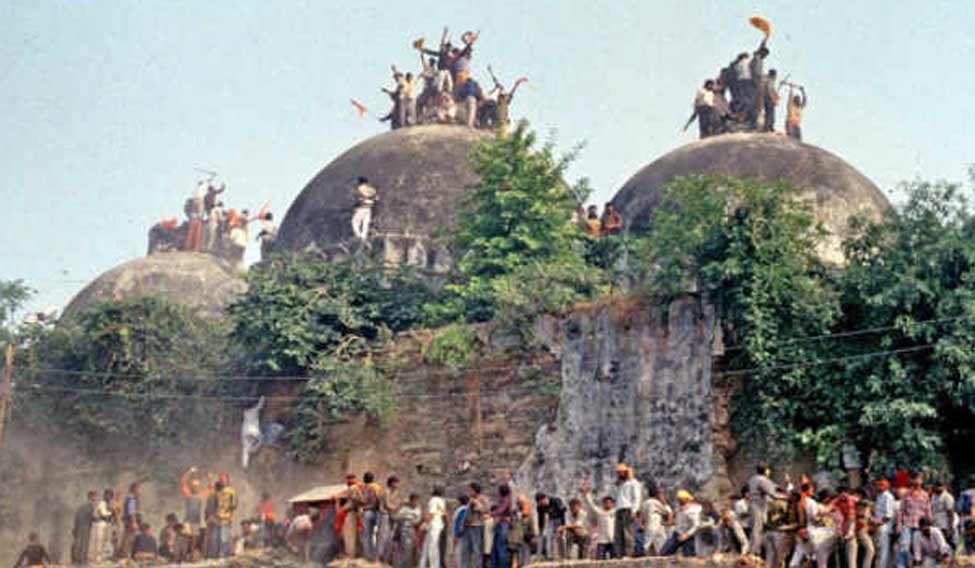 In the meeting of margadarshak mandal held in Delhi by the end of October, 1992, it was decided that kar seva will begin, for construction of Ram temple on December 6. In the meeting of Shiv Sena held at New Delhi on October 30 and November 1, 1992, it was decided that the structure at Ayodhya will be demolished on December 6, and Shiv Sena will do a different kar seva.
Bajrang Dal chief/convenor said that a special squad has been formed and kept at 25km range to do the job, and they will move secretly. VHP leaders made different speeches and implements were purchased. A VHP leader told a TV channel that they have selected 800 kar sevaks and trained them for demolition. Shiv Sena leaders visited Ayodhya on 28 November, and said that the structure will be demolished on December 6. There were many such statements by leaders. Advani started his Yatra to Ayodhya from Varanasi and Joshi from Mathura. On the way, they made many statements and mobilised huge gatherings.
On December 6, leaders were seated on the manch nearby and made provocative speeches and raised slogans like Ek dhakka aur do Babri Masjid tor do, Khoon kharaba hona hai tho ek bar hone do, Tel lagao Dabur ka naam mitao Babar ka, Ram naam sathya hai Babri Masjid dwasth hai; some leaders, when informed that the kar sevaks were falling from the dome and getting injured, asked them to get down, warning that the dome will fall on them. Kar sevaks were told that security forces were coming, who would fire on them. They were asked to block all roads so that the forces are not able to come to the complex.
Nobody told them to spare the domes. The Shiv Sena chief said after the incident that he was proud of sainiks who demolished the structure; if he was the prime minister, he would have done it long back. Shiv Sena leaders admitted that it was demolished at their insistence; sainiks admitted having trained, stormed and demolished the structure. The BJP MP said they performed the demolition, along with Shiv Sena. There were many statements by many VHP and Bajrang Dal leaders.
It was a challenging job to collect evidence. About 10 lakh people were present at Ayodhya and Faizabad. Whoever present there was a kar sevak. They did not want to speak. Those injured kar sevaks in the hospital in Ayodhya and Faizabad were angry with us, when asked questions, and threatened us. Witnesses were the media persons—both print media and electronic media—and the police officers, but they were busy in their work. Few gave the facts. Shiv Sena activists were not happy with our taking up the case. Since December 2, karsevaks were identifying Muslim houses and writing threatening slogans on the walls.
But the local Muslim community knew what was going on in Ayodhya—the demolition of mazaars, masjids and kabars. The kar sevaks, being provoked by such speeches and slogans from the manch, stormed the structure and started demolishing it. Some gangs of kar sevaks rushed to Muslim colonies and assaulted them, burning their houses, shops and masjids. With all the above mentioned evidence, after thorough legal scrutiny and legal opinion, we filed a chargesheet against 40 people for charges as varied as criminal conspiracy and hurting religious sentiments. On further investigation, chargesheets were filed against nine more people and thus against 49 people in total. 22 were charged for dacoity also.
Many people died in riots all over the country, which followed the demolition. Now, after 25 years, witnesses have lost interest in the case, some have become incapable of giving evidence, many have changed their affiliation—political or otherwise—and some, under threat, turned hostile. It is difficult to trace the witnesses after lapse of so many years. The original video cassettes are to be screened in the open court in presence of the witnesses who recorded it. The evidence is to be brought in court records. Tracing the witnesses and requesting them to come to court is a big task. The trial will take time. We do not have a Witness Protection Act in India. Further, seeing the governments in power in Uttar Pradesh and the Centre, response of witnesses is negative. 
The author is a former CBI joint director and investigating officer in the Babri Masjid demolition case