"The watch companies resisted going really big for a long time."
It started out as a series of hushed murmurs throughout the bustling halls of the SIHH watch salon in Geneva last January, and continued during the Baselworld show in March―like repetitions of an implausible rumour or an urban legend, such as the sighting of a UFO or Bigfoot. But by the end of both shows, when the photos surfaced and the first-hand stories were being told over dinners and between meetings, there could be no doubt of their veracity: Yes, that was Arnold Schwarzenegger―former Mr Olympia, movie star, recent California governor―striding the halls of the world's biggest watch fairs, dropping in on some of his favourite brands, chatting with star-struck guests, and even posing for photos with a few watch-brand CEOs. After a period of self-imposed media exile in the wake of the scandals that threatened to derail both his career and marriage, one of the world's most famous watch collectors was indeed back.
Celebrity aside, Schwarzenegger's presence at last year's shows should not really have surprised most in-the-know watch aficionados; he is not only a longtime collector of fine timepieces but has been heavily involved, in the case of at least one brand, Audemars Piguet, in conceptualising and designing them as well. Following the release of the most recent of these Arnold-branded timepieces, WatchTime was offered the opportunity to sit down with the actor at his well-appointed private offices in Santa Monica to talk timepieces―one of the first such interviews to be granted after his term as California governor had ended.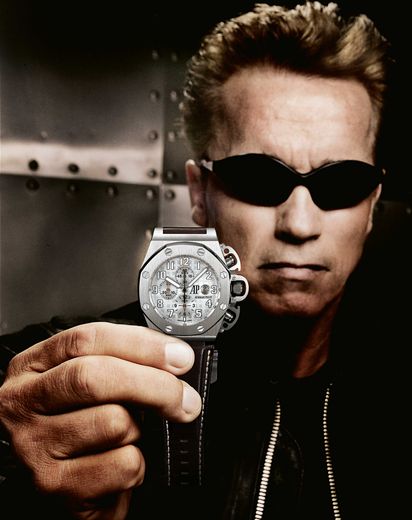 The reception area of Schwarzenegger's office is adorned with movie posters and life-size sculptures of characters from his films, including the Terminator, the Predator, Alien, and Mr Freeze from Batman and Robin (the front door also bears a huge representation of the Great Seal of the State of California). During a brief wait there, I was informed in no uncertain terms that the always overscheduled, perpetually busy former governor, working diligently on the resumption of his post-politics acting career as well as his charitable causes, could spare me only a few minutes of his time. However, such an enthusiastic watch aficionado is Schwarzenegger―and so eager to talk about his collection, his involvement with watch brands, and his general love of timepieces―that from the time I was ushered to his desk until the time we wrapped up, we had talked well past the allotted interval.
Still, certain shortcuts had to be taken. There was not enough time, for example, for an in-depth chat about Schwarzenegger's early years, which are well documented. Born Arnold Alois Schwarzenegger in the small Austrian village of Thal to the local police chief and his wife―parents of very modest means―he knew from an early age that he wanted bigger things in life, to leave his family's persistent money problems and his strict, distant father behind and become a success in America. An avid athlete since he was very young, he saw bodybuilding as the route to this success, and began weight training with barbells at age 14. It was around this time that Schwarzenegger recalls receiving his first watch, although not much about the watch itself. He remembers it only as a "traditional Swiss watch, not very high-end," given as a gift for his confirmation into the Roman Catholic faith, a tradition in his native Austria. "That's when you get your first watch," he says in the accented, oft-imitated voice, "because that's when you become an adult and are considered responsible enough not to lose it."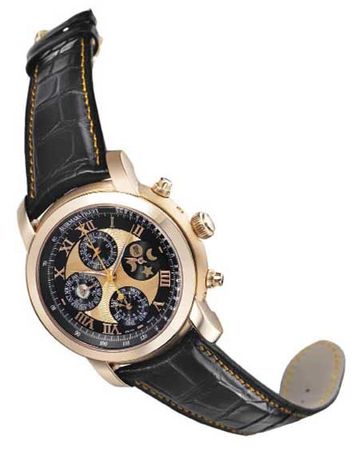 It would be a few years before the ambitious young man fully developed his taste for fine watches and the other luxurious pursuits that came with celebrity. At first, it was all about developing his body, following in the footsteps of the screen idols of his youth, like Steve "Hercules" Reeves and Johnny "Tarzan" Weissmuller. He won the Junior Mr Europe contest at age 18, during his mandatory year of service in the Austrian Army, and at age 20 became the youngest contestant to win the Mr Universe title, in 1967. He went on to win Mr Universe three times in the late 1960s and then, after finally fulfilling his dream of moving to the United States in 1968, captured the even more prestigious Mr Olympia title seven times (from 1970 to 1975, then again in 1980).
Having conquered the world of competitive bodybuilding, Schwarzenegger set his sights on his next goal: becoming a movie star. His first crack at it, 1970's Hercules in New York, in which he was credited as "Arnold Strong," might have been a bit discouraging. His heavily accented English was so incomprehensible that his dialogue had to be dubbed, and neither the film nor his performance in it set the world on fire. Schwarzenegger said that agents and casting directors had told him that his accent was funny, his body was "weird," and that his name was too long and foreign-sounding. Schwarzenegger persevered, however, and established himself as a box-office draw by revisiting the career that got him a foot in the entertainment-industry door, portraying himself in the successful 1977 docudrama Pumping Iron, which offered audiences a behind-the-scenes look at the world of competitive bodybuilding. On the heels of this came Schwarzenegger's breakthrough role, as the title character of the 1982 hit fantasy epic, Conan the Barbarian. Two years later, he established what has become perhaps his most famous role, as the emotionless killer cyborg in James Cameron's 1984 sci-fi thriller, The Terminator, a film that has, to date, spawned three sequels and established the title character's signature line―"I'll be back," delivered in Schwarzenegger's robotic style―as a pop-cultural touchstone.
Schwarzenegger's performance in The Terminator ushered in his reign atop the box office as an action-film star in the 1980s and early 1990s, with films that included Commando (1985), The Running Man (1987), Predator (1987), Total Recall (1990), True Lies (1994), and, of course, Terminator 2: Judgment Day, the highest-grossing film of 1991. During this time, he even successfully branched out into comedic roles, in movies like 1988's Twins and 1990's Kindergarten Cop.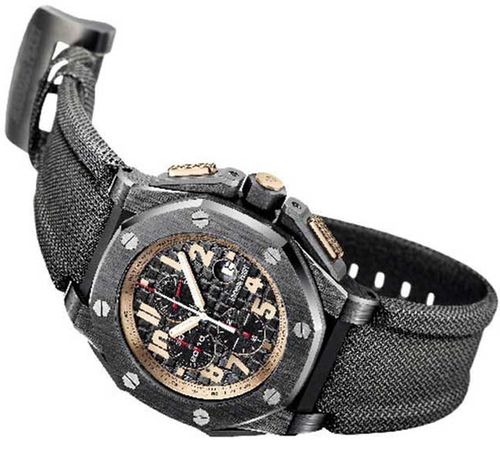 The proverbial American Dream was taking shape, step by step, for the immigrant from the small Austrian village. With the premiere of Pumping Iron, and the fame and success that it ushered in, he felt it was time to pursue another great American status symbol, even though, like many of his other accomplishments, he had to do it one rung at a time. "I've liked watches ever since I came to America, but in the beginning I didn't have the money to buy anything over $100," Schwarzenegger says. "It was always a dream of mine to have a gold Rolex. But I had to start out with a stainless-steel one, a beautiful watch with a brown dial. I still have that one at home. After that, I got a stainless-steel-and-gold version, and then I finally got an all-gold one."
As Schwarzenegger's movie acting résumé grew, so did his watch collection. In fact, the former had a direct influence on the latter. "What really got the collection going was doing movies," he says, "because when you do a movie, they bring you a selection of watches to wear. I started getting more interested in them and started collecting the watches I used in my movies. I reasoned that if a movie is a hit, then the watch I wear in the movie would be a hit, also." Perhaps because of the roles he played―and the simple fact that his wrists were the size of some starlets' waistlines―his interest was primarily in large watches, those used by divers, military commandos and such. The presence in his collection of numerous models from brands like Panerai, Breitling, U-Boat, Ritmo Mundo, and Invicta, in addition to the smaller but still-sporty Rolexes, is a testament to this preference. But there is no watch brand more associated with Arnold Schwarzenegger than Audemars Piguet.
The significance of Schwarzenegger's relationship with AP to the evolution of the luxury watch industry is not always acknowledged. But it can truly be said that the collaboration between the 137-year-old, traditional Swiss watch company and the opinionated Hollywood star changed the course of modern watch design.
It began with Schwarzenegger indulging one of his favourite pastimes: visiting factories and observing the manufacturing process. "I love to see how things are made," he says. "I love to go to jewellers to watch them cut diamonds or to watch Hummers being built at General Motors. I've been to a Mercedes plant to watch them make trucks, and to a leather factory in Texas where they make cowboy boots. I like to see people working, like in a cigar factory in Cuba, with 100 people hand-rolling cigars. Work, progress―even construction sites with cranes going up and down and cement being poured―I love it all. That includes the places where they cut the casings for watches and assemble all the delicate little [movement] components." In 1998, he toured Audemars Piguet's facility in Le Brassus, Switzerland, and expressed his admiration for its products and the watchmaking techniques that he saw there. The following year, Schwarzenegger decided that he wanted to use one of the brand's watches in his next movie―as long as the company would make some changes to it based on his design suggestions.
The watch that emerged from the discussions was the model now known to collectors as the Royal Oak Offshore End of Days Chronograph, named after the 1999 film in which it made its debut. Like most of the watches that AP created with Schwarzenegger, it had an exceedingly large case―44 mm in diameter―and was one of the first to feature the predominantly black colour scheme that is now found on various sports watches by numerous brands across the watch industry. Schwarzenegger also contributed design ideas for the watches used in his next movies, 2001's The Sixth Day and 2003's Terminator 3: Rise of the Machines. The Sixth Day edition used a different base model, a Jules Audemars Double X Chronograph. The Royal Oak Offshore T3 Chronograph remains the largest Offshore watch ever produced, at 52.5 mm in diameter. Soon, the release of a new Arnold Schwarzenegger limited-edition AP watch became an annual event, even during Schwarzenegger's governor-era hiatus from making movies, and each of them became a coveted collectible.
However, as difficult as it may be to believe these days, when generously proportioned watch cases are now the norm, some of Schwarzenegger's ideas were a hard sell, even to Audemars Piguet, the brand that had once rolled the dice on Gérald Genta's radical, octagonal-shaped sports watch, the Royal Oak. "I was involved in all the details of what the watches looked like," he says with pride. "The dials, the casebacks, the big, thick, industrial leather straps with heavy stitching. But there were major discussions, because they felt the watch was too big and no one would buy it. 'People don't have wrists as big as yours,' they told me. And then, when I asked them to make me a version of the Terminator watch in gold, they at first just said 'no.' They said, at 47 mm, a gold watch would be too heavy. It won't be comfortable. I said, 'Let me worry about the weight.'"
Audemars Piguet relented and made a one-off piece of the T3 Chronograph with a gold case. When AP representatives showed the watch at a trade show, they were surprised to find that Schwarzenegger's instincts were right. Just about everyone who saw it, regardless of his wrist size, wanted one of his own. AP called the actor and told him they'd like to release the piece as a limited edition. This established another longstanding tradition: With each limited-edition watch, Audemars Piguet would send Schwarzenegger a $1 million check for his design contribution and the use of his name, which Schwarzenegger would then donate to After-School All Stars, the charity he founded in 1992 that provides after-school programs for inner-city, middle-school students. During the run of this partnership, which lasted from 1998 through 2011, the charitable contributions raised from the sale of the limited-edition watches totalled more than $10 million.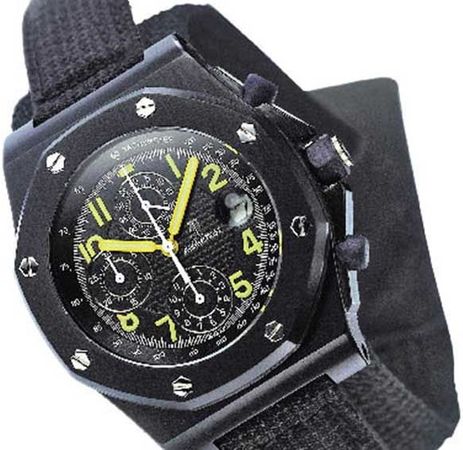 Schwarzenegger had the chance to devote himself even more fully to public causes when he made the momentous career decision, in 2003, to run for governor of California in a recall election (his supporters delighted in calling it a "Total Recall") of the incumbent governor, Gray Davis. Schwarzenegger had been interested in politics since at least 1986, when he married television journalist Maria Shriver, a niece of John F. Kennedy. (A longtime, outspoken Republican, Schwarzenegger was something of a black sheep among his in-laws in the Democratic Kennedy dynasty.) When he finally decided to seek elected office, his candidacy received nationwide attention, largely due to the circus-like atmosphere surrounding it: Schwarzenegger had to go up against a menagerie of oddball minor-party candidates, many from the entertainment-world fringes, including the late former child star Gary Coleman, Hustler publisher Larry Flynt and adult-film actress Mary Carey, as well as Democrat Cruz Bustamante. On Oct. 7, 2003, the upstart candidate whom the media had dismissively dubbed The Running Man and "Conan the Republican" achieved the highest step yet in his immigrant's American dream. Davis was recalled, with 55.4 per cent of the voters in favour of removing him from office, and Schwarzenegger received 48.6 per cent of the vote, the highest among the host of challengers, to become the 38th chief executive of the State of California. In short order, his acting career was on the back burner and he was plunged into the world of politics, gaining an instant national profile and famously nicknamed "The Governator."
As governor, he continued to collect watches but was more wary, with his new public persona, of the types of watches he would be seen wearing. "I have some big watches that are packed with diamonds, what I call 'pimp watches,'" he says, "and those are appropriate to wear if, say, I'm going to the fights in Vegas; seated at ringside, everybody is wearing lots of diamonds. But when the guy next to the governor asks him what time it is, he doesn't expect the governor to roll up his sleeve and show off diamonds on his watch. That's normally not done. But then again, I never saw myself as a politician. I tried to take politics out of the equation as much as possible. I was having a good time being a public servant."
There have been eight limited-edition Schwarzenegger-branded Audemars Piguet watches, five in the Royal Oak Offshore family and three in the Jules Audemars family. The most recent of these, expected to be the final one, came out in 2011, shortly after the end of Schwarzenegger's term as California governor. Called the Royal Oak Offshore Arnold Schwarzenegger The Legacy Chronograph, it is limited to 1,500 pieces and features an Audemars Piguet first: a case middle and bezel made entirely of black ceramic. (Schwarzenegger is wearing one during our interview.) The 48-mm case has an engraved caseback of bead-blasted titanium, which is also used for the octagonal screws on the bezel; the black dial, with the familiar mega-tapisserie pattern, is accented by diamond-polished rose-gold numerals and hour markers. The watch contains automatic chronograph caliber 2326/2840, which has a power reserve of 38 hours and boasts finely decorated parts, including bridges adorned with côtes de Genève. The anthracite-coloured strap is made of rugged aramid fibre.
Schwarzenegger, as one would expect, displays no false modesty about his impact―or that of fellow action star Sylvester Stallone, whose embrace of Panerai's big-diameter divers' watches helped make that brand a collectors' phenomenon―on the watch business. "I was the first one to start wearing big watches," he says. "The watch companies themselves resisted going really big for a long time. I know Audemars Piguet did. Sly told me that Panerai did, too. And I can understand the reasons. In the watch industry, as with every other, what is 'in' can change very quickly. By the time a company is able to supply a need in the market, that need can be gone. And remember, we're talking about companies like Audemars Piguet, which makes watches by hand and takes years to design and develop them. This is why the Rolex size has stayed so consistent. I'm sure the fear was that a big watch like the Terminator watch would be a fad, that it would be 'in' for one or two years."
While it is indisputable that Schwarzenegger's celebrity has contributed to the popularity of larger, sportier watches, it would be inaccurate to say that those are the only type of timepieces that he appreciates. "I really don't know how many [wristwatches] I have," he admits. "It's a minimum of 50, maybe 60. And that doesn't even include the pocketwatches." Schwarzenegger is, in fact, wearing two watches during our interview: the Royal Oak Offshore Legacy on his wrist, and a large, vintage railroad-style pocketwatch on his belt loop. And he's also a fan of much larger timekeepers. "I have some very ornate cuckoo clocks, hand-carved from a hundred years ago. In my house in Sun Valley, where the ceilings are 30 feet high, I have an 11-foot grandfather clock."
He is also proud of what he calls a "vintage Glashütte watch" from the World War II era that he bought from German watchmaker Glashütte Original. Schwarzenegger had seen such a watch in a store in Vienna. "It had an antique leather strap and I would have bought it no matter what it cost, but they told me they couldn't sell it. So I got in touch with Glashütte, and they still had the old components, and they made one for me," Schwarzenegger says. This anecdote may remind some automobile enthusiasts of the famous story of how General Motors developed a commercial version of the military Hummer vehicle in part because Schwarzenegger personally lobbied for one.
What may surprise many avid watch lovers and collectors is the decidedly casual way in which the Hollywood legend stores his watches. No high-tech winders or luxury safes here; just a big dresser drawer, filled to the rim with timepieces. "I hate those [rotators], those things that turn to keep the watches running," Schwarzenegger says. "I'd rather just choose a watch, set the time, wind it and move on. I have no patience for that other stuff. Also, I know all of these watches by their feel – their thicknesses, their straps and buckles. I can go into the drawer at midnight and find the watch I'm looking for by feel." Even the Terminator cyborg, with its computerised sensors, would be impressed by such superhuman manual dexterity.
As his term as California governor was winding down, Schwarzenegger had already begun lining up new film projects with the intention of picking up, as seamlessly as possible, where he had left off in his entertainment career. However, the biggest media stories about him that year were the revelation in May 2011 that he and Shriver had separated after 25 years of marriage, and the subsequent scandal involving a child fathered out of wedlock by Schwarzenegger with a household employee. The couple has yet to divorce, however, and tabloid rumours of reconciliation continue to crop up. (Schwarzenegger discusses the affair, along with other life experiences, in the "tell-all" autobiography, Total Recall: My Unbelievably True Life Story, released in October.)
By 2012, Schwarzenegger was once again making headlines as a film star, most recently teaming up with his old buddy Stallone to appear in last summer's rock-'em-sock-'em romp, The Expendables 2. The two watch-loving action-film icons, who helped put Panerai and Audemars on the sports-watch map, definitely compare notes: Stallone was photographed at the red-carpet premiere of the film wearing a rose-gold Carl F. Bucherer Patravi TravelTec GMT, a new favourite of Schwarzenegger's, shortly after Schwarzenegger had purchased one for himself after meeting up with brand CEO Sascha Moeri at Baselworld.
Schwarzenegger's first lead role since "T3" in 2003 will be in Last Stand, an action film directed by South Korean auteur Kim Ji-woon. But he is keeping busy off-screen as well, establishing the USC Schwarzenegger Institute for State and Global Policy, a think tank devoted to "post-partisan" efforts to address issues like the environment, health, education and economic policy. The actor remains a "friend of the brand" and unofficial ambassador of Audemars Piguet. As his high-profile appearances at the Swiss fairs indicate, there is every indication the watch world will be seeing more of Arnold Schwarzenegger, and that he will be finding more watches to acquire. He may even need to start filling a new drawer.