"I will be successful when I'll get a nursing-related job, earn good money and get married," says a dreamy-eyed nursing student, who looks like she is in her late teens. "My village does not allow love marriages. My mother is living in Delhi. But her way of life is still rural," she says. 
When asked if she has ever been in love, she smiles and says, "I have fallen in love, but I cannot marry him if my mother does not allow." You see her blushing as she speaks of her boyfriend who has promised to wait for her and confesses that she likes him because he is supportive to her dreams and aspirations. 
Hinting on a bleak future of their relationship, looking past the camera, lost in thoughts, she elaborates, "He is from a different caste. We are Brahmins. They are Rathods. In our village, Brahmins marry only Brahmins. Even if you marry a Brahmin, they will still criticise and say this is wrong, that is not right. They will say strange things." Her eyes blink fast, as if to hold back tears that may trickle down her cheeks any moment.
The camera pans to her hands which are in downward prayer position on her lap. The steady rattle of the train grows louder and the camera shifts its focus to the window and the fast-shifting world outside. You never see her again in the film as she is just one of the many train travellers with a story to tell. And this is what Mumbai-based Camera and Shorts production house's latest offering The Unreserved is all about. The hour-long feature documentary weaves together the stories of people who are bound by a common thread—the unreserved compartments of Indian railways.
'Thoda adjust kar lo (adjust a little)' is, perhaps, the most commonly used phrase while travelling in Indian trains. If you have never said it to co-passengers, then at least once in your life would have heard it from them. Six people being crammed on a seat meant for three is not a rare sight, especially in the general compartments. It is widely accepted fact that anyone with a choice would avoid travelling long distance routes in these, which is also the cheapest way to travel, except the three young filmmakers—Samarth Mahajan (director), Rajat Bhargava (asst. director) and Omkar Divekar (director of photography). They travelled relentlessly for 17 days, touching all extreme points of the Indian Railways network and covering 12,000kms, in general compartments of 10 trains.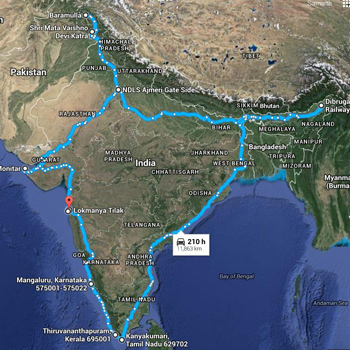 "The intention behind our train sojourn was to explore the class of travel where most do not travel out of choice. Everyone there has made a compromise at some point of time, either in the past or now, and we wanted to talk about those times," says Mahajan, in an email interview. 
On busy routes, an unreserved compartment of a train generally witnesses a confluence of people from different social backgrounds, caste and religion, jam-packed in hot, sweaty, suffocating, and mostly dirty spaces. "In a space meant for 90, there would be around 300 people on some routes. Sometimes we stood on one leg, or lay down on the luggage racks, or contemplated sitting in the toilets, and on very lucky days sat on a berth. On one route the compartment was so crammed that the luggage compartment had to be opened for passengers, and hammocks were set up to make residing space out of thin air," says Mahajan.
On being asked about the reason that prompted him to choose train journey as the theme for his debut feature documentary, Mahajan says, "I was inspired by my previous experience of Jagriti Yatra, an 8,000km-long journey in sleeper class across India to promote social entrepreneurship, which made me quite attached to trains. I had also read an article titled "Third Class in Indian Railways" by Mahatma Gandhi, written in 1917, and was shocked to understand that 100 years down the line the description of the general compartment remains the same."
However challenging the journey was, it did not disappoint the filmmakers as these compartments were treasure houses of candid conversations and heart-warming stories of people and their aspirations, dreams, struggle and issues that plague everyone's lives. "People were always up for a discussion, and opening up about their lives. What seemed like a difficult task before the journey, turned out to be the easiest one," says the 26-year-old fimmaker.
"What hit me most was that although there was lack of consensus on many occasions,  people were always up for a healthy chai pe charcha. Tolerance was such that we never picked a fight even after delving into borderline taboo issues with passengers," he adds.
Mahajan also opened about how many stereotypes were shattered for the trip during this journey. On their northward journey, they were constantly warned about mingling with Kashmiri youth, but once they started interacting with a group of three students while travelling in Banihal-Baramulla DMU, they forged such strong friendship that the group meant to get off at Srinagar, travelled till Baramulla, hoping to give the filmmakers a guided tour of the state. "They simply started telling us more about Kashmir right there. Numbers were exchanged, invitations were extended and some stereotypes were shattered," recalls Mahajan.
Calling the experience behind The Unreserved extremely satisfying, Mahajan says that many a time the trio talked about how they could keep travelling like that, meeting new people and listening to their stories, forever but the tight budget on which they were working kept bringing them back to reality. "It is difficult to explain the ways in which this experience changed us, but it is surely going to stay close to us," concludes Mahajan.
The Unreserved will release on Wednedsay on the official Youtube channel of Camera And Shorts.