Academician or historian, educationist or researcher, columnist or commentator? Well, Professor Brian Stoddart is all this and more. In his latest avatar, Stoddart has even turned a fiction writer. Curiously, his recently published two books—A Madras Miasma and The Pallampur Predicament—are centred on Chennai, or the Madras of the 1920's.
"I went to Madras as a PhD student and spent a lot of time in the archives at Egmore as well as interviewing people with connections to the 1920's and '30's. My thesis was on nationalist politics in the Tamil and Telugu regions of the Presidency. I also spent time in Andhra Pradesh, at Hyderabad and travelled across south India over several years. In later years, I have come back to research cricket and related matters, and just to enjoy the place. When I came first I lived in Nungambakkam in the house of V.R. Rajaratnam who was an IG of Police," says Stoddart.
Professor Brian Stoddart is an international consultant who works mainly on higher education reform in Asia and the Middle East, and is currently a Distinguished Fellow of the Australia India Institute based at the University of Melbourne. He trained as a South Asianist and also became an international authority on sport and culture. "Well I am a historian, with a PhD on nationalist politics in south India between the wars. But I know a lot more on either side of that having written a book on the evolution of modern Andhra from 1850 onwards. So I am more modern oriented, but with a necessary interest across the ages and also in other fields like sociology and cricket," he reveals.
How did fiction writing come about?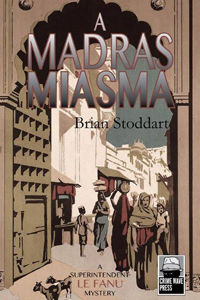 "In the fiction writing world, one of the contested ideas concerns 'write what you know'. I have started with what I know because I have spent a very long time in and with India and especially Madras, since 1996. Like all India's major capitals, it has changed since I first met it but, arguably, it still retains more originality than most. There are still sleepy parts to offset the new hi-tech ones, and much of the distinctive nineteenth century architecture remains. The old religious practices and the temples, the mosques and the churches are still there. Some of the old markets have gone but not all them. It is a much bigger place now but still retains some of the country-village elements in its back lanes."
"It is still among my favourite cities around the world and, in part, that is why I have set this historical crime fiction story there. The city is central to the story, so its contours and sounds and smells are all in there. The other part is that the fictional approach allows me to tell a story based upon the reality of the city back then in the 1920s.
"That is essentially why I have created Le Fanu and started writing these crime novels. He allows me to explore British Indian society in a different, free way with the fiction creating space for a broader, deeper interpretation that draws more fully on the popular culture of the time. It also allows the history a looser rein to chart those human emotions that are time-resistant like jealousy and envy and all the rest. I could sense that in the records, but it is easier to write as fiction," explains Stoddart.
The two novels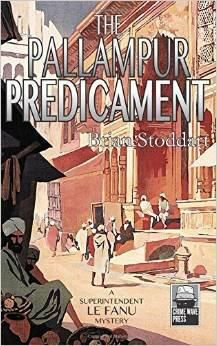 Brian Stoddart's A Madras Miasma and The Palampur Predicament features Superintendent Chris Le Fanu of the Indian Police Service, as the central character. A Madras Miasma is set in the old Madras Presidency of the 1920s. After five years of World War One service in Mesopotamia Le Fanu returned to his police work a different man, so much so that his wife left him and returned to England. He takes up with his housekeeper but because she is mixed race he risks severe disapproval from the rigid European community in the city. Meanwhile, a young Englishwoman, out in Madras as part of the 'fishing fleet' (women in search of husbands), turns up murdered and Le Fanu, head of a crime unit that employs new police procedures formulated by an Austrian criminologist, is in charge of the case. He and his immediate boss are at loggerheads, and he falls foul of the business community as well. Le Fanu and his sergeant Habi, a Muslim educated in England, solve the case but only after traversing sections of city life that the elite would prefer not see daylight.
In The Pallampur Predicament, the Maharajah of Pallampur is murdered in his Madras home. His Australian wife was away at the time, with a 'friend' in Chingleput. It turns out that Pallampur had made some bad investments through the war, and has upset some serious people who end up with connections to Chinese triads linked to Chinese political movements. Le Fanu navigates all that and at the same time seems to have sorted out his future life with Ro. There is a lot more, of course, but the idea is that Le Fanu finds himself in connection with some international stuff that involves MI6 and all the rest.
What next?
Following the publication of these, Stoddart is already working on the third in the Le Fanu series. "The third book finds Le Fanu as Acting Inspector General and not enjoying it. An ICS officer goes missing from his district at about the time an illegal trade in indentured labour comes to light. Then a murder victim turns up in Madras and is the estranged son of a major British factory owner with interests in India and the Straits Settlements. Le Fanu goes over there and, among other things, finds a complication for his social life," says Stoddart.
Fictional history
Having been a scholar and a historian, it was but natural for Brian to be inspired by someone to base his character of Chris Le Fanu on. "He is a fictional character but draws on people who were rebels in the Raj, like Arthur Galletti on whom I have done a biography, Hilton Brown who was a writer, and a few others. I drew on Henry Le Fanu who was in the ICS in the 19th century for the name because the name gives an "outsider" sense. The idea was to make him different so as to highlight the tensions and stresses of the profession," says Stoddart.
In a recent book reading and a discussion on the two titles by S.Muthiah, under the aegis of the Madras Book Club, being a historian himself, pointed out a few factual errors in the historical facts mentioned in the books.
"It depends on 'facts' and I know Muthiah is onto this. My aim is to create the atmosphere by evoking the city, and I try to get it as right as possible but sometimes the fictional demands lead to a little reality stretch here and there. I believe I have most of it 'right', and think that the atmosphere is the driver. Most reviewers think I have done that, and I have alerted people to Chennai and that is terrific from my point of view. Many also say that I have taught them a lot in an easy format so that they know a lot more now about India and Madras, and that is also terrific. Overall, I think the authenticity is there and that the 'errors' are not a catastrophic misrepresentation of the city and its history. Of course, people have different views and as a historian I respect that," concludes Stoddart.