It was a piece of new information that changed Purnota Dutta Bahl's life, and lives of thousands of children with cancer. When Bahl realised that while there are enough funds for the treatment of children, what they need is better nutrition. That's why the Cuddles Foundation was born three years ago.
Starting with handing out snacks to children who had come for OPD treatment, it has expanded to providing for all nutritional needs of kids from nutritional supplements, snacks, hot meals when in hospitals and even ration for their families while they are on treatment. Till now, the foundation has helped 18,000 children in 17 hospitals in nine cities.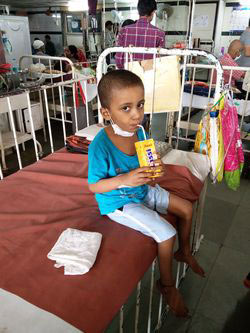 Malnutrition in children is often neglected. When such children are afflicted with cancer, it becomes doubly difficult to treat them. "Two thirds of children who come to us are malnourished, their chance to survival drops by one third if they are malnourished. So, four out of 10 children die during the treatment," said Dr Brijesh Arora, professor of paediatric oncology, Tata Memorial Hospital.
"Treating malnutrition is the biggest unmet need of cancer," he adds. It is one reason why childhood cancers which have a cure rate of 80-85 per cent in western countries is just 50 per cent in India.
Most of the families who have children with cancer belong to underprivileged backgrounds who have travelled across the country to seek treatment. "They are already struggling to find a roof over their heads and cannot afford to provide nutritional meals," said Bahl. In many cases, doctors are unable to start treatment if children are too weak and under-nourished since they cannot take the onslaught of chemotherapy.
Cuddles Foundation started in 2013 with providing 35 snacks and now provides 375 snacks per day at Tata Memorial Hospital's OPD. They have also trained 22 paediatric oncology nutritionists who counsel the parents about the diet to follow during the treatment and after treatment to prevent infections.
Cuddles Foundation also devised a special diet of lassi and butter chips for children, "Most children lose their appetite after chemotherapy, they refuse most solid food. We found kids love lassi and butter and have started distributing them since the last six months and it provides almost 200 calories" says Bahl. She informs that they have also started importing silicon feeding tubes for children who refuse food. "The existing feeding tubes cannot be used more than three days and are painful to attach. These ones can stay for six months and aren't painful," she said.
Just providing for their nutritional needs improves outcomes. "In Tata Memorial Hospital the abandonment of treatment in childhood cancers has reduced from 26 per cent to five per cent since the last five years due to such patient-friendly measures" she added.