"We'll be Friends Forever, won't we, Pooh?" asked Piglet.
"Even longer," Pooh answered.
For those who grew up reading the tales of Winnie the Pooh and his friends in the idyllic Hundred Acre Wood, this 'bear of very little brain' will always be a cherished friend, forever and even longer. Pooh's creator A.A. Milne, may have written the books for children, but one is never too old to read about the adventures of the bear and his mates. Winnie the Pooh, who has touched hearts around the world across multiple generations, turns 90 this month.
Not many of Winnie the Pooh followers, however, know that the bear was not just a figment of Milne's imagination. There is history to Pooh, and a heart-warming tale of the bond between a Canadian soldier and black bear cub that led to the creation of this literary classic. It all dates back to August 1914 when the world was busy fighting World War I. En route to the war in Europe, Canadian soldier Lieutenant Harry Colebourn stepped on to the railway platform of White River in Ontario, to stretch his legs. That's when he spotted a lovable black female bear cub being sold by a hunter who had killed its mother. Love for animals came naturally to Colebourn who was a veterinarian. He bought the cuddly bear cub and named her Winnipeg (nicknamed Winnie), after his hometown. Winnie went along with Colebourn to England where his regiment was training. She climbed tent poles, played around with the soldiers, slept under Colebourn's cot and posed for photographs with soldiers. They pampered her with apples and condensed milk. She captured the hearts of the soldiers and became a mascot figure of the regiment.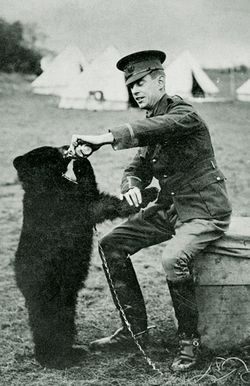 Good things come to an end, and so did Winnie's fun time with Colebourn. He was summoned to the war front and the soldier had no heart to take the bear to the trenches of France which were hardly a place for a man, let alone a bear. And so, on a chilly December morning of 1914, the Colebourn dropped Winnie at the London Zoo which would be her new home. Whenever Colebourn got leave from the horrific war front, he would visit Winnie. And finally, when the guns went silent in 1918, Colebourn visited Winnie, now a fully grown black bear, to say his final goodbye. He yearned to take her with him, but of course, taking a big black bear to home in Canada was the last thing possible.
Winnie remained a gentle bear, and children loved her. She was said to be best behaved bear, so much so that kids were even allowed to enter the bear pit to ride on her back. So much like Pooh, don't you think?
And among all those children who continued to fall in love with Winnie, was a young boy named Christopher Robin, Milne's son. Christopher grew so fond of the bear that he changed his teddy bear's name from 'Edward' to Winnie the Pooh. Winnie from Winnipeg, and Pooh was the name of a swan Christopher had seen during one of his vacations.
It is this teddy bear and other stuffed animal toys in Christopher Robin's playhouse—including Eeyore, Piglet, Kanga, Roo and Tigger—that inspired Milne to create his enduring characters. Milne first brought the character Winnie the Pooh to life in his 1924 book of children's poetry When We Were Very Young which was followed by a full volume of stories Winnie-the-Pooh in 1926. By now, Winnipeg had become famous. She died in 1934 at the age of 20. As a tribute to the bond between the Canadian soldier and the black bear, statues of Colebourn holding the hands of Winnie as she stands on her hind legs have been erected at the London Zoo and Winnipeg's Assiniboine Park Zoo.
Thank you, Colebourn.