When Mujtaba Hasan Askari quit his job with Infosys in 2014, he had a mission to be fulfilled—bring a change in the field of healthcare services in the country. He had taken first steps towards this in 2007 itself when he launched the Helping Hand Foundation. By juggling a full-time job and the Foundation, he could not do justice to both, he felt. And so he went on to end his 20-year-long career to focus at the larger task at hand.
"The health sector is completely ignored by the government. Many other people need to involve themselves because there is a huge void—shortage of infrastructure and medicines," says Mujtaba. However, in spite of its shortcomings, we have a good public healthcare system, he says. And the affordability factor draws masses to government hospitals. "One of my main jobs is to explain the situation to poor patients and transfer them from the clutches of private hospitals that overcharge, and bring them to government hospitals," he says. And about a year ago, he launched Praja Aarogya Mitra which provides volunteers to help patients tide through their medical needs. Currently, there are 11 volunteers, of which three are women and the rest men, including one HIV positive volunteer.
Praja Aarogya Mitra volunteers also help the patient if he needs financial assistance. "If there is a young person and the money required goes up to Rs 50,000, I do not hesitate and immediately sanction the amount," says Mujtaba.
The volunteers wear a jacket for easier identification and the team of 11 Praja Arogya Mitra volunteers are now seen every morning in state-run hospitals—Osmania General Hospital, Gandhi Hospital, NIMS, MNJ, Niloufer, Petlaburz Maternity, Chest Hospital and Koti ENT Hospital. These volunteers form a vital link between doctors and patients and many doctors working in state hospitals are now part of the network. They identify patients who need assistance—for medicines, lab investigations or implants—and refer them to the Helping Hand Foundation.
Some hospitals realise the importance of the volunteers. One of the volunteers, V. Swarooparani who works at the MNJ Cancer hospital and Niloufer hospital, says: "I interact with 40 to 50 patients in a day. We do everything for the patient, from helping them relax to taking them for the investigations, getting their reports and explaining things to them."
"We have helped, given relief, counselled and guided over five lakh people," she says. "We have spent 25 crores in the last ten years," adds Mujtaba.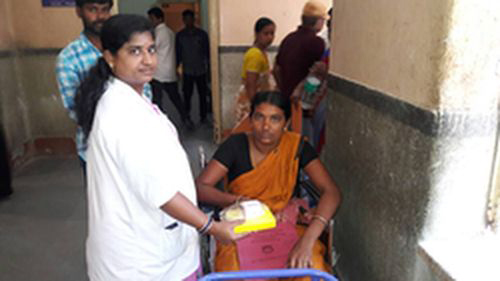 Recalling stories about patients, Mujtaba shares his memories about a barber who was suffering from oral cancer, but had given up treatment as he could not afford it. A volunteer brought him to Mujtaba who counselled him, gave him some money to tide over and then took him to the MNJ cancer hospital where he got free treatment. "There are many medicines which cannot be afforded even by rich patients because they have to use it repeatedly," says Jaison Deboreia, who works with the foundation.
"There was a patient from Anantapur who had bone tumour in her leg. She had to take an injection which costs Rs 24,000 per shot. The doctors prescribed four such injections over a span of four months. The patient was totally dejected. We put forward a deal saying we will pay for two injections, the hospital would give one free and she would have to pay for the fourth. Now she is looking forward to life," says Swarooparani.
This is a gratifying job, says Mujtaba. "Once they get well, they come with flowers and boxes of sweets to thank us. I discourage them from spending money but they do not listen," he says.
Sometimes all that is needed is human interaction and some amount of love, the team feels. They strongly remember the case of a 14-year-old orphan boy who was HIV positive. Due to lack of awareness and superstition, he was thrown out of his house. Child rights activists and the Human Rights Commission fought for his cause. Not that it helped, because he already had HIV-induced dementia, he was not able to walk, and had no control over his bladder or bowel. The Foundation decided to take him to the single hospice in Hyderabad, but they, too, refused to admit him because of his condition. He died ten days ago and the group of volunteers had to perform the final rites because there was no one else around.
"A large number of patients who come to hospitals, both private and government are from rural areas. They feel lost and are unable to cope with the burden of illness, financial constraints and the rude behaviour of people in general. So, when they get some help from volunteers, they are very happy and for a person who is ready to give up because of lack of money, monetary help is like manna from heaven," says Mujtaba.
The Praja Arogya Mitra volunteers are now part of the health support system designed to serve the economically weaker sections in the city.