Think Oriental, think red paper lanterns, dragon motifs and pleated fans. Or think again. Fatty Bao, chef turned restauratuer Manu Chandra and partner Chetan Rampal's Asian restobar, which opened its doors recently in Delhi, subscribes to the trend of taking Chinese and all other east Asian foods out of the stereotypical confines of red wall-and-fortune bamboo decor, and places them in the light world of fun and fusion.
The decor, designed by Anshu Arora, is distinctly Oriental, but quirky. Whether it is the paper lanterns made to resemble soup bowls with chopsticks or the wooden salt and pepper shakers, made in the Chennapatnam style, or even the tree of Mandarin oranges, there is a fresh take on everything here. Even the crockery is from Khurja near Delhi and mercifully has no Oriental motif. A massive mural, called the food map, dominated the main wall, contextualising dimsums and sushi and all that you eat here, with geography and culture.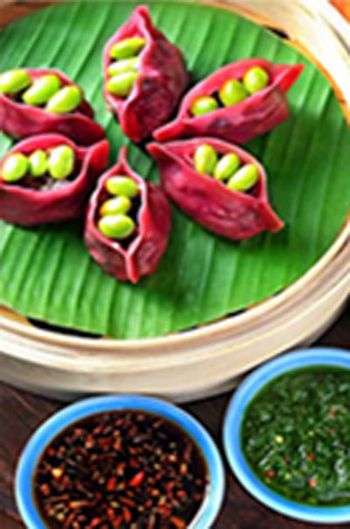 The fresh twist continues over food and drinks—there is finger food which does not need to be grappled with chop sticks. The baos, after which the place is named, come in two-bite-sized portions, with interesting fillings of duck, fish and pork, and can be eaten on the move. Some of the offerings are so pretty, you almost feel like a criminal when devouring it. On top of the beautiful food list are the dimsums. With their transluscent skins, scalloped edgings and a light sprinkling of bright orange roe over them, these look like some exotic creatures from a coral reef. The Japanese cheesecake may not have anything Japanese in the culinary way, but the dessert that is placed before you looks straight out of a Japanese painting, and you regretfully destroy the art with your spoon.
You could opt for starters in small portions or order from the big plate selection, that can also double up as a meal by itself. Else, there is a fine selection of ramen style noodles in a variety of soups, from a seafood broth that looks and smells like a cooked aquarium (you could opt for a lighter flavoured broth if you think the smell is too strong) to the comforting flavours of coconut milk.
One is supposed to have fun with food here, though the menu card, with its long list of a little too exotic names can be a tad intimidating. But don't shy away from experimenting. Ask the helpful stewards to guide you through. The food may look alien, but the chefs have taken pains to ensure that while you get your taste of exotica, it is still within the boundaries of comfort. So go, dig into black noodles and beetroot-black pepper ice creams, with some quirky cocktails for company.
A meal for two would cost around Rs 3,000 without alcohol. Fatty Bao already has outlets in Bengaluru and Bandra. The Delhi outlet is at Sangam Complex, R.K. Puram.