Nihal Bitla is just like any other 14-year-old. He loves his cars, gadgets and loves to surf online. But while other kids also get to go to school and play with friends, Nihal usually stays at home. Nihal has Hutchinson-Gilford syndrome, commonly known as Progeria, a rare progressive genetic disorder that causes children to age rapidly. This makes Nihal look like a 70-year-old with wrinkled skin, brittle bones and other health problems.
Children with Progeria suffer from old age diseases like clogged arteries, stiffness in joints, weak hearts and usually die before the age of 14 due to heart attack or stroke. Till now, there was no cure for Progeria but now, a cancer drug—Lonafarnib—has shown improvement in cardiovascular function and life span of kids with Progeria.
In December last year, Nihal was part of the clinical trial conducted in Boston Children's Hospital in association with The Progeria Research Foundation in the US. Since then, there have been some changes in his skin and he has gained a little weight. "There are very few genetic diseases which can be treated or at least better managed by drugs. More kids should get access to the drug so that they can lead better lives," says Dr Parag Tamhankar, medical geneticist and divisional head at Genetic Research Centre, National Institute for Research in Reproductive Health, Mumbai who has been instrumental in diagnosing Nihal's condition and facilitating his travel to Boston. "Not all kids with older features have Progeria. Hutchinson-Gilford syndrome is rarer and is not spread in families. The condition can be confirmed by a DNA test," he says.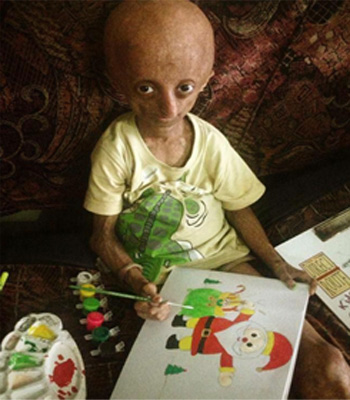 According to statistics, 1 in 4 million children suffer from Progeria and it is estimated that there are 150 other kids like Nihal in the world and 60 in India who are yet to be identified. The Progeria Research Foundation has initiated a global campaign—Find the other 150—to identify, connect and help these children. Last month, Illuminating Progeria, a documentary based on Nihal's life was released by The Progeria Research Foundation and Global Health PR to spread awareness about the condition.
Living in Bhiwandi, a suburb of Mumbai, Nihal looked like any other child when he was a baby. After the first year, his parents noticed rashes and spots on his skin and noticed that his skull size enlarged. They took him to various doctors but none of them diagnosed the condition. His father, Srinivas, recalls, "The doctors that it is a genetic disease but we didn't know it was Progeria till four years back."
Even though Nihal feels like any other child, he cannot run or play like the others. He likes to visit malls and go outdoors but is tired of the stares. Nihal stopped going to school when other kids started calling him 'Auro' referring to Amitabh Bachchan's character in Paa. Nihal's experience in Boston has been largely different from his experience in India—he could roam freely without being stared at. "There is a need for people to be sensitised about the condition so that they do not make children uncomfortable," says Srinivas.
Back in India, Nihal remains upbeat. He has to take the drug twice a day, but is satisfied that he is at last on the right treatment. He wants the film to be screened as widely as possible so that the other 60 kids with Progeria can be diagnosed and treated at the earliest.
Know a child with Progeria-like characteristics? Contact The Progeria Research Foundation at info@progeriaresearch.org and visit www.findtheother150.org