The art of fusion has been an integral part of our culture and tradition since ages. Folk art forms like Patachitra is a fusion form where music and paintings are used to narrate mythological stories. Fusion artist Pankaj Nigam's talks about his works, a sea change that India's art culture has undergone and the things that inspire him the most.
Excerpts
Who are fusion artists?
Fusion artists explore creativity beyond the boundaries of their art forms. They experiment with different forms of art to convey their messages, emotions and creativity. For example, the art of installation has an immense possibility of fusion. Installation artists are experimenting with literature, painting, sculpture, audio, music and video and even with light. Here, the idea is the main focus and to communicate that idea, fusion artists are using all possible forms of art.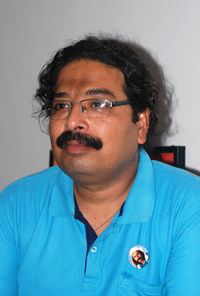 How do you ace the perfection of fusing art, expression, poetry and emotion all together in your works?
My experience with fusion art is about going out-of-the-box to be with other forms of arts; to understand them, appreciate them, and love them to be united with for a bigger purpose. The purpose it to believe that though all art forms are different they express the same emotion, affection, love and concern. During my days with Indian People's Theatre Association in Lucknow, I got immense opportunities to work with some of the finest creative people. They were from theatre, classical dance, music and literature. I explored this connection in the most novel way. I kickstarted this journey by showcasing a unique experiment that combined my art with the work of fiery poet Harivansh Rai Bachchan's Madhushala. In 1992, BBC broadcasted its review of my fusion art Madhushala. Since 1993, my art has made its way to at least 42 exhibitions at various art galleries in India and abroad.
I have painted on the poetries of some of the great contemporary poets of our time like Kunwar Narayan, Sarveshwar Dayal Saxena, Nagarjun, Kedar Nath Agarwal, Sahir Ludhyanvi, Faiz to name a few. In 1993, I was invited by UP Sangeet Natak Academy to paint live on the poetry of Nirala, one of the greatest poets of India.
Who or what motivates you? What motivated the piece that you have done for Colorama by Art Tree?
Everything motivates me. Whatever is good around me, motivates me. Whatever is not so good, also motivates me. I just want to react to the situations like other living beings. Artists have all the feelings of happiness, love, anger, sadness, depression and so on. The only difference is how you respond to the situations around you. I believe that artists have the most beautiful way of expressing their feelings about things around them. Remember, Picasso painted Guernica which is one of the most famous paintings of all the time, to express his feelings on the horror of war.
These days, I am enjoying painting nature. I believe that the beauty of nature is a gift of God to us. My paintings today are more about my inner quest, about the search of my own Buddha, my journey from within. For the show Colorama by Art Tree at Vivanta by Taj, I have painted a landscape painting. It has hues of green and yellow. Painting a landscape is a spiritual feeling. I become part of it when I paint it.
Which other projects are you currently working on?
Recently, I have finished a 320 sq ft size mural for NIIT Technologies at Greater Noida. I took about a month to finish that mural, handpainted on a three-dimensional wall. These days I am working on a different medium—charcoal on canvas—which I hadn't tried before. Also, I am curating a group show of painters and sculptors in January 2017 at Open Palm Court gallery, Indian Habitat Centre, New Delhi.
How do you think India's art culture has changed in the last one decade?
It has changed a lot. With an exposure to the global art arena through internet, it is so interesting to see how different art styles are inspiring artists. Art is getting global not only in reach but also in form. Artist are joining various international forums and galleries to showcase and sell their work. They are interacting with other artists, critics and buyers across the globe.
What is in the pipeline?
We are planning workshops with Colorama by Art Tree to build a dialogue between art and audience. We are trying to take the art to the people. Exhibitions, workshops and art symposiums are part of this great plan. On November 19, Art Tree is organising an art symposium Tulika at Oxford Bookstore at Connaught Place, New Delhi.