"It hasn't started yet." A voice from the dimly-lit stage reassures the latecomers at Bengaluru's Chowdiah Memorial Hall. A clown waves, nods and greets them. A little surprised and embarrassed, when the latecomers walk towards the back row of seats, he prods them, "Occupy the front seat. Don't worry. I know the organisers!"
Aloof yet engaging, he chuckles, "Keep talking amongst yourselves. It hasn't started yet. Send that last SMS, the play hasn't started yet." The house is in splits. You wonder if it is an act within an act.
For theatre buffs of Bengaluru, who braved the traffic jams on a Saturday evening to watch Nothing like Lear, a comedy performance by Bollywood actor and theatre artiste Vinay Pathak, written and directed by Rajat Kapoor, there was much ado about everything they saw, heard, laughed and smiled about.
At the curtain raiser of Phoenix Entertainment's Indian Theatre Festival 2015, King Lear comes alive, not as a king with three daughters who is doomed by his own fallacies, but as an old and depressed, yet, witty, middle-class clown, who too has lost his beloved daughter to his misplaced sense of authority. But this insightful clown survives a transformation.
Pathak who plays the fool once again (after his commendable performances in_ C for Clowns_ and Hamlet: The Clown Prince) proves this is no spoof, but a satirical take on Shakespeare's King Lear. The script could have had not one but many Lears of the modern times. But the shadows of each one would have a compelling resemblance to the Bard's Lear, one that of a father.
This clown is depressed as he is growing old and has been forced to perform this play. He talks of having seen a doctor for he can no longer read a newspaper. He says he had poor sight and is sad.
"I went to see a doctor, who…. (pause) When you feel deep….(pause) now, who is he a psy…psy…".
"Psychiatrist!", prompts a restless audience.
"I told you, don't talk back. We have prepared the script over four months and meticulously! I KNOW MY LINES!"— reminds the actor, as the audience feel tricked and they surrender.
He recalls his meeting with a psychiatrist, who diagnoses his problem as "having nothing". The conversation about his father, his family secret, his "bastard" brother gets racy, personal and hilarious.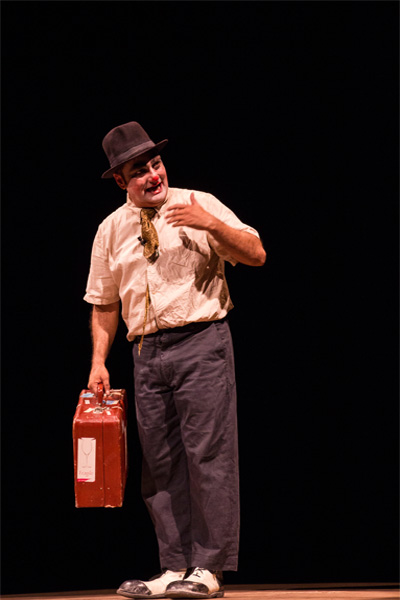 He continues, "I wasn't supposed to do this play tonight. This play about a king and his daughters written by, what's his name—the great English writer, who says that ''the show must go on... guy; who says thee-thou-thy! And now he is stuck. This clown, can't even remember the playwright's name?"
As you squirm in your seat dying to prompt him one more time, but hold back to not fall into his trap again, he quips, "Shakespeare! It is printed on your ticket."
"I am performing today as my brother could not make it to the play. He is famous and popular among women, he confides. "I have 45 friends on Facebook and my brother has 45 Facebook accounts. When he pokes on Fb, women get pregnant! That is how popular he is," says Pathak, instantly building a rapport with the IT-city audience.
Next moment, he mocks at the audience for believing everything he says. "My brother told me, tell them anything and they will believe you, because they have bought expensive tickets for the play. Middle-class mentality."
The scriptwriter sure wrote those lines, intercepting the mind of the audience. A spontaneous Pathak is watching you as carefully as you are watching him. The audience feels part of the act too, feeling empathy at one time, and guarded the next moment. While Shakespeare's Cordelia is a repository of virtue, the clown sees an ungrateful child in his own daughter after she shuts him out of her house in France on a stormy night and holds him in contempt for every day she spent under a control-freak father. He turns spiteful and curses his daughter, wishes her sterility for being an ungrateful child. The next moment, he sinks deep in remorse realising his folly.
Recalling his daughter's childhood, he declares: "I became a man only after I held her in my arms."
He resents his growing old and his daughter having grown up so fast, both beyond his control. "Crawl, crawl, don't grow up so fast," he tells his little girl. "I still remember her joy on receiving hidden nothings from me after my foreign trips. When you have imagination, you need nothing," he reminisces.
It is a journey of the clown—from outrage, hatred and self-pity towards remorse and love.
It is a roller coaster ride with humour and horror taking turns. Just as you begin to enjoy the ride, the clown asks you to get off and focus on the Shakespearean play.
A heartbroken father finally sees things as they are, and he cries:
"O, you are men of stones
Had I your tongues and eyes,
_I'd use them so that _
Heaven's vault should crack.
_She's gone for ever! _
_I know when one is dead and _
_when one lives; _
_She is dead as earth. _
_Lend me a looking glass; _
If that her breath will mist or
_stain the stone, _
Why, then she lives,
A plague upon you. Murderers, traitors all!
I might have saved her; now she is gone for ever!
Cordelia, Cordelia! Stay a little. Ha!"
At this moment, the two fathers meet—one a tragic hero of Shakespeare's imagination and the other, a real man who lives amongst us. The curtains are down, but the show has just begun.