Vijayakumari used to narrate tales of Lord Ganesha to her grandson. Little did she know that these stories were making a deep impression on the child's mind that would take him places one day.
Fascinated by the elephant-headed god in his grandmother's stories, Aprameya Karthik first tried his hand at sketching Lord Ganesha at age 7. At 14, this Mysuru lad now has a national record to his name for having drawn the maximum number of Ganesha sketches—3,000!
"Ganesha is my favourite god. His unique appearance and all the fantastic stories about him inspired me," says Karthik. Of all the stories he has heard from his grandmother, Karthik's favourite is the one about Ganesha and Kubera. Lord Shiva stands next in the list of his favourite gods. The young artist also finds pleasure in sketching landscapes.
As a child, Karthik would scribble drawings, recalls his mother, Anitha. His father, Ramanathan, bought him drawing materials and paper so that the young artist would not unleash his creativity on the walls of their house.
"One day, Karthik showed us his collection of sketches and we were amused at the number and variety of his drawings at such a young age," recalls Anitha.
Monotony is not something that figures in Karthik's work. If Ganesha is seated in his classic cross-legged posture in one of the sketches, you will see a pot-bellied Ganesha striking a yoga pose in another!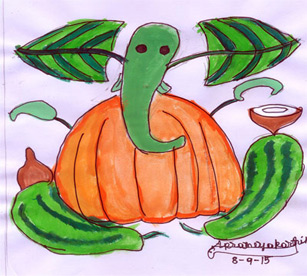 Ganesha modelled from fruits, vegetables, flowers, numbers, arithmetic signs and letters of various languages are just a few of the myriad themes of Karthik's art. Besides English, Hindi, Tamil, Telugu and Sanskrit, Japanese, too, has found its way into the sketches of the Hindu god. "He picked up the Japanese alphabet from a book we bought for him. He is keen on learning the letters of various languages," says Anitha.
Karthik has put to use his knowledge of Sanskrit to widen his artistic horizon. The young artist has depicted different forms of Ganesha with his various attributes as mentioned in the Ashtottara Shatanamavali, a collection of 108 names of Lord Ganesha such as ekadantaya, dwimukhaya and so on.
Most of these themes are born out of Karthik's own imagination, while others have been suggested by his parents.
It is never easy for an artist to pick a favourite from his works. Karthik, however, has a personal favourite—the Thanjavur Ganesha, which has been inspired by the ornate Thanjavur designs. "These designs are intricate and difficult to master. It requires a lot of effort and time," says Karthik.
Karthik is a self-taught artist and has been a constant learner. At first, it was not easy to master the grip on the pencil, remembers Karthik. This, however, improved with meticulous practice of two-three hours a day.
Karthik says he has been inspired by his maternal uncle and cartoonist, Nagendra Babu. "I saw talent and creativity in him. He was imagining his own world," says Babu. When asked about providing Karthik professional training, Babu is quick to reply: "Creativity cannot be taught. Leave the child alone and let free his imagination."
Karthik, who has conducted seven solo exhibitions, with the latest on at the Nehru Centre Art Gallery in Mumbai, has set his sights on the Limca Book of Records and the Guinness World Records. The child artist, who is also passionate about astronomy and playing the violin, is confident that his perseverance and family support will get him there.