The area beneath the Dabeerpura flyover in a suburb in Hyderabad is buzzing with activity. Syed Usman Azhar Maqsusi is busy serving steaming rice to a group of hungry people who eagerly await their share with plates held-out. After the rice has been served Azhar does one more run around for piping hot daal, assuring everyone that he is doing it as fast as he can. All those who come here leave with stomachs full and content hearts. There are others who get their meals packed for their families in their make-shift homes.
36-year-old Azhar has been providing free food for the hungry since 2012. Azhar's life, and the lives of many others changed one day when Azhar took an alternate road because there was a traffic jam on his usual route. He was stuck with a flat tyre near the Dabeerpura railway line where he saw an old beggar woman with no legs. She was bent over in deep pain and could not hear or talk. "I recognised them as hunger pangs and only those who have been hungry understand the pangs," said Azhar. He asked around and they said that her son had disappeared for the past three days and that she had had no food. "I got a parcel of food for her," said Azhar. And from there, Azhar's life took a different turn.
Azhar bought 10 kg rice and other ingredients to make khichdi, put up a tent near the Dabeerpura railway station and a board saying 'free food for poor and homeless people.' For two months, his wife Taj Istagiri cooked the food and Azhar would carry it to the spot paying Rs 40 for the auto ride. Having had enough of daily haranguing with the auto drivers, Azhar decided to cook on the spot itself and he hired a cook.
Azhar's father Syed Nusrath Shah Alam, an auto driver, had died when he was three, leaving behind a family of four sons and a daughter. They had no source of income but his maternal grandfather would give Rs 5 to his mother and she barely managed to feed the hungry mouths. "I was always hungry and looking forward to public functions to be able to eat a full stomach," he said with a smile. And there were days when they could eat only once in two days.
When he was 12, Azhar started working as a tailor's assistant. "I had to bring tea and once in a while I would sew a button and I was given Rs 1 per day." He quit after three years, wanting to do something else because his mother told him "you are a man. Even if you use a hammer you will be paid and will earn money." His mother's words inspired him and at the age of fifteen, Azhar bought the tailor's shop. He borrowed money from his uncle who was well off running Mother Dairy.
"But when readymade shops like Fantoosh made an appearance, our business took a big loss," he said. In 1998, he started working with a glass fitter and picked up the trade. But one day when he hurt his fingers with the glass, his mother told him to learn something else. In 1999, he had gone to a hotel in Babanagar with a friend. He was impressed with the designs in the shop and realised that they were made from Plaster of Paris. He said he would like to learn to work there and started the next day and his first complete job was the dome of Galaxy Coffee Shop of Taj Tristar in Secunderabad. Azhar now runs a Plaster of Paris shop near the Dabeerpura flyover. It is below this flyover that he serves food.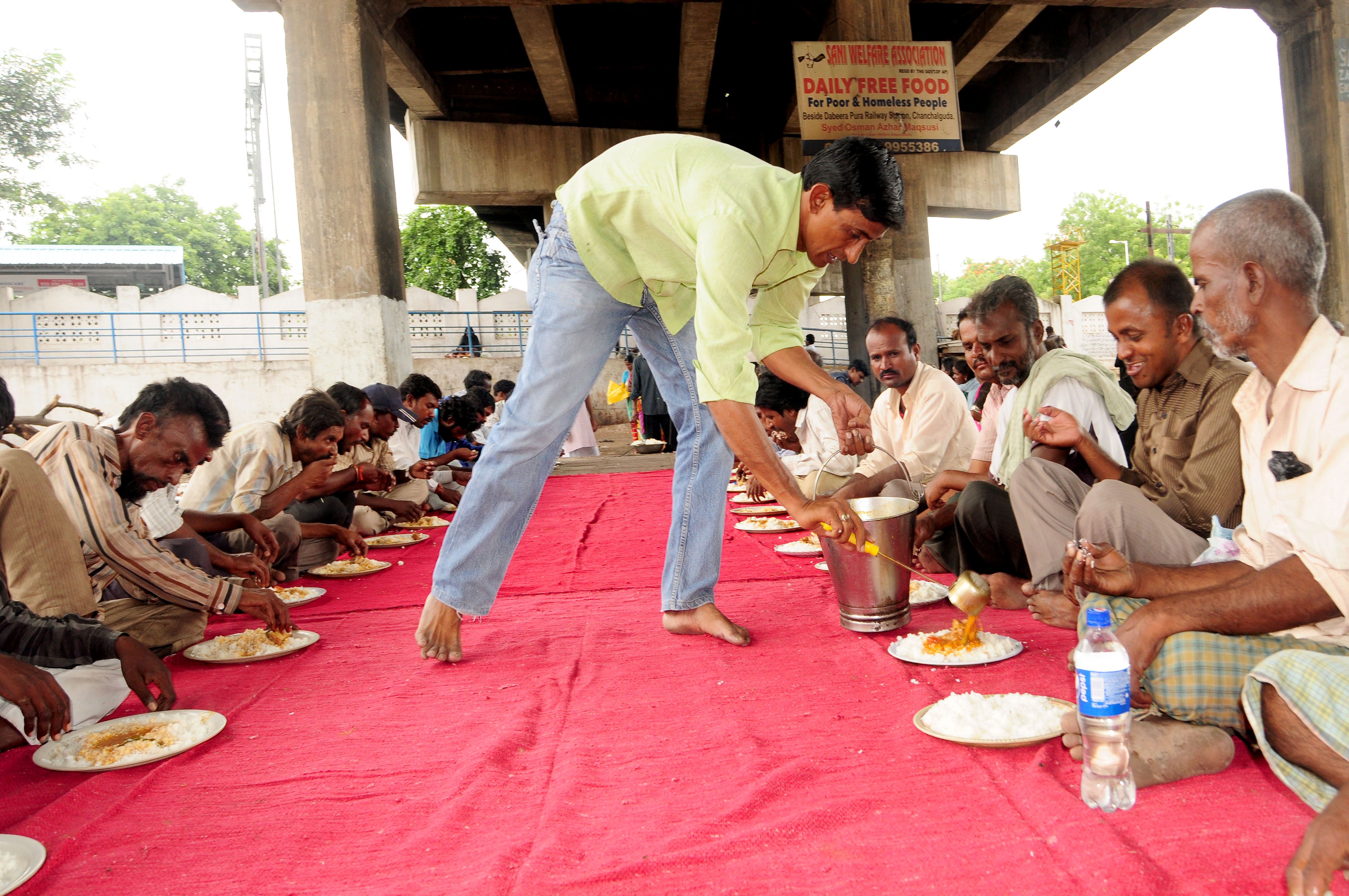 'Allah will provide'
Hunger had always been part of Azhar's life. "Even when my wife was pregnant with our first child we have starved and she has not said a thing," recalled Azhar who has three children.
It is not that he has deep pockets; he has immense faith in Allah's providence.
Azhar continued to feed people for one year and on the 77th day of the next year, he ran out of money. "I do not save money. I believe god will provide," he said. When the cook asked for money to buy ingredients, Azhar was helpless. Azhar sold old newspapers and iron rods at a scrap shop and managed enough to provide for a day. The next day a customer visited his shop and handed over Rs 20,000 saying he wanted a job done urgently. "I immediately realised that this was Allah showing me path," said Azhar.
Azhar believes Allah intervenes when he needs help. In another instance, a wrong turn brought an NRI to this dead end below the flyover. He saw people eating food and inquired about it. He went on to provide 16 bags of 25 kgs of rice
"I have never asked for donations nor have I told people about what I am doing," he said. "This is Allah's own way of helping me." The 16 bags of rice lasts Azhar for 17 days and around 120 to 150 persons can have a happy meal. Azhar has to then buy daal, oil, tomatoes and other ingredients for the khichdi, besides wood to cook the meals. Most of the money still comes out of his pocket but every once in a while he gets a generous donation.
Azhar has his reasons for why he is on Facebook. I want to communicate through FB and it is helping," he said. "A lot of friends have joined in and I have got a lot of support but I turn down all the offers that I get in cash. I only take kind. The reason I post pictures on Facebook is not so people donate but tocreate awareness that so many people sleep hungry in a city every day."
He has also started a clinic for poor patients and medicines are given for free. Azhar then started Sani Welfare Educational Academy for girl students. The academy provides 45 girls studying in class 10. "Anjali and Salma are the most brilliant students,"a proud Azhar says. "While Anjali has joined polytechnic, Salma is now doing her inter."