Limited to 260 pieces and priced at about Rs55 lakh a piece, thE Harmony chronograph is equipped with Calibre 3300 developed by the manufacture over the past seven years.

The launch of the Harmony collection marks a landmark for Vacheron Constantin, which manufactures around 25,000 watches annually

Harmony is not a sporty collection, but a technical and elegant series
Two summers ago, when we caught up with Christian Selmoni, the artistic director of Vacheron Constantin at the brand's famed museum in Rue des Moulins, Geneva, he dropped some hints about a much-awaited complication from the maison—an in-house chronograph. "It is a very important complication for us but, at the same time, very complex to make. It is like a V8 engine. Give us two years, it's on its way," he said.
As assured, Vacheron Constantin's "V8 engine" is finally here. To mark its 260th anniversary this year, the company has unveiled 'Harmony'—a collection which includes three timepieces with a monopusher chronograph, a double-pusher chronograph for ladies and three dual-time watches.
Inspired by the brand's traditional chronographs from the late 1920s, these cushion-shaped watches have been designed, developed and produced in-house. While one of the Harmony chronograph watches comes with a split-seconds function, the other model is equipped with a tourbillon. The third variation, with a pulsometer scale, comes close to a 1928 model.
Crafted in pink gold, the Harmony Pulsometer Monopusher Chronograph displays hours, minutes, small seconds and power-reserve. Much like the medical watches from the early 20th century, the deep red pulsometer scale around the rim of the dial allows one to calculate pulse on a 30-beat scale.
Limited to 260 pieces and priced at about `55 lakh a piece, this watch is equipped with Calibre 3300 developed by the manufacture over the past seven years. "We wanted to pay tribute to the early chronographs from the brand," says Selmoni. "The main challenge was to create a contemporary collection, while establishing a link between 1928 and 2015. Though the design is classic, the engineering is clever and contemporary. We have not only introduced a dynamic chronograph activation system but also ensured precision through the friction technique."
Selmoni says the chronograph activation system in the Harmony Pulsometer is different from the conventional construction in the sense that once the pusher is pressed, the gears engage and the chronograph mechanism starts, stops or resets to zero in one go.
"In most chronographs, there is a chance that the mechanism may engage but won't start if there is not enough pressure," explains Selmoni. "With our new calibres 3200 and 3300, it is impossible for the gears and cams to engage and not start. This improves the durability of the movement. Although this system is not uncommon, it is rarely seen on a chronograph movement."
To ensure a smooth, uninterrupted functioning of the chronograph, Vacheron Constantin has used the 'friction technique' for the lateral clutch of the chronograph. This helps in avoiding a jerk in the chronograph seconds hand on activation. "As compared to the traditional system, the friction technique ensures better precision. Moreover, the sliding-type lateral pusher ensures improved control of the chronograph functions," says Selmoni.
For enhanced precision, the chronograph in this watch uses two hammers instead of one for the start, stop and reset functions. Each hammer exercises pressure on the heart-shaped cams, which turn in clockwise or anti-clockwise directions, therefore bringing the hands back to zero. As the blocking levers resume their initial position, the hammers also get back to their original place.
"Our contemporary production techniques helped us in designing an extremely precise wheel profile for the chronograph, where the clearance between the gears is kept to a minimum, with the teeth separated by just 0.03mm," says Selmoni. "While the cone-shaped gear between the winding pinion and the crown wheel ensures an extremely smooth, gentle winding, the spherical differential [also fitted with a cone-shaped gear] driving the power-reserve indicator prolongs the movement's life cycle."
To complement the brand's logo, the gears of the chronograph have been shaped like the Maltese cross and the column-wheel screw, too, has been adorned with the same emblem. As a commemoration of the company's 260th anniversary, the balance cock has been hand-engraved with fleurisanne motifs, first used in the pocketwatch designed by Jean-Marc Vacheron in 1755. "Although the movement of this watch looks very classical, it gave us a lot of scope for hand-finishing, bevelling and other decorations," says Selmoni.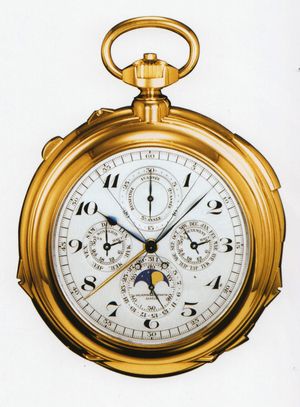 Dedicated to chronographs, split-seconds and dual-time functions, the seven watches in the Harmony collection might be mistaken as sporty in nature, but Vacheron Constantin is clear in classifying them as dress watches. "Harmony is a collection of highly technical, dress watches. The design of these timepieces is rooted in our history. We will maintain Overseas as our main collection for sporty watches," says Selmoni.
While Vacheron Constantin started making pocketwatches with chronographs towards the end of the 19th century, its first wrist chronograph was made in 1917. As customary in those days, Vacheron Constantin would buy ébauches from mass manufacturers like Lemania and Valjoux and then adjust, finish and decorate the same in-house.
"We have a great history in classic chronographs, which were essentially, dress watches," says Selmoni. "The chronograph function is rooted in the history of sports, but it was invented to measure short intervals of time for scientists and doctors. The Harmony collection is all about high complication watches in 'dress' cases."
Vacheron Constantin established itself as a significant player in the ultra-high complication category in the early 20th century. It was one of the very few fine watchmaking companies that could deliver timepieces with double chronographs, tourbillon, perpetual calendar, moon-phase display and power-reserve indicator.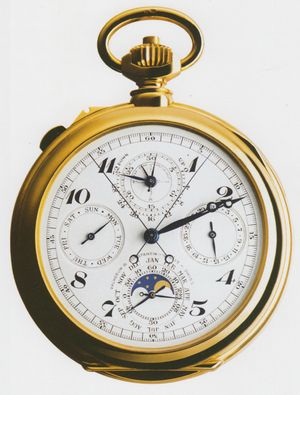 In 1906, a surgeon from Lyon placed an astounding commission for an ultra-high complication watch with rare combination of functions, comprising an alarm and a chronograph with a complete calendar. With its seven hands and six dials, this remarkable watch took three years to make.
Some of the most fascinating timepieces from the brand include a pocketwatch commissioned by American banker and watch collector Henry Graves Jr. in 1932, King Farouk's ultra complicated pocketwatch from 1934 and King Fuad's yellow gold watch with split-seconds chronograph, perpetual calendar, moon-phase display and minute repeater made in 1929.
This was also the time when Vacheron Constantin made the Medicus, a chronograph watch designed for those in the field of medicine. The watch had a scale for reading the pulse rate with accuracy. Since the brand already had an experience in manufacturing pulsometers in the late 19th century, this was like revisiting an old tradition with newer demands.
"Mechanical timekeeping was a necessary part of the healthcare profession then," says Selmoni. "Functions like telemeter, tachymeter and pulsometer were related to vintage chronographs used by specialists."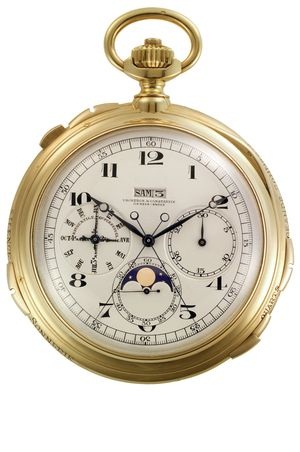 The cushion-shaped Harmony Chronograph bears resemblance to the Historiques American 1921, a modern-version of the brand's famous art deco timepiece from the early 1920s. "For the Historiques American 1921, we wanted to maintain a vintage look but Harmony is more contemporary," says Selmoni. "The cushion-shaped design lends itself to accommodating medium-complication and Grande Complication calibres."
The launch of the Harmony collection marks a landmark for Vacheron Constantin, which manufactures around 25,000 watches annually. "We started working on our own movements in 2000. Right now, 80 per cent of our movements are done in-house, and we plan to achieve a 100 per cent target in the near future," says Selmoni. "One complication that was missing from our portfolio was the chronograph. It was a long-drawn strategy. We wanted to launch it on our 260th anniversary. We would soon use an in-house chronograph for the Overseas collection."
Last year, Vacheron Constantin dedicated its Métiers d'Art collection to ladies. The Florilège trilogy presented three designs, each referencing a beautifully rendered botanical illustration from Robert John Thornton's The Temple of Flora, published in 1799.
This year, too, the brand has planned a pleasant surprise for the fairer sex. As part of the Harmony collection, Vacheron Constantin is introducing its first-ever chronograph for ladies. "Ladies in Hong Kong, Taiwan and Singapore have been buying mechanical watches for more than a decade now," says Selmoni. "The interest has gone global now. We have had ladies' watches with moon-phase display and power-reserve indicator, but there was no chronograph."
The brand's product strategy is clear. It has two main divisions—the high-end mechanical watches, with the Geneva Hallmark, and the Métiers d'Art collection, which represents the highest form of craftsmanship.
"We don't classify these watches as for men or women," says Selmoni. "We are building our portfolio for watch enthusiasts in general."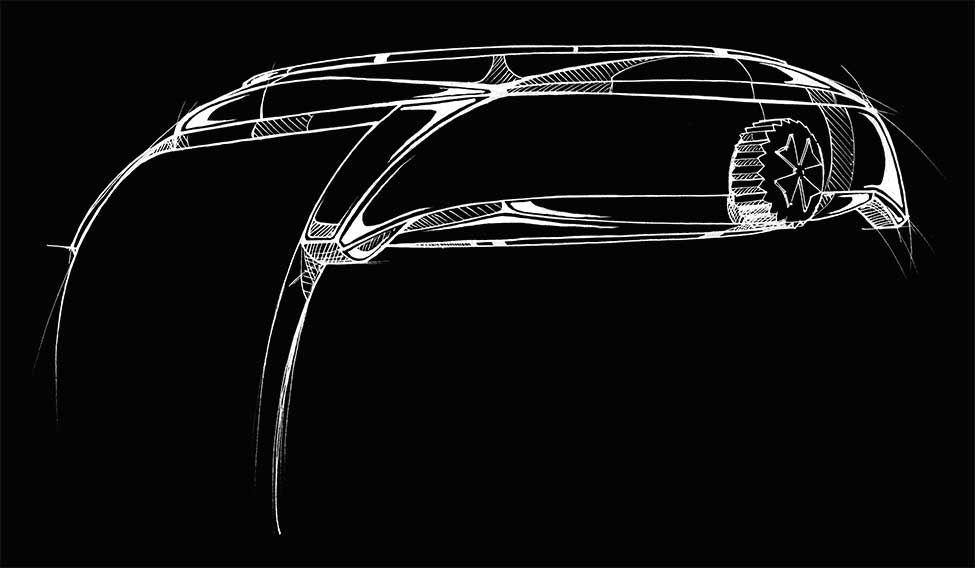 SPECS
VACHERON CONSTANTIN HARMONY CHRONOGRAPH
Reference: 5300S/000R-B055
Movement: Manufacture Calibre 3300, mechanical; manual-winding; diameter=32.8mm, thickness = 6.7mm; approximately 65 hours of power-reserve; 21,600 vph; 252 components; 35 jewels; hand-engraved balance cock with a dedicated 260th anniversary pattern
Functions: Hours, minutes, small seconds, monopusher chronograph, pulsometer scale, power-reserve display
Case: 18K 5N pink gold; 42mm x 52mm, thickness = 12.81mm
Dial: Silvered opaline, blue painted Arabic numerals and red pulsometer scale
Strap and clasp: Brown Mississippiensis alligator leather, hand-stitched, saddle-finish, large square scales; 18K 5N pink gold triple blade folding clasp with polished half Maltese cross-shaped
Accessories: Delivered with a magnifying glass, a brochure on the Harmony collection and a 260th anniversary celebration letter signed by Juan-Carlos Torres, CEO, Vacheron Constantin
Limted to 260 pieces
Price: Rs55 lakh (approx.)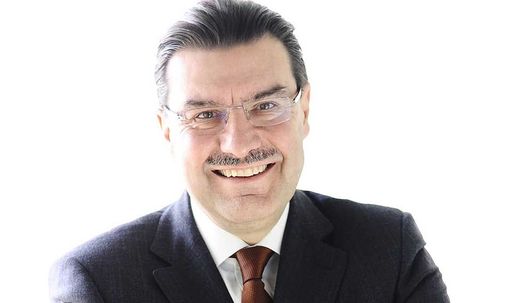 Juan-Carlos Torres, CEO, Vacheron Constantin
India is a strategic market for the industry
After a fruitful association of over two decades, Juan-Carlos Torres was made CEO of Vacheron Constantin in 2005, when the brand celebrated its 250th anniversary. Under Torres, the company has boosted its global presence from two boutiques to forty-five. Excerpts from an interview
WTI: Completing 260 years is a big milestone for the brand. What would you count as the major landmarks in the past two decades?
JCT: Vacheron Constantin, founded in 1755, is the oldest watchmaking manufacture in the world, with uninterrupted activity. It is, therefore, a continuous challenge to develop our activities, while respecting our long history. This experience is a tremendous source of inspiration, too.
Even though 20 years is just a small part of our history, they have seen many landmarks. One main event happened 19 years ago, when Vacheron Constantin joined the Richmont Group. It gave the manufacture many advantages to develop and keep on taking up challenges.
Ten years ago in 2005, Vacheron Constatin celebrated its 250th anniversary with its new building in Plan-les-Ouates [in Geneva], and rolled out some milestone timepieces such as the Tour de I'lle.
In 2013, we inaugurated our new watch component manufacturing facility in the Vallée de Joux, uniting our watch component production activities under one roof.
Looking at the growth of Vacheron Constantin, we had just two boutiques in 2005; ten years later, we have more than forty-five in major cities such as Paris, New York, Moscow and Tokyo.
WTI: With Vacheron Constantin's rich heritage, is it tough to innovate and introduce new concepts?
JCT: As mentioned earlier, having such a long heritage is a challenge for our manufacture to keep on respecting the long watchmaking tradition. But, on the other hand, it is a source of inspiration to innovate and introduce new concepts and timepieces.
WTI: Why did it take the brand so long to dedicate a collection to sporty watches? Though Overseas has been around for some time, it isn't as comprehensive as Harmony.
JCT: Harmony is not a sporty collection, but a technical and elegant series. It highlights Vacheron Constantin's true values—perfectly mastered technique, harmonious and inspired aesthetics, and an extremely high level of craftsmanship and finishing touches.
WTI: You have also introduced a chronograph for ladies. What do you think of the market for ladies' watches?
JCT: We have been noticing a growing interest for feminine mechanical watches. This is a worldwide trend that is to continue, and this is why we intend to develop our offerings in this segment in the years to come. There is no reason why women cannot wear such timepieces!
WTI: What is your marketing strategy, and how important is India in your scheme of things?
JCT: India, of course, is a strategic market for the watchmaking industry. Considering the potential for growth, Vacheron Constantin has set up a subsidiary with a dedicated local team to answer the future. We are already seeing the benefit of doing so.
We strongly believe the market will open up in the years to come, and we are excited to be part of this change. The Far East is a key market like North America and Europe, our traditional markets.
WTI: Are you targeting a younger audience with Harmony?
JCT: We are targeting the customer who appreciates high watchmaking and is sensitive to both technical and aesthetic excellence.
WTI: How has the customer perception of the brand changed in the past five years?
JCT: Clearly, customers have been getting more and more knowledgeable on watchmaking. This is quite impressive, and we notice this when travelling and meeting customers across the world.