From motorcycle chic to outsized shoulder pads to a sort of Mexican drug lord look, it seemed like David Beckham had done it all. He had a swagger, confidence, a devil-may-care attitude that not many could pull off without looking slightly retarded. In an age when metrosexuality was still in its infancy, Beckham proved that real men are not afraid to cry. Or wear skirts. He scored a rather dubious sartorial goal when he was photographed in the mid-1990s wearing a Jean-Paul Gaultier version of a sarong.
"Even today, no other footballer comes close to Beckham," says fashion choreographer Anu Ahuja. "If I were to give him 100 points, the others would get around 20 points."
The 1990s were also the age of the Spice Boys, composed of a few Liverpool F.C. footballers like Jamie Redknapp, David James and Robbie Fowler, known for their profligate lifestyles off the field and rather dismal performances on it. Perhaps their most notorious moment was when they strutted around the pitch in cream Emporio Armani suits before a game which they promptly lost to rivals Manchester United.
Since then, such circus antics have petered out, but the suits have stayed. At a time when models sashayed down ramps in baggy and distended designer suits, Beckham knew that the future would belong to the slim and tailored look. It was akin to a prophecy because at this edition of the World Cup in Brazil, most teams channelled the look when they arrived in Brazil. Only the embellishments varied. The Japanese, for example, wore checked suits accessorised with diamond-print ties. Watching the Italian team walk down the jet bridge in three-piece Dolce & Gabbana suits was like watching models in a Gillette advertisement, but with clothes on. All that was missing was Jay-Z rapping in the background.
Coming to jerseys, my favourite is the French one, with its elegant navy palette and simple white collar. Cameroon's heritage ikat print comes a close second. Argentina's blue and white striped jersey looks like it belongs on a prison inmate; Croatia's red-and-white checkerboard jersey gives me a headache; I'm not exactly sure what the Portuguese were thinking when they designed their 'stripes disappearing into blobs' jersey; and, those unimaginative English just went with boring white.
"If I were to design a country's jersey, the predominant concern would be practicality and comfort," says fashion designer Rahul Reddy. "Then would come aesthetics and what's appealing to the eye. The colours should be striking so that the team stands out and some element of patriotism should also be incorporated into the design of the jersey."
It is difficult to pinpoint exactly when fashion started infiltrating football. Perhaps sometime in the 1960s when restrictions on the earnings of footballers were lifted and players were free to satisfy their fashion pangs. The book Fashion of Football by Paolo Hewitt and Mark Baxter details how, in the 1970s, the Chelsea team used King's Road boutiques to win psychological battles against rivals Leeds. In the 1980s, it was the zany style sense of British black footballers that became fashion's talking point. The 1990s, of course, belonged to Beckham and his outlandish hippie looks.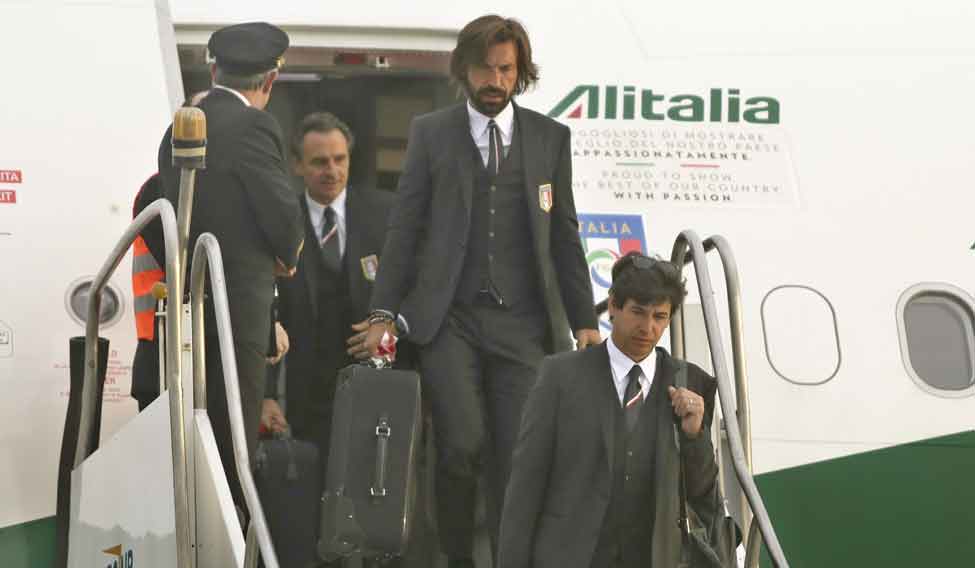 Perhaps it is the uniformity of the jerseys on the field that causes players to break free off it. As Ahuja says, most of them are not your regular blokes. They are extremely outgoing and adventurous and they love to experiment. Lionel Messi, for example, sported a polka-dotted bow tie and matching suit at the Ballon d'Or ceremony in 2013. Cristiano Ronaldo claims to love wearing tight trunks and pink flowers. And the king of bling, Spanish centre back Sergio Ramos, once wore metallic gold shorts and shiny foil letters on his sweater. You name it, they've flaunted it.
But, maybe they are most rebellious when it comes to their hairstyles. "Many players sport wacky hairstyles because it's their only way to grab attention," says fashion designer Bobby Grover. "Everything else is the same―the jerseys, the shoes. But when it comes to hair, they get a chance to project themselves as fashion icons."
Ever since the bubble perm of the 1970s became a hit with footballers, these players have become dons of dreadlocks. In the 1990s, England midfielder Paul Gascoigne bleached the top half of his head, leaving the bottom brown. Colombian midfielder Carlos Valderrama knotted his hair into fashionable orange ringlets. Cristiano Ronaldo sported three separate hairdos this tournament and Neymar Jr recently summoned a stylist to bleach his hair before the game against Mexico. Ramos is rocking a buzz-cut side, Mohawk top combination and Luiz Suarez a slightly diagonal faux hawk cut. They might be lions on the field, but their ludicrous hairstyles give the impression that they are not so tough off it. Their bark might be worse than their bite. Except, of course, in the case of Suarez.