The second day of Amazon India Fashion Week (AIFW) turned musical as singer Sona Mohapatra walked the ramp for label Virtues by Viral, Ashish and Vikrant. In a tete-a-tete with THE WEEK, she shared her experience of being a showstopper and the collection she wore. Excerpts: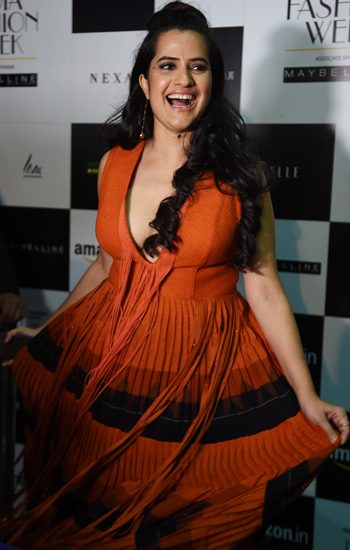 What brings you to Delhi today?
The Kotpat weave by label Virtues.
Tell us about the fabric that you are wearing?
My bright orange layered pleated dress is made of Kotpat weave, which takes over a month to create. It is one of the last few natural dying techniques available. There are only four weavers left and I have been posting about this tribe based in Koraput in Orissa in the social media for a long time. Ashish and Viral fortunately read it and got inspired to create a whole line in the Amazon Fashion Week. I am hoping that next time around this time of the year, we have inspired at least 40 more weavers and there is enough demand, to ensure that we celebrate this beautiful art form as it is truly a national treasure.
What's so special about the outfit?
The most interesting thing about this garment is that the more you will wear it, the darker and the deeper its colour will get, which usually doesn't happen in the case of other garments.
Festive season has just started. Are you planning to wear the same weave and convince your friends to wear similar weave?
Absolutely. Just to say that Kotpat is one of the incredible weaves but Orissa also has dongaria and so many ikat lines—Sambalpuri; there are 40 of them and I am hoping that it makes people curious to go and check out more of these weaves. In fact, I have been vocal about these weaves for the longest time, so it's not new. But, I am hoping many more people embrace it. The fabric is perfect for Indian weather—it lets me breathe, it lets me feel comfortable and makes me look pretty, too (smiles). I am glad that the textile ministry is promoting #IWearHandlooms.
What is your fashion statement?
I am not fond of the celebrity name or its culture. I wear this kind of stuff in my normal life as well.