If you believe that just a good recipe can help you make a delicious meal, you are mistaken. The art of cooking a perfect meal is more than following somebody else's footsteps. Going beyond recipes, let's a take a look at some of the best kitchen tools (apps) that will help you become a better cook.
Thyme: A Kitchen Timer for the Culinary Arts
Anyone who has used more than one stove burner at a time would understand the pain of tracking cooking time for each dish on the stove. Sometimes, the food-you-may-burn, if left unattended, might also include something sizzling in the oven. This is where you need a time keeper that can remind you to attend to each dish at a fixed time.
Thyme is a simple, minimal-user interface app that does exactly this—keep time. And it does it so well, that you do not mind this one-task only app. What sets it apart from regular stopwatch and alarms is that the five timers on the app let you set and manage time for each burner on your stove and oven too. The minimal interface makes the process as simple as a tap of your finger. And when the timer is done, the app notifies you with an alarm and message.
Available for iOS and Android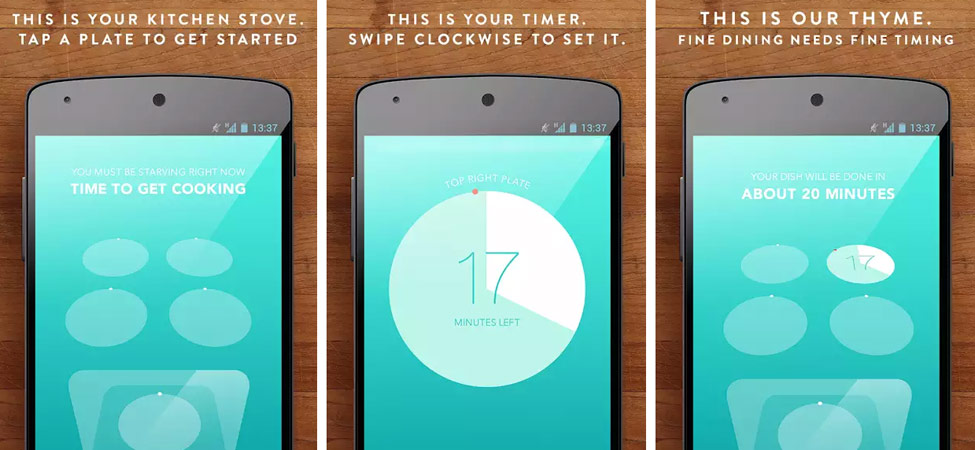 My Cocktail Bar Pro
Mixing a cocktail, especially if you are a cocktail fan with a flair for deciphering flavours readily available in the kitchen, may not be as tough as it may seem. But what is difficult is to be your own bartender to replicate classic cocktails and popular concoctions for friends and guests who may not be as experimental as you are. To top it all, let's be honest, how often are we prepared with all the right ingredients to shake up a cocktail at home? 
With My Cocktail Bar Pro, you can find cocktail recipes based on your preferences and available bar stock. Random alcohol, juices, mixers and fruits—just choose what ingredients you have in hand and the app will give you a list of cocktails you can make with those ingredients. It has a separate category for strong alcohol beverages. My Cocktail Bar also offers you an option to save and manage your favourite recipes. Giving you a wider choice of drinks, the app also shows a list of cocktails you can almost make with a few ingredients missing.
Available for Android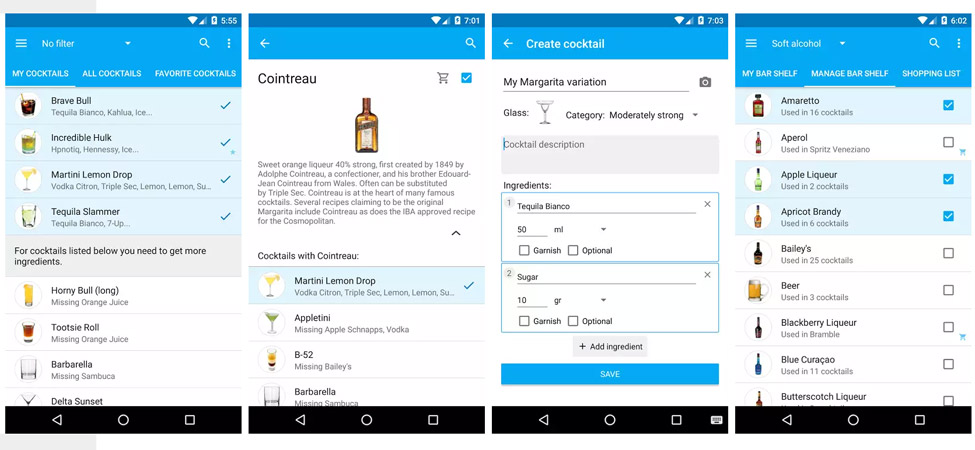 Recipe Calculator
The more you pretend that cooking has nothing to do with numbers, the more complex proportions recipe books will throw at you. As if converting various units of measurements from recipes to units you understand is not enough, you also ought to figure out the proportions of the ingredients in case you want to increase or decrease the size of portion served. It may sound like a simple maths, but it is not, since the stuff you deal with cannot be easily multiplied or divided as per the calculations. You need an expert who can do the maths for the purpose you need it for.
Enter Recipe Calculator. It not only assists you with weight conversions, but comes handy when you want to revise the quantity of each ingredient as per the new serving size. So, no more adding a bit of this and a bit of that to strike a balance, instead turn to Recipe Calculator for absolute proportions.
Available for Android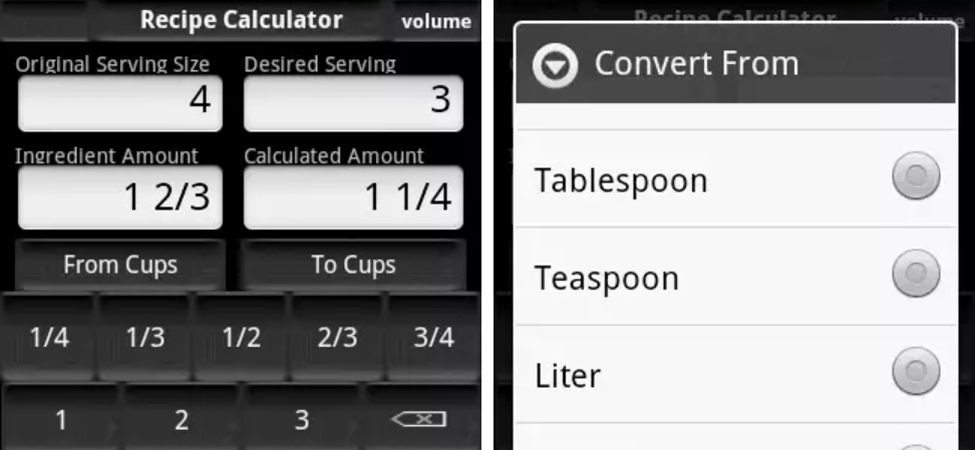 CookAdvisor with timers
CookAdvisor is just what it is called—an everyday advisor, especially to those who usually stumble their way in to the kitchen. For many of us, just hard boiling eggs could be as daunting a task as preparing a seven-course meal for 20 guests. One might turn to a full-fledged recipe app to accomplish the mission, but to those for whom kitchen safaris stop at getting the basics right, such apps may seem intimidating.
That is where the sweet and simple CookAdvisor enters the scene and hand-holds you through the nitty gritty of kitchen operations and basics of cooking. Be it how to ready sausages or boil rice, CookAdvisor advises you through every step with clear, short instructions. Not just that, with built-in timers, it reminds you when your dish is ready. The app also gives you a choice to add your own personal advice, timers and tips for future reference. What makes this app even more useful is that it runs without internet.
Available for Android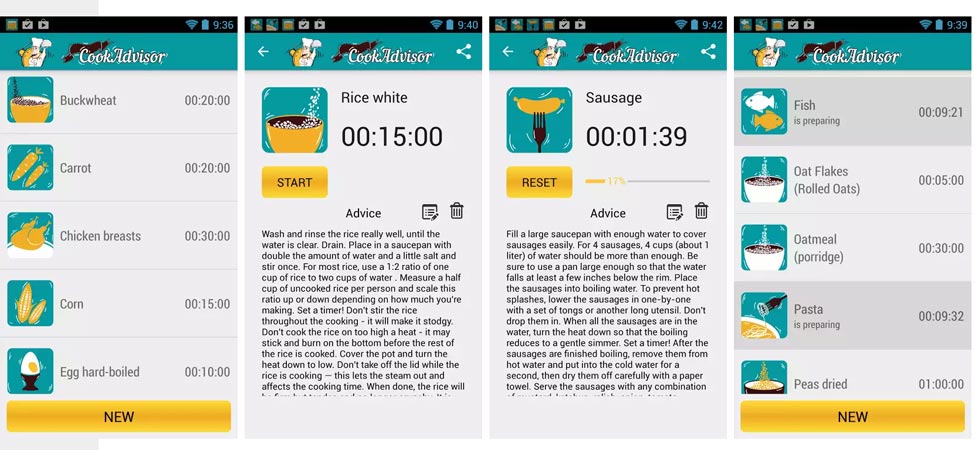 Yummly
At first glance, Yummly may look like any other recipe app loaded with beautiful pictures and easy-to-fix recipes from all over the world. But do not let that assumption make you miss out on an app that can help you make your life in the kitchen easy and food on your table just perfect.
Yummly is your gateway to recipes that would hardly need any tweaking based on your taste, preferences, allergies or medical condition. On Yummly, you can set your preferences under various filters—choice of cuisine, type of diet, ingredients readily available in your kitchen, nutrition needs, food allergies, total calorie, or simply likes and dislikes. So, every time you look for a recipe, the app will throw back most relevant recipes based on your preferences. Besides, it allows you to save your favourite recipes in a digital recipe box. On Yummly, you can also add a recipe to your shopping list, thus making sure that you get everything you need during your weekly trips to a grocery store.
Available for iOS and Android