In the few weeks after Donald Trump's formal appointment as the president of United States, he has managed to make a lot of people uncomfortable, especially with his executive order on immigration, which temporarily bans people from seven countries—Syria, Iraq, Iran, Libya, Sudan, Somalia and Yemen—from entering the US. The controversial move has been called "unconstitutional" and "unAmerican" by senators and lawyers.

The protests at the Los Angeles and New York airports and other parts of the US show that the general sentiment is against Trump's move, which has left family members stranded across the border.

There were other forms of protest too; big brands such as Starbucks and AirBnB expressed their disagreement through public statements, as did some major names from Silicon Valley, including Facebook and Google. Amazon and Expedia backed lawsuits against Trump's administration on Monday. Celebrities voiced their concerns and reminded people that America's melting pot culture comes from generations of immigrants who were welcomed with open arms. Let's take a quick look at some celebrities and popular brands who opposed the ban in their own unique way:

Budweiser: Born the Hard Way
Budweiser's new commercial, released just in time for this Sunday's first Super Bowl match, is a classic reminder of how some of America's celebrated brands were built on the sweat and toil of immigrants. It shows the journey of its co-founder, Adolphus Busch, who immigrated to the US from Germany in 1857, and how he met Ebert Anheuser, with whom he went on to establish the beer company. Born the Hard Way wraps the story up in a minute, portraying how Busch felt like an outsider and is ridiculed for it, but persisted to work on his dream nonetheless.
Known for its propagation of patriotism and Americanism, the Super Bowl is a widely popular annual football championship. By buying ad space—which is ridiculously expensive—and making it a story about immigrants, Budweiser has made its stand clear to the 100 million people in the audience.

Actors at the Screen Actor's Guild (SAG) Awards
After Meryl Streep's iconic speech about free press at the recent Golden Globe awards, it seems actors have no qualms in talking politics and taking a stand at award shows. It was no different at the SAG Awards held on January 30. Actor Kerry Washington (Scandal) set the tone for the night by declaring that "actors are activists because we embody the humanity and worth of all people".

In his opening speech, host Ashton Kutcher "welcomes everyone" to the American airports—a direct reference to the hundreds of immigrants stranded at the airports. Sarah Paulson, who was awarded for The People v. O.J. Simpson, pleaded audience to donate to ACLU (responsible for calling for an "emergency stay" on the ban).

Big Bang Theory star Simon Helberg and his wife, director and actor Jocelyn Towne displayed signs that said "Refugees welcome" and "Let them in".
Julia Louis-Dreyfus (Veep) and Taylor Schilling, who spoke for the multi-ethnic ensemble cast of Orange Is the New Black, recognised immigrant identities as one of their own and urged to "keep telling stories that show what unites us is stronger".

Almost all the winners, including Mahershala Ali (Moonlight), Bryan Cranston (All the Way), Emma Stone (La La Land) and David Harbour (Stranger Things), had powerful statements to make. 
On the ramp: Robert Geller and Opening Ceremony
Ditching the runway for the stage, Opening Ceremony, a label helmed by designers Humberto Leon and Carol Lim, presented a powerful ballet as part of its Spring 2017 collection. Dancers displayed their collections emblazoned with words such as "Defy", "Change" and "Protest". Celebrated choreographer Justin Peck of the New York City Ballet collaborated with Leon on The Times are Racing, a politically-charged statement in the form of art.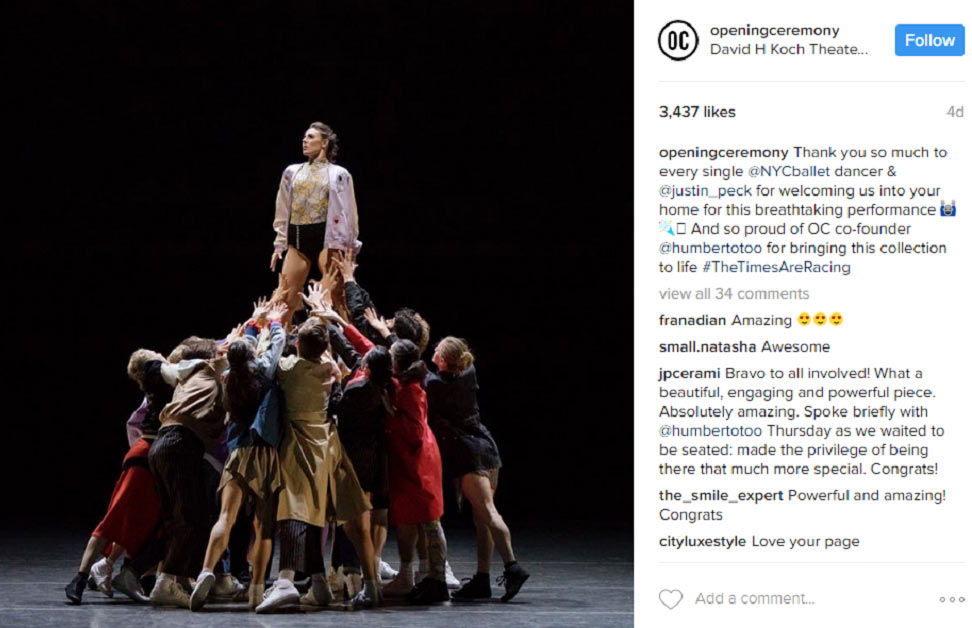 Menswear designer Robert Geller was born in Germany. He came to the US 15 years ago and made a mark for himself as an award-winning designer. He expressed his fear of being called out as an immigrant and his solidarity with those like him, through his collection at the New York Fashion Week: Men's, on January 31. The protest-themed collection included hockey face masks, coats marked in camouflage patterns, combat boots, and martial epaulettes. Geller, when he walked on to the ramp at the end of it, wore a t-shirt that proudly said "Immigrant".

Iranian director Asghar Farhadi
Oscar-nominated Iranian director Asghar Farhadi  would not be able to attend the Academy Awards due to the ban. His film, The Salesman, is nominated for the Best Foreign Language Film award. In an act of defiance, he declared that even if he was exempted, he still wouldn't attend. He issued a statement calling out on the fascist tendencies of the new administration: "To humiliate one nation with the pretext of guarding the security of another is not a new phenomenon in history... I hereby express my condemnation of the unjust conditions forced upon some of my compatriots and the citizens of the other six countries trying to legally enter the United States of America and hope that the current situation will not give rise to further divide between nations."