While menstruation still remains a taboo in the country, conversations about menstrual hygiene and sustainable menstruation are finding their way into our spaces now. In fact, the discussion is slowly moving beyond the blue ink in sanitary pad advertisements, to eco-friendly products like the menstrual cup. 
There is a growing awareness about the cup in urban India today, and several organisations are motivating women to make the switch from sanitary pads to cups, for reasons aplenty.
For 27-year-old Putul Tiwari, putting up with heavy flow during her periods was a nightmare, especially during college days. She recalls an embarrassing incident. "Within an hour of changing to a maxi pad, it was fully blood-soaked and I had to sit for a test. So, when I sat down on the bench it was like sitting on a wet sponge. Massive stain appeared on my white salwar. I wrote the entire test standing up, took an auto, stained its seat as well and reached home to cry in the bathroom," said Putul. Most women can relate to this situation in 'those days' of every month, and how uncomfortable and embarrassed it makes them feel.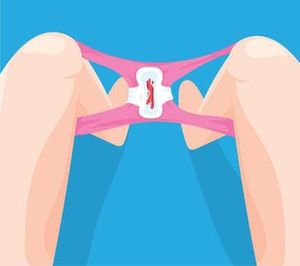 Putul, however, is more relaxed in 'those days' of the month now. Three years ago, she made the switch from sanitary pads to menstrual cups. "It has absolutely been one of the best decisions of my life," she says.
For the uninitiated, menstrual cup is a bell-shaped cup that collects menstrual blood. Made of medical grade silicone (like the one used in feeding bottle nipples), these flexible cups snugly fit into a woman's vagina, and catches the blood while she is on her periods. Once full, the cup can be emptied into a sink or toilet, washed and reinserted. "I can sleep with my legs wide open and also swim wearing cups. As the blood doesn't come in contact with air there is no problem of bad odour, too," adds Putul. No itches, no rashes, too. Cups are also a life-saver when travelling long distances.
Besides its comfort levels, the major highlight of the cup is that its environment-friendly. "Pads and tampons create so much of sanitary waste every year. I didn't want to be adding to that contribution," says 24-year-old Sonal Jain, as she shares her reasons for switching to the cup. 
According to a 2011 AC Nielsen and Plan International survey, Sanitary Protection: Every Woman's Health Right, there are over 355 million menstruating girls and women in India, of which only 12 per cent use sanitary pads. The rest, mostly due to lack of awareness about sanitary hygiene, use cloth rags and even leaves. The 12 per cent of sanitary pad users alone produce over 432 million tonnes of soiled pads which are poorly processed, dumped in open wastelands, buried or burnt in our backyards, or even flushed down toilets.
"It is a better option for the environment, as well as the body," says Sonal. "In fact, it is so comfortable that you almost forget that the cup is inside you. It doesn't hold you back from any activities, either," she says.
Sonal, who has realised the benefits and comfort of cups, hopes to help more women make the switch. She is a member of the leadership teams of Boondh, a Chennai-based organisation which makes menstrual cups affordable and accessible in India. Boondh conducts outreach programmes in rural areas of Jharkand, and also corporate organisations and colleges. "We are in the process of implementing work in Uttarakhand and Rajasthan," she adds.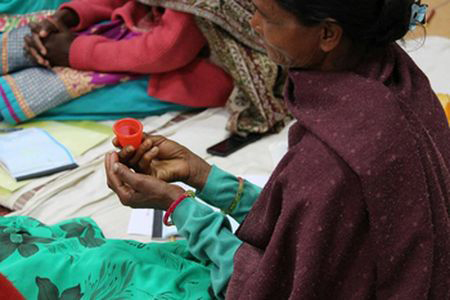 Even if one is convinced to try the cup, the cost, however, may be a turn off. It may seem exorbitant, because the cost of a good menstrual cup ranges from Rs 700 to Rs 1,000, and even beyond for international brands. "If you compare it with the money you shell out every month for sanitary pads, it is a cost-effective option," says Bengaluru-based Surabhi Jain who has been using cups for the past year and a half. What makes them economically viable is that menstrual cups can be reused, cycle after cycle.
"If maintained well, a good quality cup lasts 10 to 15 years," says Sonal. But after each cycle, the cup has to be sterilised in boiling water.
Surabhi, like Sonal, after experiencing the magic of cups urges women to take the path. In her spare time, she works as a volunteer with EcoFemme, an organisation that promotes environmental friendly activities, including sustainable menstrual practices. As part of this, she speaks to urban women about cups and convinces them to give it a try. "We are so used to the use and throw attitude. In the urban setup, we don't really realise where our sanitary waste finally ends up. Even the educated urban women conveniently brush the topic under the carpet," she adds. "It's just for a few days in a week," is the common refrain.
A major mind block when it comes to embracing the cup, is the general stigma associated with 'insertion' of any sort, and virginity. "Mothers whom I have spoken to are scared about their young daughters using cups because they are very averse to the idea of insertion. Many even suggest trying cups after they get married," she says. The hymen story is a big deal in India, and most women do not know enough, she adds. To be able to 'cupvert' more women, many of these stigmas should be uprooted.
While there are worries about how odd it might feel, or hygiene concerns, cups are a great option, says Dr Sushma Tomar, gynaecologist with Fortis Hospital. Though cups are still in the nascent phase in India, many women are experimenting with tampons. Super absorbent tampons, however, have been known to create toxic shock syndrome, a serious bacterial infection. There is no need of such concern with cups as they are made of silicone, she says.
But Tomar has a word of caution, too. "Blood provides a good breeding ground for bacteria, and hence the cup should be emptied regularly. She also suggests changing the cup once in six months, and investing in a good-quality cup to avoid irritability and infections.