Rich in antioxidants, green tea is well known for its innumerable health benefits. Regular intake of green tea can help improve brain functioning, boost metabolism, lower risk of cancer, diabetes, Alzheimer's and Parkinson's, and improve dental health among others.
Still, for many of us, it may not be easy to get used to its flavour, or rather, the lack of it. Some even claim green tea be an acquired taste. If you are one of those who want to reap the benefits of green tea but find it difficult to appreciate its slightly-bitter bland flavour, then you do not have to try to train your taste buds to like it anymore. Japanese matcha green tea is the answer to your wish to enjoy green tea without compromising on taste. Matcha green tea is actually finely-powdered, high-grade tea leaves, which means that you consume the leaf and not just the brewed water. Matcha, one of world's best-quality teas, is much superior to other teas in terms of physical health benefits as well. One glass of matcha green tea's antioxidant content equals that of 10 glasses of regular green tea.
The traditional way of making matcha green tea is simple: sift the matcha tea into a cup, add hot water, whisk vigorously in a zig zag motion, preferably using a bamboo whisk, till the tea gets frothy and is ready to be relished.
However, what makes matcha green tea even more special is that it pairs well with most dairy products and can be had in many delicious forms—milkshakes, cakes, crepes, ice cream, popsicle. Surprised? Don't be. The matcha green tea is naturally sweet with grassy notes, making it a perfect ingredient in most sweet drink and food recipes. Besides, it also lends a vibrant green colour to the dish.
If the traditional way of having matcha green tea is not appetising enough, here are some easy and quick ways to have the best-of-all matcha green tea:
Matcha iced tea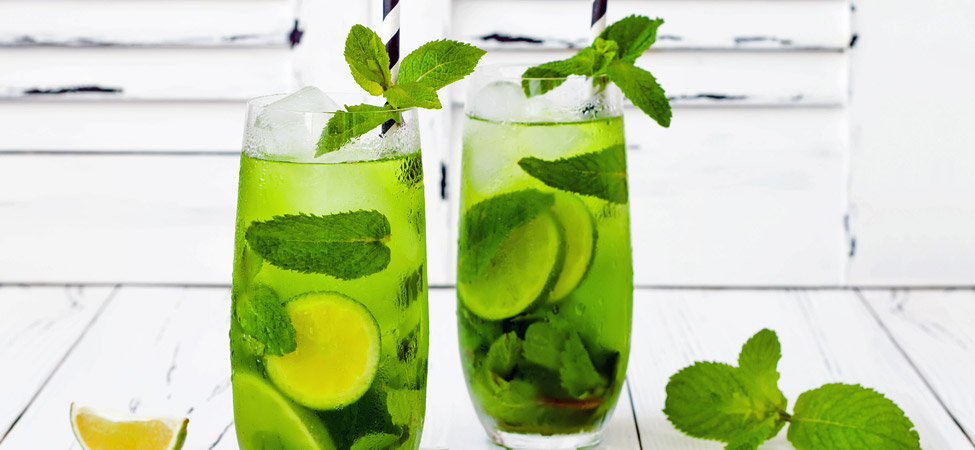 Matcha iced tea is a two-step recipe that needs less than a minute to prepare. For a glass of matcha iced tea, put two teaspoons of matcha green tea in a cocktail shaker. Fill with ice, cold water and slices of lime and shake well. Pour it out in a glass and enjoy the drink. Please note, however hard you shake, the green tea powder would not completely dissolve in the water and would remain suspended in the mix, gradually settling down at the bottom of the glass. As you sip, you just got to stir occasionally to refresh your drink.
Matcha frappuccino
The chilled matcha green tea frappuccino could very well earn the distinction of your any-time, any-where drink. The refreshing matcha green tea frappuccino is not only easy, but a fun recipe, too. For a glass of frappuccino, put two teaspoons of matcha green tea powder, three-fourth glass of milk, and ice cubes. How smooth your chilled frappuccino would turn out to be depends on how well you froth the milk.  it. Use a hand-held blender for better results. You could also add a pinch of cinnamon or a few drops of vanilla extract to enhance the flavour.
Matcha latte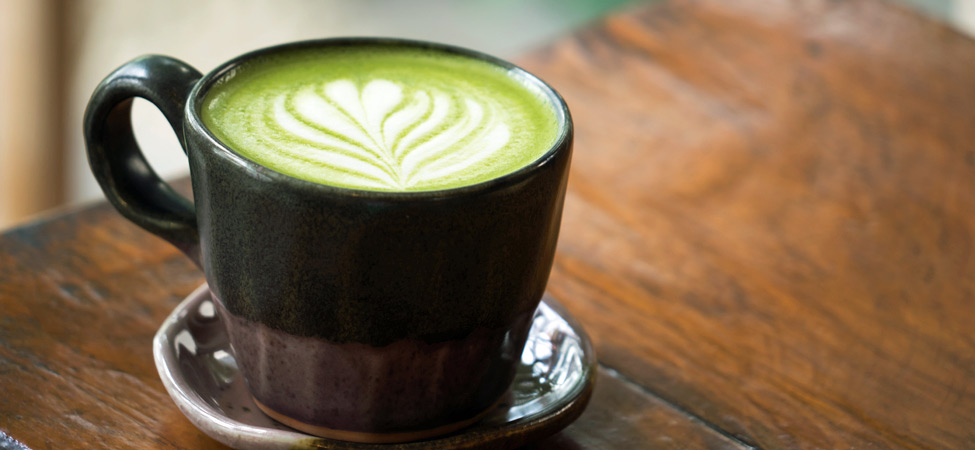 If you prefer a soothing, warm cup of milky tea over the chilled version, then matcha green tea latte could be a good try. It is just as simple as making any other tea. Or perhaps, simpler. The trick is to make the green tea before you pour hot, frothing milk into it. Two teaspoons of matcha green tea power should be enough for one cup of tea. Put the tea is a cup and add hot water. Mix well to form a smooth paste. Pour hot milk over tea and mix it well. Top it with milk froth and your steaming cup of matcha green tea latte is ready. For extra zing, try chai masala, cinnamon or vanilla extract.
Matcha crepe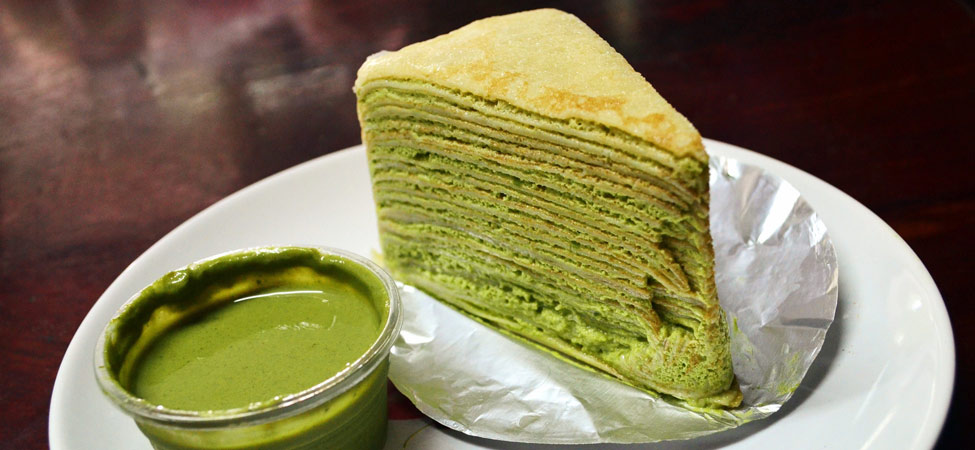 The bright-green matcha crepes could easily squeeze itself into the breakfast or quick-snack menus. The recipe remains the same as regular crepe. Just mix matcha green tea powder with your choice of flour—ice, wholewheat, buckwheat—to make visually-appeasing and healthy crepes. After dairy, coconut is the next best ingredient that enhances the subtle sweetness and evens out the grassy notes of matcha green tea. Try matcha crepes with coconut whipped cream for a variety in texture and rich flavours in each bite.
Matcha chia pudding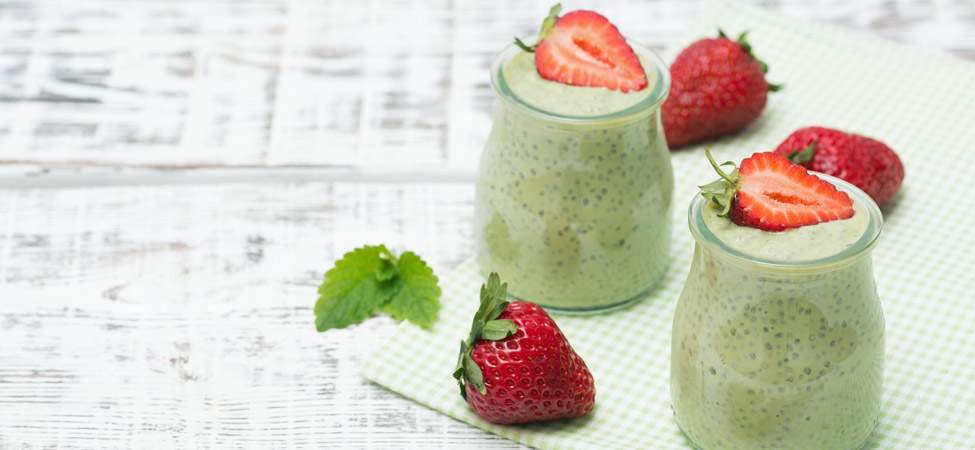 The sumptuous yet simple recipe is a delicious way to start your day. All you need to make a tasty bowl of pudding is milk, preferably almond milk (as it is naturally sweet and pairs well with matcha powder), any flavouring agent of your choice such as vanilla extract, cinnamon, saffron, chia seeds and, of course, matcha green tea. Bled the milk, flavouring agent and matcha together in a blender till smooth and pour it over the chia seeds. Mix well and refrigerate it for at least an hour or you can leave it in the fridge overnight for a healthy treat next morning. Stir well before digging into it.
Matcha froyo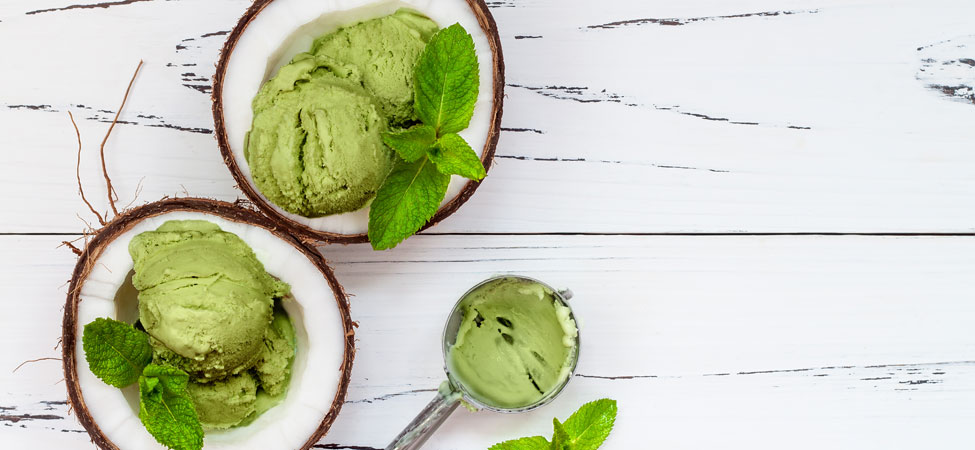 Who doesn't love a good froyo or frozen yoghurt. Over centuries, yoghurt is known for its nutritional properties and health benefits, especially for the gut health. By teaming it up with matcha, you can enjoy the protein-rich, packed with antioxidants, bright-green froyo for dessert. The recipe is simple. Mix yoghurt, sweetener, flavouring agent and matcha powder in a bowl. Beat well till the mixture is smooth and without any lumps. If the mixture looks too thick, add milk to thin it a little. Pour the mixture slowly in an ice maker. Once the mix is ready, transfer it to a bowl and freeze it for at least eight hours before serving. That's it!
Matcha popsicle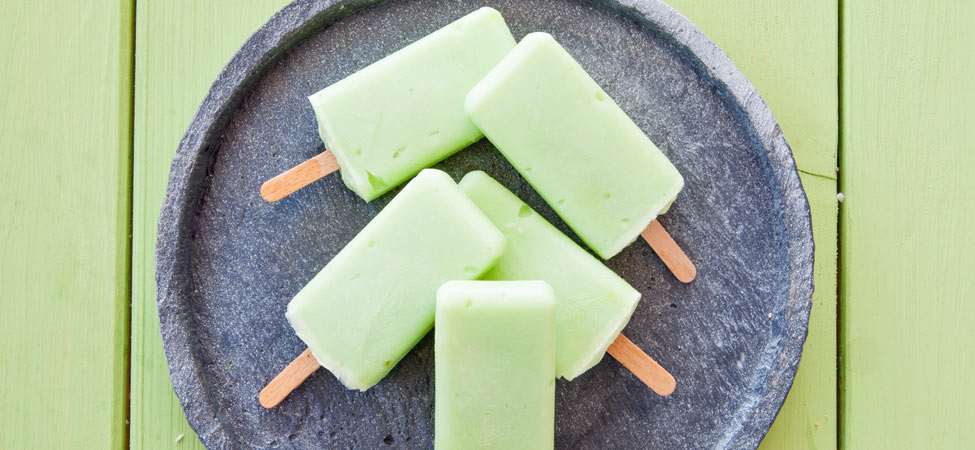 Easy to make and delicious to savour, matcha popsicle has everything it takes to be an instant hit among children as well as adults. Unlike most other matcha dessert recipes, where you can directly add the matcha powder to the mix, the best way to get even flavoured popsicle is to first make traditional matcha green tea and then add either condensed milk, thinned yoghurt or milk (preferably almond or coconut) to it. Mix well and pour it into the ice cream mold and freeze it overnight. Your healthy popsicle is ready. Since matcha powder does not completely dissolve in the mix, matcha tea loose particles may settle down while freezing and give your popsicle a dark green head when removed from the mold. It is still natural tea and as healthy as dissolved particles. Bite on!