Bengaluru-based Santhilakshmy's diet was always traditional. Except for the occasional eating out, it was largely what you would expect in an Iyer household―idli, dosa, curd rice et al. Five years ago, a nagging body pain and unexplained lethargy took her to an orthopaedic physician who put her through various tests. The results showed no abnormalities. He suggested lipid profile test and the result was not comforting―her triglyceride level was a staggering 400.
As the director of programmes at Bhoomi Network, an organisation that promotes safe farming and sustainable living, she knew enough about the role of a good diet in life that she was determined to reverse the condition through diet alone. She followed a diet that fit the natural cycle of the body and within a month, her triglyceride level dropped to 95. In her quest for natural, indigenous food that is healthy, she also found millets. "Including millets in my food took me a step closer to optimum health. My energy levels increased dramatically. I was not a person who could concentrate for too long. There was remarkable improvement in my concentration too," she says.
Millets are perhaps the most indigenous grains that exist now in India. In our quest for the softest and the most visually appealing food for culinary satisfaction, millets became the south Indian hero in Bollywood—high on performance but low on visual appeal. Knowing this hero could not capture the mass market, millets were pushed to the periphery, so much so that some of the supermarkets in cities do not stock millets at all. But food purists argue that we ought to give millets space in our kitchen for its health benefits alone.
How beneficial are they?
Once called 'God's own crop', there are many benefits to adding millets to our daily diet. "To the presence of micronutrients and its rich fibre content, millets are best suited for controlling diabetes, heart diseases and body weight. It is also good for pregnant women," says Dinesh Kumar of Earth 360, an eco-venture in Kadiri, Andhra Pradesh that is striving to bring millets back to the mainstream.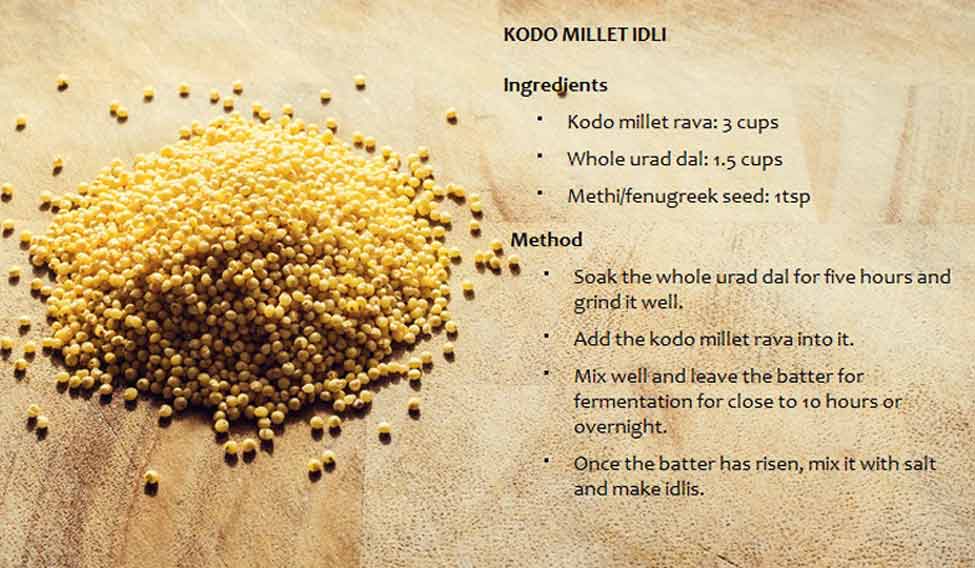 According to Bengaluru-based food activist Ananya Mehta, the main benefit of millets lies in its gluten-free property. Ananya, who turned to organic farming and food activism after years of battle with her young daughter's innumerable food allergies, says that every human being is gluten-intolerant to some extent. "Millets are the best way to wean yourself off wheat. Wheat, unlike in the olden days, is now highly engineered to make it more glutenous so you get your softest breads and puff pastries," she says. Ananya took to millets as it also provided the calcium her daughter required since she was off dairy for a long time. Millets are a great source of calcium, making it ideal for vegans and dairy-intolerant people.
Millets can easily replace rice in any dish. Unlike rice which is a source of simple carbohydrates, millets are complex carbs that break down slowly, thus releasing glucose to the blood in a measured way. This makes millets excellent for diabetics.
Gurgaon-based holistic health coach Nandini Golati would choose millet over any other food as they are storehouses of micronutrients. "Each millet has some speciality or the other. They are, as a group of grains, rich in micronutrients like calcium, magnesium, potassium and more," she says. Santhilakshmy says millets are not acidic and are ideal to maintain the natural pH value of the body.
"Tumours grow in an acidic body. We must include more alkaline food in our diet to maintain the pH balance. Millets are a great way to achieve this," she says.
Nature savers
That is not all. Millets are the best crop for our ecosystem. They grow in arid weather, demanding less irrigation and hence, are sustainable. The natural coarseness of millets comes from its high fibre content. These layers of husk on it protect it from pests making it naturally pest-resistant and thus organic by default. "Until food companies understand the potential of millets and begin to meddle with it like they have done with rice and wheat, it is safe to have millets," says Ananya.
The other side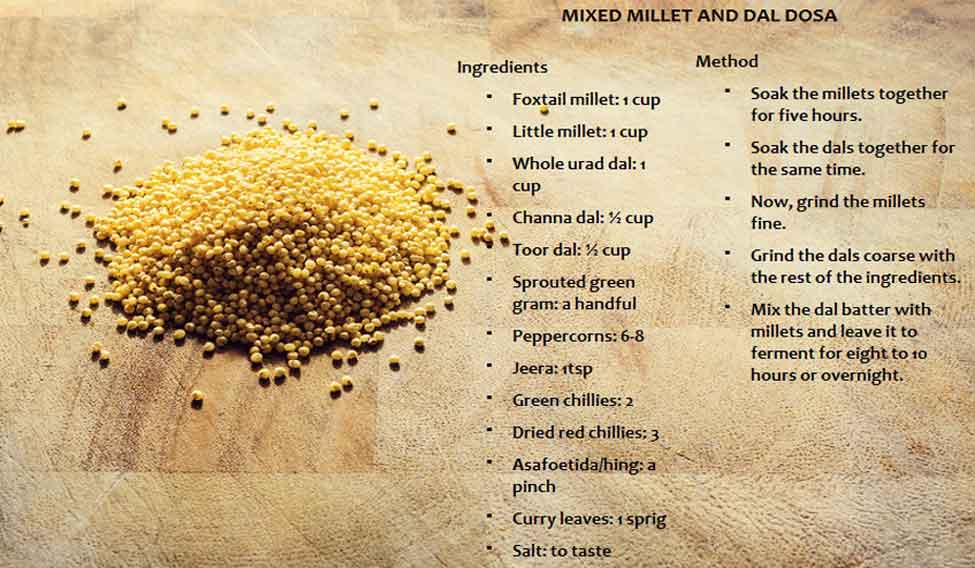 Despite its nutritional advantages, millets are not without its set of detractors. Expert of paleolithic diets and the founder of Paleo movement, Loren Cordain, in his famous website The Paleo Diet calls millet a gluten-free grain everyone should avoid. He points out that the presence of anti-nutrients like phytates and tannin in millets, could prevent the assimilation of essential nutrients by the body. He also writes that millets are goitrogenic and can lead to serious iron deficiency in the body. The article goes on to say that millets as a staple food can lead to abnormal functioning of the thyroid glands. While Nandini rubbishes the claim, Dinesh says that such a claim is often heard associated with the pearl millet.
Mumbai-based nutritionist Radhika Karle says, "Millets are best avoided or limited to twice a month if you have hypothyroidism. But those with hyperthyroidism should have plenty of it." She says since some of the varieties, at least, will hinder the absorption of nutrients, the trick is in combining the right food groups. "To aid the absorption of iron in millets, it is important to have it with vitamin C. So, a roti made of finger millets, which is rich in iron, can be had with a chutney made of tomato or gooseberry," she says. To take care of the anti-nutrient phytate, millets have to be soaked overnight and washed thoroughly before using them. Radhika, however, believes that adding millets to your diet, even in small quantities, will take care of a lot of nutritional needs of your body.
"It is a great winter food and excellent for small children," she adds. With so much to offer, millets are truly a blessed crop. It is time we give this dark horse its due.