The good old Indian tourist was once only looking out for the sights. See a monument and pick up some souvenirs and saris quite summed up the tourist experience. A good steel tiffin carrier filled with home-made (or acquired from the hotel of stay) poori bhaji and pickle provided the victuals for these outings. Bananas from the thela outside the monument was safe food, the crying child got a packet of chips and tetrapack juice. Food breaks were bothersome necessities back then. Even the firangi tourist chose to eat safe—bars of chocolate for quick energy, bananas were the preferred fruit for them, too. Eating out was inviting Delhi belly, and a big no-no.
Food is central to tourism now. You haven't really seen a place unless you have tasted its cuisine. You have not really understood a culture unless you have sampled its delicacies. Tourism is not just a feast for the eyes and ears, it's also a treat to the tastebuds. Though you cannot 'Instagram' back the flavours, is any holiday complete unless you have posted at least a dozen pictures of you eating nihari at Nizamuddin or sipping yak butter tea at Leh?
Food walk trails are becoming a popular way of exploring a place these days. The Lonely Planet kind of traveller reads up all about the local cuisine and treats of a ragios and then stridently walks out to sample them, antacids and diarrhoea control pills in hand. Of course, there's nothing like self discovery, but if you find an expert to help you navigate through foreign streets and flavours, measuring out the right dollops of history and trivia from time to time, the experience can only be enhanced.
So, here's a look at some of the guided food walks from four cities:
DELHI
Although there are a few other groups that organise food walks in Delhi, Anubhav Sapra's Delhi Food Walks is perhaps the most known, and totally food dedicated tourist programme in the capital. Sapra takes groups of tourists through the innards of Old Delhi. As you stand and watch the men at Paranthe wali Gali rolling out a myriad varieties of paranthas, the guide will tell you that they never use garlic or onions, here. It's the influence of the Jain community of Old Delhi. And as you bite into a scalding hot morsel, you learn that the oldest shop here was started in 1872. The Nagori Halwa gets its name from the migrant workers of Nagore, Rajasthan, who popularised this delicacy.
Sapra began on a part time basis in 2010, but by 2014, he was ready to quit his job and do food walks on a full-time basis. He's constantly thinking of new circuits. The Momo Trail is one of these, which spans all of Delhi over five hours while gastronomes compare notes on the translucency of the shell or the fire of the sauce.
There's a trail for every season and festival—the Chittaranjan Park bhog trail will start during Puja. One hit this year was the Sehri walk during Ramzan time, starting at 11pm and ending at 4am. Langar trails, the Paharganj experience, Tea trail, you name it and either Sapra already has a trail or is willing to customise it for the group. Some of the trails are so specific that even locals can find something new to explore. Take, for instance, the Majnu ka Tila Tibetan food walk or the Kamla Nagar Marwari Bania trail. "Foreigners prefer the Old Delhi walk, Indians love the festival trails," he says. The adventurous foreign tourists are mainly from the US or the UK though Germans and Australians are interested, too. "The Chinese and Japanese don't do food walks. In an entire season I may have just one or two of them," he says.
***
MUMBAI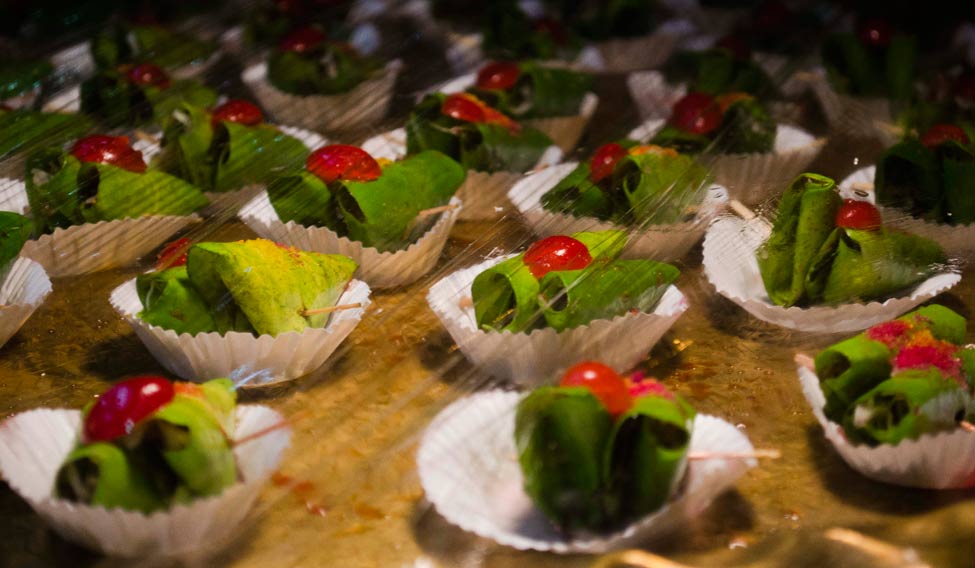 By Priyanka Bhadani
A foodie himself, Mihir Govilkar was abroad for a few years when he realised the immense interest of people in Indian food. "I was myself very interested in food and ended up talking about it and discussing it at any given opportunity. When in a new place, I used plan my breakfast to dinner in the hope of discovering the cuisines of the place and eventually the culture," says Mihir, who decided that when he comes back to India he would have a platform where food can be discussed. And, Food Tours of Mumbai was started in October 2013. As Mihir, an advocate by profession now, is busy mostly with his work, his partner Yateen Pathak runs the venture full time. "We are available on all weekdays after 18.30 hours and specialise in the Fort Food Tour," he says. Besides having food at some of the popular joints in the area, they also indulge in talking about the architecture, history and heritage of the area, says Pathak.
Magic Tours of India
Armed with a business degree from the Indian Institute of Management, Calcutta, and after spending 18 years in financial services technology, Deepa Krishnan, in 2002, set up a sightseeing company. She intended to show "the real India" to the overseas visitors. Magic Tours of India, which started as a lark, has now evolved into a successful group of businesses with 100-plus people working across 25 cities in India.
Krishnan says the best way to connect with a place is to try the local food. "Mumbai is a fascinating city with a very distinctive and strong food culture of its own. There are some dishes that are popular all over the city; but there are also some hidden local gems that reflect regional cuisines. Different communities have settled in different pockets of the city, and each neighbourhood market reflects not just the food, but also the culture and quirks of that community," she explains as she adds that there is also lot of intermingling of flavours, "like the famous dosa-khakra that is now in the stores here, reflect the confluence of Gujarati and South Indian communities of Mumbai."
Krishnan's food walk through Ranade Road and Dadar Market, and Matunga Road, are quite interesting as well as popular. She says that all the walks that they conduct are explorations of specific neighbourhoods, and food is an important theme in all of them. "Our walk through Chor Bazaar includes a visit to Null Bazaar, and we also see local bakeries and street food representative of the different Muslim communities of that area. In the Worli Fishing Village walk, our guests get introduced to Koli cuisine; and our Bhuleshwar walk has explorations of the food popular with the trading communities of that area," she says, adding that tourists are looking for insightful experiences when they travel. "They want to experience and taste the local culture, not just see it from a distance. They come for food walks because they want to experience it all themselves. They want to walk through crowded bazaars and look at vegetables. They want to see delicacies being fried or cooked right in front of them, and served piping hot. They want to know what the locals eat and how they live. Often, they want to have home-cooked meals or learn specific cuisines. In such cases we arrange visits to a local home with an interactive cooking session."
The response to Magic Tours of India that is recognised by the Ministry of Tourism (Government of India), as well as the Maharashtra Tourism Development Corporation (the state where it is domiciled), has been excellent. Last year in Mumbai alone, they did 80 walks. They conduct walks in Bangalore, Chennai, Hyderabad, Amritsar, and Kolkata, too.
***
CHENNAI
By Nikhil Raghavan
Sridhar Venkataraman, who curates and runs Chennai Food Walks, a closed Fb Group, and has done several locality/neighbourhood walks in Chennai and elsewhere in Tamil Nadu. "The Food Walks that I curate, essentially, serve multiple purposes. It creates familiarity with an area through a guided tour and gives a person more than just an insight on food. Most places on these food walks are carefully chosen to be easy on the wallet. Special care is taken to choose Quick Service Restaurants because a walk needs to have a good sample of 6-7 joints in the area and needs to finish in a couple of hours with the walk distance not spanning more than a few of kilometres."
There is no fee collected for any of these walks and there is no obligation to spend any specific amount at any joint and the emphasis is on providing recommendations for what are the best options. "With Rs 200 in a person's wallet, any walk usually provides enough options to fill the stomach. Social friendships among foodies have the potential to last a lifetime with interactions not just on food."
Meanwhile, Vijay Prabhat Kamalakara, Founder of Story Trails, which also does food trails, says, "In the food trail that we do, it takes you through the bylanes of Sowcarpet, to sample local street food. But what really is local food—that question is a constant refrain on this trail where almost every story ends up shattering myths about Indian foods and their origins." Walk the crowded, colourful streets, sample hot and spicy chaats, popular sweets, local cold beverages, even a paan—all served with an assortment of stories. You will go back stuffed to the gills.
"The food trail through the busy streets of Sowcarpet is guaranteed to be an assault on your senses. So, come, if you are a complete foodie, obsessively adventurous, and very, very hungry," invites Kamalakara.
Sujata Vijay, who runs a play school, is a regular at the food walks. "A few of us, like-minded foodies are regulars at food walks organised by Arjun and Rakesh. The last one we did was in the Sowcarpet area of Chennai, which is largely comprising of the north Indian community. We ate mini podi idlis and mini podi dosas, which are a street food speciality here, at Seenabhai's. There is also the Gujarati Mandal, which is a stand-n-eat place for the tastiest, juiciest jalebis. There's also the Ajnabi Mittai, which is supposed to be the first Ajnabi outlet in the city and has spawned many outlets in several areas in the city. Arjun and Rakesh ensure that they give a bit of history of the locality, information about the food providers, and on the cuisine and its speciality.
"Incidentally, at my play school, we periodically take all children on food walks in and around Mylapore to teach them a bit of heritage and food culture."
Food traveller Rakesh Raghunathan goes a few steps further. The food traveller and raconteur hosts a food and travel show on TV. He also runs a food travel company/website called Puliyogare Travels, which organises cookery workshops, cultural experiences and food trails for food enthusiasts across the world. "The tour of Mylapore for our guests begins right outside the Kapaleeshwarar temple with a brief history of the temple and we cover some of the iconic eateries, home to Mylapore, around the temple. The Karpagambal Mess (known for its badam halwa), Kalathi News Mart (which sold newspapers and then began selling rose milk), Maami Mess for traditional home eats like kozhakattais, Jannal Kadai (literally translates to shop out of a window) which is famous for evening snacks like bondas, sweets and Akka kadai bajji near the temple chariot famous for its homely bajjis made with fresh vegetables. The tour ends with a demonstration of a traditional, heirloom recipe in a local Mylapore resident's house and the guests get to savour them.
***
BENGALURU
By Mini P. Thomas
Sukrishi looks surreal. Sprawling across 40 acres, it seems to be the perfect place to get lost. One can have almost all fruits, except apple, in this paradise on earth. "We grow orange, avocado, guava and custard apple besides a wide variety of vegetables and herbs. You can pick them off the plants in the backyard, not the shelf," says Jayaram H.R., founder of the organic farm house.
Located at Nelamangala, which is about 50km away from the Bengaluru International Airport, Sukrishi has been a haven for tired souls. Some rediscover themselves in this solitude.
For 34-year-old Hanna Meiners, a German Finnish native, the trip to Sukrishi turned out to be a life-changing experience. Smitten by the charm of rustic life, Meiners came back and stayed at Sukrishi again as a volunteer and went on to become an organic promoter. "For me the farm is a great place to connect with nature. The peace and greenery in the natural environment is just overwhelming,'' says Meiners, who has been to Sukrishi several times between 2011 and 2016.
"I experienced farming, planted trees and saw how vermicompost works,'' says Meiners who enjoys going on long walks in the farm.
Sukrishi is a great example of how a steady effort will eventually bear fruit, says Meiners. "It reminds people from cities of the importance of nature and its healing effect. In that sense, the farm serves as a great opportunity to learn, too," she says.
Meiners loves the local cuisine served at Sukrishi, especially the snacks. The variety of food in the farm house is just mind-boggling. Meals are a big affair here with roti, rice, sambar, numerous chutneys and dishes made of raggi and millets.
Martine Dugue from France became a huge fan of the millet-based dishes during her stay at Sukrishi. Back in France, she started 'Terra Millet', an organisation to promote millets.
Tourists who want to experience local cuisine do not go to big hotels, says Jayaram. "They prefer places like Sukrishi. We offer simple food, prepared by the locals," he says.
There are foreign tourists who come and stay in our farm house for many weeks, every year. Despite having foreign clientele, Sukrishi keeps the prices as low as possible so as to attract native tourists. "We charge just Rs 1,500 per head for a 1N/1D package, inclusive of accommodation and all the meals,'' says Jayaram.
For those who want to flee from the chaotic city life, Sukrishi represents the ultimate in luxury.