Twenty two years ago, Eldho Pachilakkadan kickstarted his career as an architect in Thiruvananthapuram, Kerala, knowing that his heart lay somewhere else. His plan was simple—work to make enough to buy some land far away from the hustle bustle of city life and live in the lap of nature as a farmer, growing his own food and exploring nature. Six years ago, he quit his job and turned to dream plan, farming on his four acres of land near Attappady in Kerala.
Today, 37-year-old Eldho owns and runs Primate, Kochi's first raw, vegan food restaurant; India's first, he claims. Yes, you read it right. Raw food, which means no baking, boiling, steaming, or even heating. And this is just the tip of the iceberg.
For Eldho, raw, vegan food is not a dietary preference, but a way of life. Eldho, who started following raw food diet over four years ago, believes when you change your diet, you change your perspective towards life and the way you connect with nature. "Food is not just a means of survival, but how an animal connects with nature. Consumption of food is a duty that we perform towards nature and fellow animals. Just like a honey bee does not realise how it helps in pollination through its hunt for food, we fail to realise our role in nature's scheme of things," says Eldho.
His family, too, practice what he preaches. His two-and-a-half-year-old daughter Rosa Pachilakkadan is yet to taste anything cooked or artificially processed. When Rosa was ready to move beyond mother's milk, she was put on raw food diet which includes fruit pulp, cold-pressed juices and smoothies. Eldho's son, Shiv Albero Pachilakkadan, is a daddy's boy who wants to be like his father in every way. Shiv has been strictly following raw food diet for the past three months. Not a small feat for a six-year-old who is often made to eat cooked food by teachers at school. "We cannot do much about it. His teachers think that he gets cut fruits for lunch because his mother doesn't spare enough time to make and pack lunch for him. They feed him from their lunch boxes," says Eldho.
The last one to convert to raw food diet, as Eldho puts it, was his 33-year-old wife Bincy Eldho, an assistant professor in BPC College Piravom, Kerala, who has been on raw food diet for over three months. "Actually, I am not the last one. I first tried raw food diet when our son was two-year-old, and managed to stick to it for over a year, even after I conceived our daughter. However, I gave it up once I moved in with my parents for delivery. Now, I strictly follow raw food diet," says Bincy.
Although, the initial inspiration to change her diet came from Eldho, she became an ardent believer of raw food diet after she overcame hypothyroidism, for which she gives credit to this diet. When asked if she feels they are depriving children of all sorts of delicious food, she says, "It is easy with Rosa as she is too young to know it and has not even tasted anything cooked or processed. With Shiv, we have never told him to eat or not eat something. He has had cooked food and knows the taste well. But now, it is his decision to follow raw food diet and he is okay with it."
The concept
Eldho strongly believes that good health can be achieved only through uncooked food—the way nature intended for all animals. "When you cook vegetables, you are actually killing the life in it. After cooking, it is just a mixture of chemicals. What's the point of getting organic vegetables, when eventually you will cook it and turn it into a chemical concoction?" says Eldho.
Rice, wheat, sugar, milk—none of these are meant for humans, he says.
Wonder what then is meant for humans? Answer to that lies in your body itself. Research has established the importance of a diverse gut microbiome, comprising mostly of bacteria, in normal functioning of human body systems. And these micro-organisms need natural environment and unprocessed food to thrive. "Natural food has in it everything that our body needs and that can support the microbiome within us. By eating processed food, we are slowly killing them. How can we live a healthy life by killing life inside us?" he asks.
Raw fruits, vegetables, cold-pressed juices and smoothies taste great as add-ons, but it isn't easy to get used to having these as meals. "You'll need at least four days to get used to the diet. You could experience some discomfort as the body is not used to it and the stomach is not prepared to fully digest it. Gut bacteria take a few days to become active and ready to break raw food into nutrients. If you manage to sail through the first [crucial] week, then you'll start noticing how refreshing and full raw food feels," says Eldho.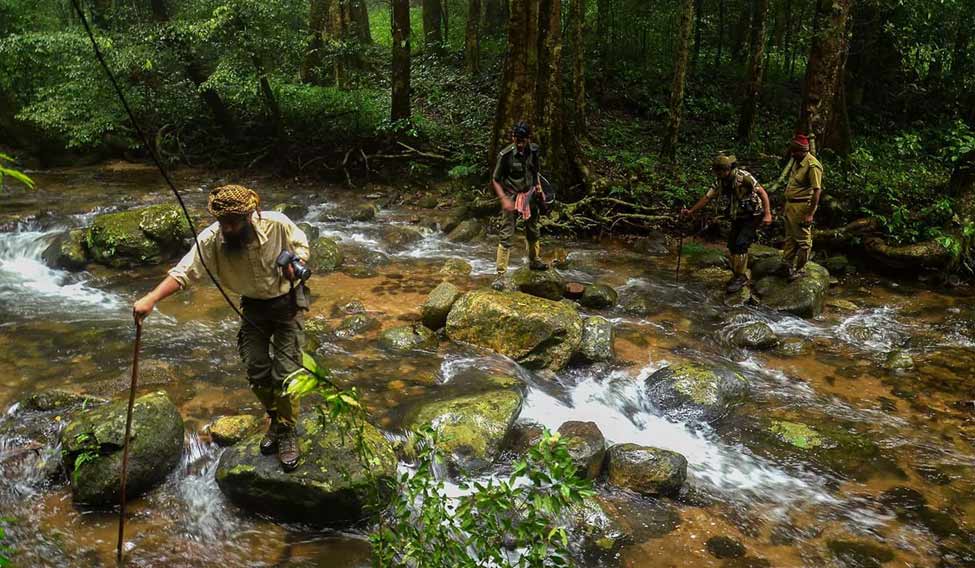 Sounds strange coming from a professional architect? After Eldho joined an architecture firm in Thiruvananthapuram, he met a few like-minded nature lovers who introduced him to the forests of Western Ghats. As part of the Travancore Natural History Society, an NGO-based in Thiruvananthapuram, he has researched and surveyed almost all kinds of fauna and flora, including the primates, in the region.
"When I started studying animals in their natural habitats, including their dietary behaviour, I started noticing how all animals, except humans, eat directly from nature, in its most natural form," says Eldho. This realisation changed Eldho's life and it didn't take him long to change his diet too. "When I decided to switch to raw, vegan food, not just my wife, but even my friends were skeptical. The first question was where would I get protein, calcium and many complex vitamins from." It is in nature that Eldho seeks answers, and counter arguments, too. By eating vegan food, he says, you are consuming protein in its natural form.
Beyond the concept
As much as an animal's food habits evolve based on climatic conditions and natural surroundings, its instinct to consume a particular meal also comes from how appetising it looks. While he is all for a raw food diet, Eldho admits it is difficult to adopt a diet only because it is healthy, it has to be appealing. And that is why, at Primate, Eldho and his team take their constantly-evolving menu beyond the clichéd idea of raw, vegan food; beyond salads, cut fruits, juices and smoothies. You could choose between Primate's version of cheesecake, avocado taco salad, and spring rolls. In fact, now, raw, vegan food diet followers need give up on their love for chocolates either.
Eldho believes it all revolves around one simple word—taste. Says Eldho: "Humans have limited taste—sweet, sour, bitter, salty and umami—and everything you eat is a combination of these. If you can decode the flavours, you can break it down to ingredients and replace each one with a raw, vegan option." The challenge lies in finding the right vegan substitute. In raw, vegan recipes, cashew nuts make a great substitute for cream and cheese, rock salt for regular salt, honey for sugar, and coconut and almond milk for dairy milk. Raw, vegan chocolate, which basically is cacao powder with almond milk and honey, tastes as heavenly as regular milk chocolate.
Eldho showed us how to make raw, vegan cheesecake, which is neither cheese nor cake, in less than 10 minutes. Watch the video here:
Just over a month into service, Primate is already going places with its unique concept and interesting menu. While most first timers come to the restaurant to try something new, some guests have already become regulars. Last month, Turkish chef and founder of Raw Gourmets İnternational Retreat Center & Raw Culinary İnstitute, Turkey, Mehmet Ak, who was in the city to participate in a culinary festival, visited Primate. Impressed by the initiative, he collaborated with the Primate team for a knowledge-sharing program and is all set to come back for a longer period later this month. "Being a raw food diet follower for over 11 years, Mehmat came with a lot of experience. He introduced us to new recipes and helped us upgrade the menu," says Eldho.
Eldho claims that Primate is more than a concept restaurant. For him, it is a movement to bring the idea of living with nature into commercial eating space. "I hope to spread the message of living as one with nature, living the way nature intended us to be. I spend time with the guests and tell them about wonderful things I learnt about nature and animals from my first-hand experience, and hope to be a means to a positive change in their lives," says Eldho.