Planning a trip to Ladakh? Or looking for a reason to travel to this magical Himalayan region? If so, here is the perfect time. This September, Ladakh would be at its cultural best as it marks the millennial edition of the grand Naropa festival.
It is known as the 'Kumbh Mela of the Himalayas' for more reasons than one.
1. It happens once in 12 years: Once in every 12 years, a spectacular pageant is hosted by the 300-year-old Hemis monastery in Ladakh to celebrate Buddhist yogi Naropa's life. The event draws not only Buddhists from across the Himalayas, but a sea of tourists from across the globe. This year's event will be extra splendid because 2016 marks the millennial anniversary of Naropa's visit to Ladakh. It is an extended version of Ladakh's oldest carnival—Hemis festival—organised to commemorate the birth anniversary Guru Padmasambhava, the founder of Tibetan Buddhism.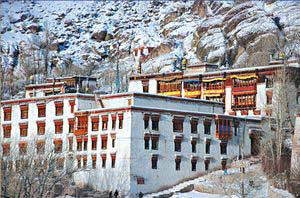 2. Watch the lamas dance: Have you ever seen a lama dance? Here is your chance to watch them dance in full glory, clothed in vibrant traditional maroon and mustard-yellow attires. Wearing masks, horns and multicoloured ribbons, the performers twirl to the mesmerising rhythm of gongs, horns, pipes and drums. The music, which begins on a slow note, slowly picks up pace as the narrative turns intense. The performance is a retelling of mythological stories and a reiteration of the age-old message—that good prevails over evil.
3. There is history to it: Legend has it that Naropa, a 11th century scholar and saint, heralded the beginning of a rich tradition in Buddhist philosophy. Born into a family of noblemen, Naropa embraced a spiritual life at an early age. Known for his intelligence and fierce oratory skills, he was granted the title 'Northern gatekeeper' of Nalanda University.
4. Six ornaments of Naropa: One event that should not be missed is the display of the sacred Six Bone Ornaments, belonging to Naropa, by the Gyalwang Drukpa, the head of the Drukpa Order. Naropa wore the Six Bone Ornaments upon the moment of enlightenment and is a historic treasure of Himalayan culture. Devotees believe that worthy seekers of truth may obtain enlightenment by merely seeing it.
The Drukpa lineage sprawls over major parts of the Himalayas, especially in Ladakh, Kinnaur and Lahaul-Spiti in India, as well as Bhutan and Nepal.
The festival will also witness the ceremonial unfurling of the historic silk thangka, an ancient silk embroidery of saint Padmasambhava that stretches several stories in height. It is displayed to public audiences only during the Naropa festivities.