A novel comprised of a single sentence recently won the 2016 Goldsmiths prize in London. Mike McCormack was bestowed with the award for his book, Solar Bones, written in a lyrical prose form. The award, set up in 2013, is meant to appreciate and encourage new ways to tell a story in the novel form and "break the mould".

Solar Bones is a long, contemplative thought process that speaks through the voice of Marcus Conway, an engineer who is "brought back from the dead". It encapsulates a multitude of themes, including family, marriage, politics and art: "a county with a unique history of people starving and mortifying themselves for higher causes and principles […] blistered with shrines and grottoes and prayer-houses and hermitages […] a bordered realm of penance and atonement"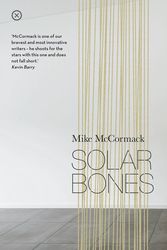 The uniqueness of the book, the single sentence prose, makes for a different reading experience from the regular novel format. Besides introducing a new, creative style of storytelling, it also engages the mind with a captivating storyline.

A lot many books dare to be different and tell a story unconventionally. These books sometimes include pictures, text, even pop-out art, but are different from graphic novels. They are also different from epistolary novels (written through diary entries, letters, newspaper clippings or blogs), in that they have layers of storylines within another layer.

Here are five that you must read, if you are looking for something different:

S by JJ Abrams and Doug Dorst
Footnotes have been used as a decorative feature in books like J.K. Rowling's Fantastic Beasts and Where to Find Them. In S, the footnotes themselves tell another story. The book's main content is a story by fictitious writer Straka, called Ship of Theseus. In the margins, two people try to solve the mystery of this writer, as they figure out who she is and why she chose to remain secretive. Film producer JJ Abrams worked in collaboration with writer Doug Dorst in 2013, in addition to releasing a trailer for the book.

Tree of Codes by Jonathan Safran Foer
Jonathan Safran Foer, known for Everything is Illuminated, created a story out of one of his favourite books and published it in 2010. He cut out words from Bruno Schulz's The Street of Crocodiles to form another story about a person's last day of life. While poetry from newspapers (formed by blacking out words) has been around for a while, Tree of Codes is the first of its kind as a novel.

Invisible Monsters Remix by Chuck Palahnuik
The author of Fight Club rehashed his earlier work from 1999—a satire set in the fashion industry—to present it the way he had always wanted to. His trademark dark humour and disturbing imagery is made even more disorienting by the new format which involves pictures, jumbled up chronology of chapters and some pages written backwards for a mirror effect. Every chapter ends with "Please jump to chapter...", which disturbs the linear structure of the original and forces one to "feel lost" in the book. He has also added new chapters and side-stories, making it a must-read.

To Be or Not To Be by Ryan North
A 2013 retelling of Shakespeare's Hamlet, the story is told through a choose-your-own-adventure style of writing. The format is not new and has been around since the Goosebumps series, but this book manages to set itself apart. The author (who crowdfunded the book) gives you the option to choose a character—Ophelia, Hamlet, the King, Claudia or even Horatio— and make your own judgements, with each decision taking you to another page. It is written with a modern perspective—you can even choose to skip the original narrative and help Ophelia become a scientist. There are a 110 endings, illustrated by artists.

Time's Arrow by Martin Amis
In Amis's 1991 book, he tells a story of a doctor who gets away from Auschwitz and retires in America. Except, the story is told entirely in reverse order, like the Hollywood film Memento. Besides growing younger, the narrator lives his entire life backwards: he goes from dying to abruptly making a recovery, even fighting with lovers only to seduce them later. The storytelling format is eerie as the narrator, who is always confused about why life (in reverse order) is weird, finally understands that in Auschwitz he is creating life, and a new race, through clouds and gas. It was shortlisted for the Booker Prize.