This winter, find comfort, and nutrition, in a soup bowl. Soups are simple to make, and also a great way to keep up your resolution to eat healthier. There are numerous ways to make them—clear, thick, creamy, or like a broth—and so many ingredients that you can add to enhance its flavour. For winter-warmth, though, the secret is to add spices such as cumin seeds and pepper, and the magical ginger. Here are a few appetising winter-warmer soup ideas.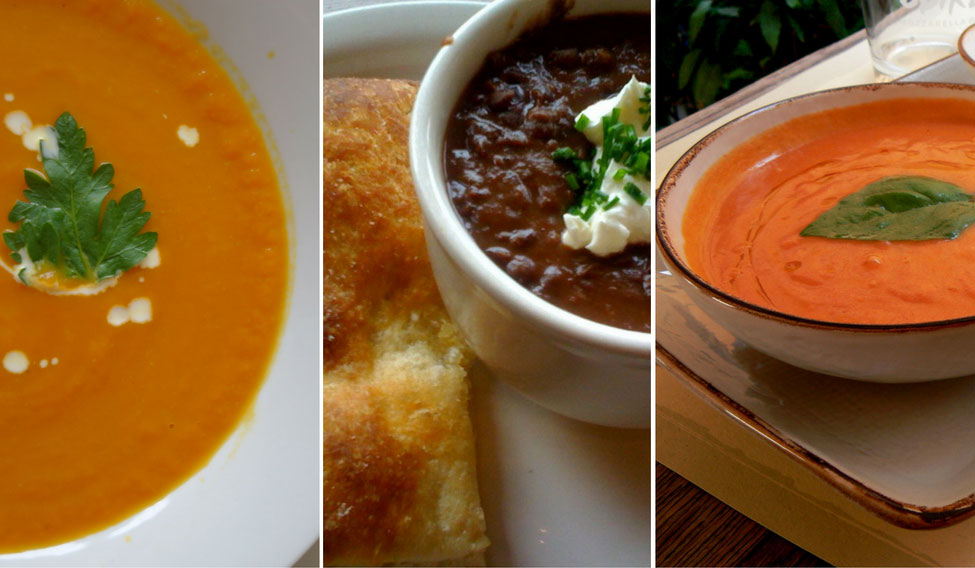 Thick carrot soup
A great source of vitamins, carrot soup is the best way to consume the vegetable with its essence still intact. Cook carrots in oil or butter until it is soft, along with diced onions and garlic. Add water and vegetable stock, and after boiling, blend in a food processor until it is smooth. You can also make a puree with water minus the stock, and add the spices you like. Ginger is a great addition for the ultimate warming effect, but also try honey or celery.
Protein-filled lentil soup
Lentils and beans are rich in protein and fibre, and as a soup is good for weight loss. Use any Indian pulse such as tur dal, moong dal and chana dal to make a puree. Then, combine it with cornflour (or cream, if weight loss is not on your agenda) and water, until it is thickened. Season with spices, salt and garnish with sautéed onions, garlic. You can also replace pulses with black beans, and swap the cornflour for water and lemon juice to make a clear soup. Add diced tomatoes for a slight gravy-like thickness.
Tomato with a twist
Who doesn't love a steaming, delicious pot of tomato soup before dinner! There are many variations that you can work around. A Maharashtrian version combines boiled and pureed tomatoes with spices, mustard seeds and tamarind pulp all steaming in a pot. If you prefer a thick soup, add coconut milk or cream. If you're willing to experiment, mix boiled tomato puree with aromatic Jasmine tea water, along with thyme and a dash of hot chilli sauce or Tabasco.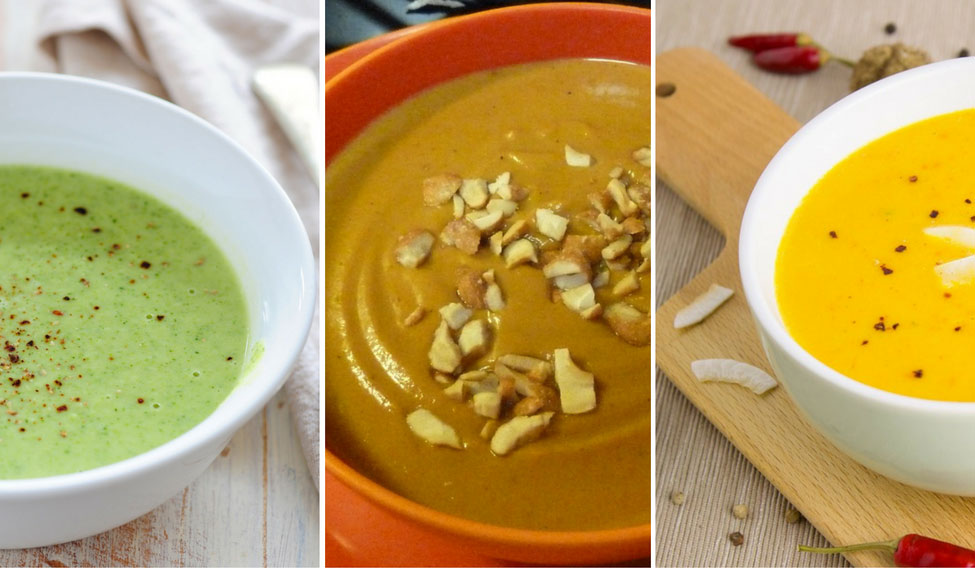 Souper greens
For those who love leafy winter favourites like Sarson da saag, this is a welcome change. Any soup with leafy green veggies, including broccoli, ensures immunity from flu and sore throats. Make it a simple, clear soup by boiling diced broccoli in stock water, or blend it with other greens—bay leaf, kale, avocado, celery—to make a smooth puree. Some recipes call for adding boiled white beans while blending to increase thickness, a healthy substitute to cream or cornflour (this also changes the colour of the soup). Give it a tangy zest by squeezing a lemon, or add apple cider vinegar, and you won't regret it.
Creamy sweet potato
Start off by mashing boiled potato, sautéeing onions and garlic and adding appropriate spices (cumin works best). Mix all of this in a pan, and add water (stock optional). Then, to make it a delicious, creamy delight, add milk, cream or coconut milk to cooked potato broth. Give it all a whip in the blender, and add lemon juice, honey or pepper to give it an extra zing. Make it a full meal in a bowl by adding leek, onion, cabbage, cheese, chicken or bacon, too.

Pumpkin
Make a nutritious pumpkin soup simply by making a puree of boiled seedless chunks. Go the extra mile and make it a meal by boiling rice along with the pumpkin. Blend these two together and then cook in stock water, garnished with spices. Optionally, include boiled potato chunks or roasted pumpkin seeds. To sweeten its flavour, roast the pumpkin (preferably in an oven) before adding it to the soup.