The critics love to hate her but Aishwarya Rai Bachchan lets her work speak for itself. Always poised and confident, the actor was in Delhi to launch the new Longines DolceVita timepiece while also taking out time to talk about her upcoming release Jazbaa, where she will be seen on the silver screen after a five-year hiatus. Sporting a minimalist look in beige and black, the actor wore the new DolceVita which is quite similar to the original; the difference being the curved dial.
"It's who we are, keeping up with the times, structured routines, living multi-tasking lives but at the same time maintaining our feminine side," said the actor and ambassador, who has been sharing a fruitful 16-year old association with Longines.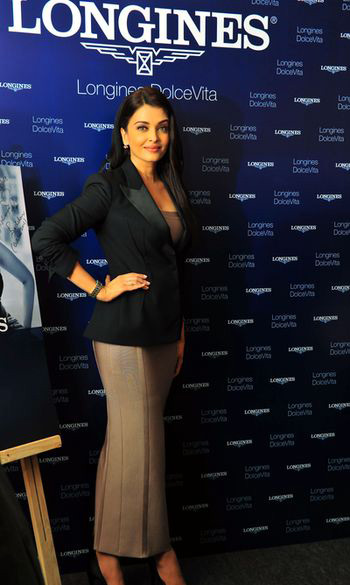 "It's been a joyous relationship and I always knew since the time I came on board that I was in fine company. To be associated with a brand that has over 182 years of rich watchmaking history is an honour. Also, it's wonderful to have a sense of luxury without screaming for attention and that is a quality I relate with the most," she says.
And while many movie buffs are touting director Sanjay Gupta's Jazbaa as her comeback film, Aishwarya Rai Bachchan clearly disagrees. "It's not because I want to be defiant. At least as far as my story goes, I genuinely did not go anywhere. I have been interacting with the media on a regular basis, so I have never really felt any disconnect. Maybe I was just a new mother who had no concept of time, and I am still dealing with my hours where day flows into the night and back into the day. But that's part of taking on a parental role. However, I was hearing scripts even during maternity leave," she says.
"In fact, Jazbaa would have been my second and Mani Ratman's was meant to be my first but then he delayed his film and Jazba rolled, and today that's the first film I am doing ever since Aaradhya was born. I have not had a conventional newcomer story and I have not had a conventional comeback story."
Bachchan, who was last seen in Sanjay Leela Bhansali's Guzaarish states that she would have agreed on Jazbaa with the same enthusiasm, even five years ago, "the only difference is I wouldn't have been an actual parent, so there is a different honesty that I can now bring to the part. It's not a script I have thought out to accept only because there could be a comeback adage or there could be a perception that now, since I am a mother, I am doing this film. It's a very strong script, and Sanjay Gupta has a very distinct language of cinema when he lets a story unfold on screen," she says.
And just like her film roles, the actor also looks for versatility in her watches. "Considering my packed schedule, I want a timepiece that I can wear to my daughter's school, a conference, at a shoot or a glamorous event. It should never feel that the watch is a misfit for the natural elegance expected of that occasion," says Bachchan.