It's come from Mumbai. And it brings with it a tang of the coast. In the form of curry leaves, coconut flavours and succulent prawns. Having said that, Masala Library, Zorawar Kalra's fine dine restaurant's Delhi edition, which opened up in the city recently, is supposed to be quite different from its Mumbai sibling.
The eatery is small, with only around ten tables. The management says, it is booked for several weeks already. That's not surprising. Delhiites love to try out anything new. Going by unofficial industry estimates, last year around 500 new restaurants opened their doors to Delhiites. But then, Masala Library isn't one of several hundred, as any well-turned (and Mumbai travelled) diner would know. It is an exclusive destination, high on experimental cuisine. You don't go to have your regular fare of tandoori naan with butter chicken here, but to embark on a gastronomical journey that pops surprises and ensures that you involve all your senses in the dining experience.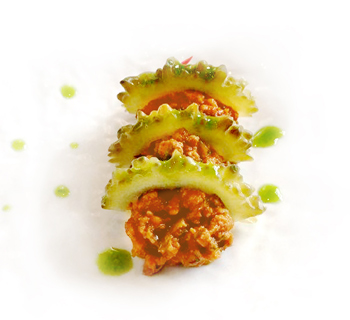 Yes, you guessed right. A lot of the surprises are courtesy molecular gastronomy; the restaurant has certainly employed this particular trick to the optimum. So you have jalebi caviar (pardon me for starting with the sweet course, why should sweetness just be for the aftertaste?) and curd rice served as a dip with curry leaf prawns. No marks for guessing that the curd rice has been zapped into a foam. The experimental experience is heightened with the use of tweezers instead of regular cutlery to pick up certain morsels as well as the abundant use of laboratory inspired glassware and liquid nitrogen.
It would be unfair, however, to call the dinner just a display of molecular gastronomy stunts.
The kitchen team has researched intensively, going to remote corners of India, to bring out flavours and ingredients hitherto unknown or at least not considered fine dine anyway. Of course, they've given their own twist to each preparation. For instance, Goa's local guava cheese inspires the mango cheese that's served as an appetiser. Kashmir is known for its lotus stem dishes, but here, you get the stem served as a crispy with a radish and walnut curd dip–inspired from the mooli-akhrot ka raita of the Himalayan state. Then again, there are certain interesting combinations like pickled bitter gourd with keema.
It was refreshing to see a wide variety from the northeast that found its way into the tasting menu. The Naga pork chop seasoned with the hot Raja chilly was a succulent morsel, while the Mizo stew of pulled chicken and black rice in an aromatic broth was the comfort food we needed on that rain soaked evening.
With experimental cuisine, one always takes the risk of not every experiment being a hit. It's the same here too. Although, what tickles one's taste buds is always a subjective matter.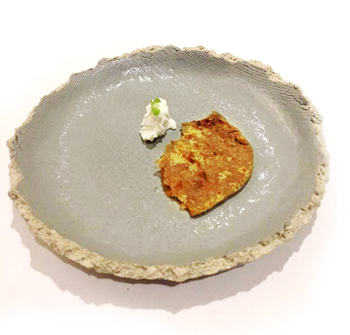 The charcoal bhajia–a take on the Bombay street food of kanda bhajiya–is an example of a lot of effort with rather little to show at the end. The bhajia gets its black colour from coconut shell charcoal, but looks neither palatable, nor brings any great surprise to the taste bud. On the other hand, the experiment with ash in dessert does create an interesting texture for the ashen kulfi (where in India do you eat a dish that's grey in colour?).
There is a fine selection of cocktails and an enthusiastic sommelier to help your pair your courses (in the chef's tasting menu). But don't turn your nose down at one non-alcoholic option, at least. It is warm toddy. Not made from the palm tree, but lemon and honey simmered with spices. You might just want a second glass. As you might of the masala chai, which is actually a wild mushroom and truffle oil soup.
The decor is all glass chandelier and racks of bottles, which, while rather chic, evokes neither the masala nor the library in the restaurant' name.
A chef's tasting menu for two costs ₹5,000 plus taxes while an a la carte leal for two comes at ₹4,500 plus taxes.