Have you ever wondered exactly what happens to your watch when you send it in for an overhaul? To find out, I visited Stoll & Co. in Dayton, Ohio, an independent watch repair company, to take a look behind the scenes. Stoll & Co. repairs all types of watches, from inexpensive quartz models to the most complicated luxury timepieces, and from vintage fusée pocketwatches to wristwatches featuring the latest escapement designs. Founded 30 years ago, Stoll & Co. performs wholesale repairs for many leading watch and jewellery retailers, and they also accept repairs directly from watch owners. In short, they see it all.
I wasn't sure what to expect when I first got there. Ask most people to envision an independent watch repair company in a midsize Midwestern town, and they probably conjure up a small workshop with a couple of watchmakers working on perhaps a dozen watches per week. As I learned, Stoll & Co. operates on a larger scale―much larger. The size and complexity of the operations were the first things I noticed. The 6,000 sq.ft facility is divided into 11 main areas. Each week, more than 3,000 watches arrive for service. Stoll & Co. employs 44 people to handle them all, and a watch may pass through the hands of as many as 15 people, including four different technicians and watchmakers, before a service is complete. A high-grade-mechanical-watch overhaul includes an initial inspection; disassembly; case and bracelet disassembly and refinishing; movement disassembly, cleaning, reassembly and lubrication; regulation; pressure testing; a second round of extended timing checks; and final quality control.
Most watches arrive at the facility via UPS or FedEx. When a truck backs up to unload, hundreds of boxes are stacked high in the receiving area and it's a beehive of activity. Everything is quickly unpacked and double-checked to make sure the number of watches delivered matches up with the individual packing slips.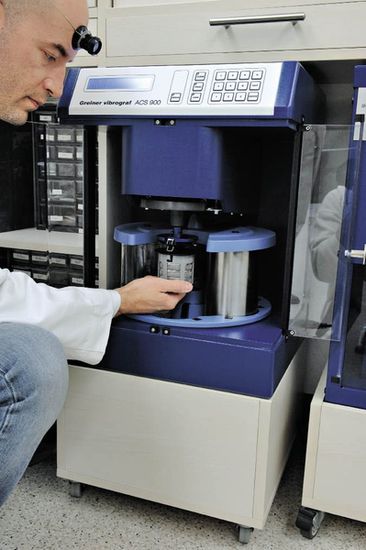 Next, repairs are sorted by type: warranty and non-warranty repairs, rush jobs, jobs requiring estimates, etc. Watches sent in by owners, called personal repairs, usually arrive with notes explaining the problems. These repairs are also sorted. Each type of repair follows a different path through the facility.
After the initial sorting, each watch and its paperwork are placed in a sturdy, clear plastic zip-top bag. Each job receives a bar code and a tracking number based on the type of repair. When I visited, Stoll & Co. was preparing to install a smart-tag system that will allow the company to instantly locate any watch within the facility.
Most watches are photographed after being unpacked to document their condition. Each watch is then entered into a tracking system powered by custom software. The software tracks every aspect of each repair, generating an audit trail listing each action taken, the date and time, and the person who took the action. Company owner Ron Stoll is so focused on efficiency that when he was working with the software designer, one of the goals was minimising the number of keystrokes required for each type of entry. He also does time or motion studies when deciding whether to purchase new equipment. Speaking of equipment, Stoll likes to use the best from top Swiss and German manufacturers. When representatives from major manufacturers visit his facilities, he wants them to see the same machines they see in their own factories.
Watches requiring estimates go to John Gaeke, a watchmaker who has been with the company since 1984. Gaeke is a collector who owns about 50 watches, and he knows a great deal about watches from all eras. It's hard to imagine many people in the country seeing more watches than he does. About 40 per cent of the watches that come in, or roughly 1,200 per week, cross Gaeke's desk. He examines each one and makes a diagnosis, noting whether parts are required. Most parts are in stock; if they are not, they are ordered.
In another department, the estimate is keyed in and a customer relations specialist sends the estimate to the retailer or owner. Stoll & Co. strives to have estimates back in 72 hours. Customers must approve estimates before work begins. All jobs awaiting approval are kept in a walk-in vault. A tickler system reminds the staff to follow up if no approval is received within two weeks.
There are different types of warranty repairs. Some are original manufacturer warranties where Stoll & Co. is an authorised service centre. Others include warranties sold by retailers that either extend the original factory warranties, or that serve as original warranties on pieces that would not otherwise be covered.
Once the needed approvals and parts have been received, jobs are assigned to watchmakers and the repair process gets under way.
Uncasing the movement is the first step in an overhaul. The watchmaker assigned to the watch handles this step, after which the case and bracelet are sent to the refinishing technicians. The case and bracelet are broken down into their component parts: case back, centre section or case band, bezel, crystal, bracelet and end pieces, buckle or clasp (if designed to be separated from the bracelet), etc. Broken bracelets and clasps are repaired before being refinished. Crystals with anti-reflective coating must be kept away from refinishing equipment and ultrasonic cleaners to protect the coating from scuffs and scratches.
Refinishing technicians evaluate the finishes and plan their approach. If they're working on, for example, a Rolex Oyster-style bracelet, they use for the polished areas a muslin buff treated with dry rouge mounted on a high-speed bench-top motor. The technician holds the bracelet in his hands and guides it on the buff. Other surfaces, such as the sides of the case, are polished with hand tools. Whenever possible, cases are finished to factory specs. Edges and corners remain sharp, if that is how they came from the factory. Experience and skill are required to get the finish just right. Unfortunately, prior poorly executed refinishing usually can't be remedied. Sharp edges and corners that have been polished away cannot be brought back to factory spec.
Next, the muslin buff is replaced with a satin wheel. A special heat-resistant tape is used to mask off the polished areas, and the satin finish is applied. Again, some areas, such as the tops of the lugs, can't be finished properly with the wheel, so they are done by hand using emery sticks. Everything is done to factory specs, which spell out details such as the angle of the satin on the tops of the lugs. Where a circular satin finish is required, such as the underside of the bezel, the part is placed in a lathe, where the spinning action yields the proper finish.
Bead-blasted finishes present special challenges, as no two brands use exactly the same finish. Matching factory finishes requires using different blasting media recipes. (Blasting media usually consists of very fine beads made from glass or aluminum oxide.) Bead blasting equipment is similar to the spray guns used to paint cars. An adjustable nozzle with a trigger is attached to an air compressor and a container of blasting media. Depressing the trigger releases an air-powered jet of media. The part(s) being refinished are suspended in a box that captures the media. As with polishing and satin finishing, areas that must be protected are masked off with impact-resistant tape.
The final refinishing steps include placing the parts in an ultrasonic cleaner for 15 to 20 minutes, followed by a steam clean and dry. Each part is then individually wrapped and sent back to the watchmaker who is servicing the movement.
The heart of the service centre operation is the clean room where high-grade mechanical movements are serviced. Here, positive air pressure, air filters, sticky mats, lab coats, finger cots, and other steps help insure potential contaminants are kept in check. This room reminded me of a smaller version of the assembly workshops at the top factories in Switzerland. Stoll also owns Carl F. Bucherer North America, which distributes the CFB brand, and Bucherer watches are serviced in this room. Most of the Stoll & Co. watchmakers are WOSTEP graduates, while a few entered the profession as apprentices. The watchmakers also receive factory-sponsored training so they are up to date on the latest movements and techniques. Technicians with training on all levels are available to handle almost any watch complication.
Each workstation has all of the tools and instruments each watchmaker needs―sharing would slow things down. Each watchmaker has a specialty, such as chronographs, calendar watches, vintage pocketwatches, etc. However, all watchmakers work on a variety of movements to keep their skills sharp and their jobs challenging.
After the movement is removed from the case, the dial, calendar display rings or disks (if any) and hands are taken off and set aside. The movement is placed in a holder, dial-side down, and if it is an automatic, the rotor, reversers and gears are removed. Next, the mainspring, barrel and barrel bridge are removed. The mainspring is inspected and replaced if it appears to be compromised.
Next, the movement components go into baskets to be placed in an ultrasonic cleaning machine, where the combination of a petroleum-based cleaning agent plus cavitation (bubbles induced by high-frequency sound waves) deep-clean everything. After the cleaning, the parts go through three ultrasonic rinse cycles, with each cycle leaving the parts cleaner than the last. The final step is a heated centrifugal dryer where a final rinse leaves the parts spot free. Each of these cycles takes about 20 minutes, and an especially dirty movement can go through the multi-cycle process a couple of times.
Once the components are clean, the movement is ready for reassembly and lube. To lubricate the movement, watchmakers use both hand and automatic oilers. Automatic oilers look like pens with small reservoirs for oil near the tip. Pressing a button dispenses oil to the tip, which looks like a very short piece of fine wire. Hand oilers look like small screwdrivers, and the tips of the wires have different shapes to hold different amounts of oil. The oil is kept in small cups with lids to prevent contamination and evaporation. The watchmaker dips the tip in the oil to pick up just the right amount for a given application.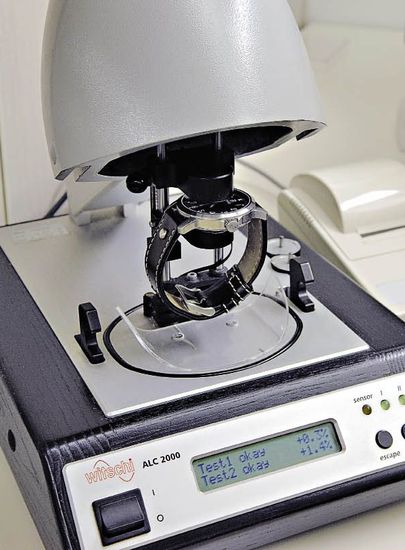 Many parts of a movement require lubrication. On a Rolex Caliber 3135, for instance, the areas that are oiled include the mainspring and barrel, the pivots or jewels for all gears, the face of one pallet stone (typically the entry pallet), the canon pinion, and several of the winding and setting components.
Once the movement is back together, it is fully wound and attached to a Witschi timing machine's microphone so that the machine can 'listen' to the watch's beat rate. The movement is attached in the dial-down position and allowed to run for a minute or two to let it settle down (it only takes the machine about 10 seconds to determine the beat rate and amplitude). The timing is checked before the dial and hands are replaced to minimise handling those components. Ideally, the room where the timing machines operate should be quiet, as the sensitive microphones can pick up extraneous sounds, which can affect performance. A loud machine operating near a timer can generate a 'snow' pattern on the timer's LCD screen, rendering the timer useless. The Stoll & Co. clean room is very quiet.
Most watchmakers regulate the watch with the movement still mounted on the microphone, so they can receive instant feedback as they make their adjustments. The microphone is on a motorised mount, allowing it to run movements through a series of positions automatically. Once the watch has been timed in all positions, the timing results are printed, and the print-outs are included with the watches when they are returned to the owners or retailers.
After the movement is regulated, the dial and hands are replaced and the movement is re-cased with all new gaskets. Gaskets must be replaced, as they can become dry and brittle. Even if they are relatively new, gaskets deform after installation, so new ones should always be installed at each service.
With the dial and hands installed and the movement in the case, but before the caseback is installed, the watch is placed on the microphone a second time to confirm that the timekeeping is still within specs. If not, the movement is regulated again. Once the timekeeping is verified, the caseback is installed and the case is pressure-tested. All timekeeping checks and pressure testing are performed by the watchmaker servicing the watch. Each watchmaker can service three or four simple watches or one or two chronographs per day.
Dials requiring refinishing are sent out to specialists. Stoll & Co. has a LaserStar welding system on site to make repairs such as reattaching dial feet.
Once a watch has been serviced and fully reassembled, it goes through final quality control. For mechanical watches, phase one is a timing and performance test. Automatics are mounted on a huge Astuto winder for five to seven business days. Manual-winding watches are hand wound once per day for the same period. Timekeeping and calendar functions are checked and the results are noted daily. Any watch that is not up to spec is sent back to the watchmaker.
After the timing check, final quality control includes checking hand alignment, crown functions, winding, and appearance (dust, lint, fingerprints, smudges, etc.). All pins and screws are checked for tightness, and all finishes are examined to make sure they meet factory specs. All old parts are returned to the customer. After everything checks out, the watch is packaged and returned to the retailer or the owner.
High-grade-mechanical overhauls of the type described here usually take four to six weeks. Smaller jobs such as bracelet repairs can be completed in one to two weeks. The watch arrives home in as close to new condition as possible, and nothing makes an owner happier than receiving his or her timepiece in beautiful condition after it has been to the spa.
Automat ics are mounted on a huge Astuto winder for five to seven days. Manual-winding watatches are hanD wound once per day for the same period.