It is never too cold for ice cream, they say. Who can resist that soft, creamy swirl and the after taste, and the joy and the chill in the tummy that follows? And so, ice creams are forever subject to innovations, with bizarre flavours and new experiments  finding their way into our appetites. In recent times, ice creams have moved out of the conventional cups, stick and cones and attained new dimensions—rolls, cakes and sandwiches.  Many of these trends are a rage across the world, and picking pace in India, too. 
Ice cream rolls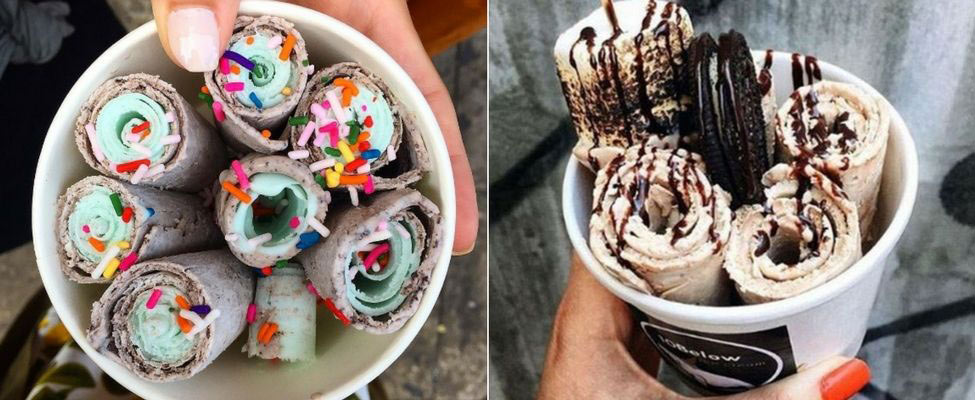 The hottest ice cream trend is just what it sounds like—little rolls of ice cream. These cute, petal-like rolls are packed into a cup, with a generous serving of yummy toppings, and, of course, hot fudge or chocolate sauce. With origins in Thailand's street food scene, rolled ice cream is made by pouring a layer of flavoured milk-based liquid onto an extremely cold metal plate that closely resembles a pizza pan. Using a metal spatula, toppings are chopped and mixed onto the base. This ensures every bite is yum! Once the ice cream is frozen cold, the layer is scraped, cut into strips and turned into magnificent rolls. Besides being insanely delicious, rolled ice cream is also a hot social media trend thanks to its picture-perfect aesthetics.
Ice cream cakes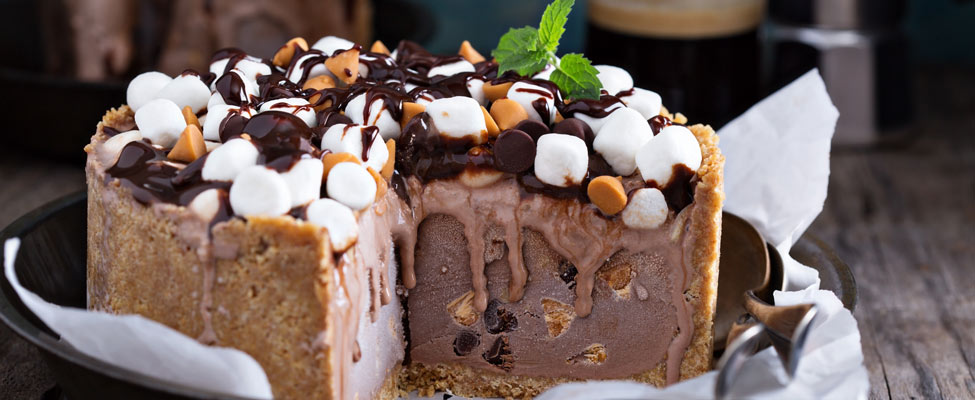 Cakes and ice creams are probably the most popular desserts, and what do you get when you put them together? A lovely combination of soft cake, and a cold creamy ice cream that melts in the mouth. A popular form of ice cream cake is the three-layer cake—a thick layer of pure ice cream between two layers of cake, with a rich layer of creamy frosting on top. The whole cake is then kept frozen, till prior to eating. When you are ready to cut into the cake, it is thawed, just enough to cut into the cake, but not so much that the ice cream melts.
Ice cream sandwiches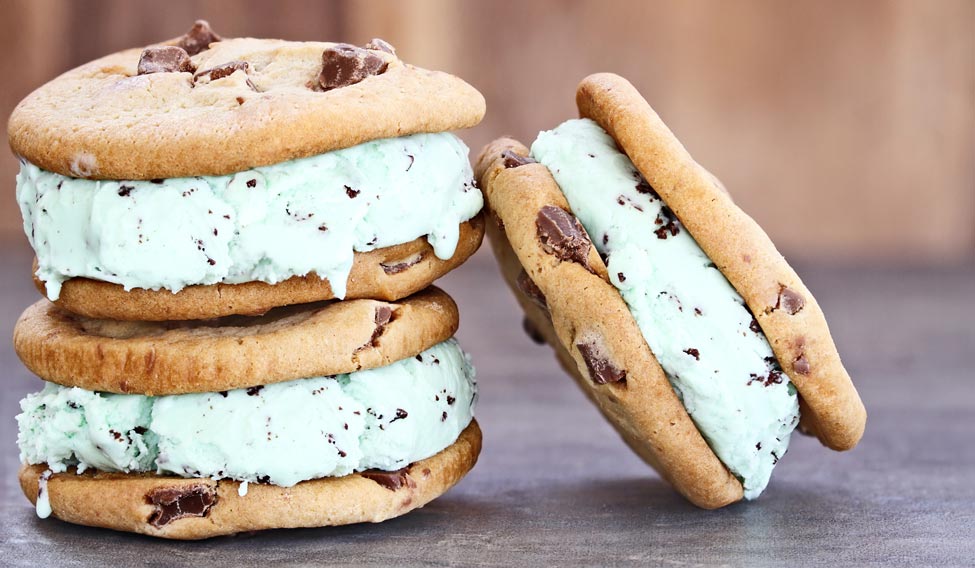 These are pretty much like ice creams between a set of cookies. The cookies need to be of the right type—not too hard, not to thick, just the right amount of crispiness. Mostly macarons are also replacing cookies to sandwich a big serving of ice cream. Your choice of ice cream—be it plain chocolate, vanilla and strawberry, or the more interesting lychee and rose or the honey-infused rosemary—is stuffed in between these cookies, and then comes in the sprinkles that add the extra zing to these sandwiches. 
Ice cream crones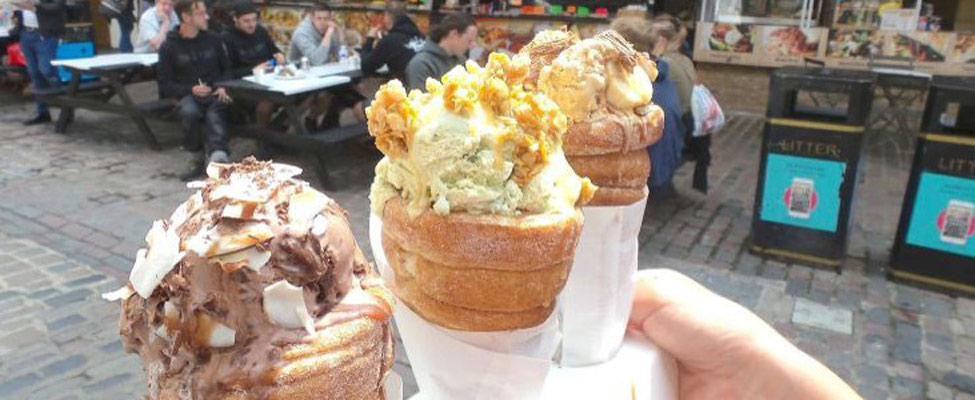 Move over boring old wafer cones, crones are here. After cronuts, delectable combination of a croissant and a doughnut, were a rage a few years ago, crones are taking over the world of ice cream. Crones are nothing but an ice cream cone made of a croissant and a doughnut. It is, in fact, made from baked croissant-doughnut dough. The cinnamon and sugar-coated croissant is modelled like a cone, and loaded with a choice of ice creams, chocolate sauce and toppings.
Cotton candy ice cream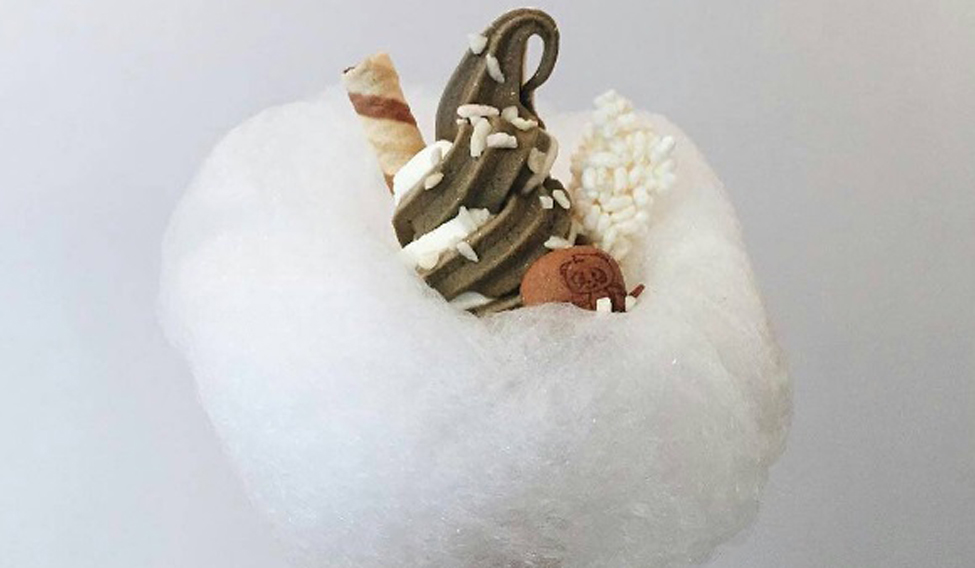 This treat, which is being offered by a Japanese cafe in London, includes a soft serve of ice cream in ice cream cones wrapped in cloudy beds of cotton candy. The Japanese cafe's ice cream flavours are vanilla, matcha (green tea) and hojicha (roasted green tea), which is a Japanese mild green tea. The fluffy cotton candy makes for the perfect setting for assorted toppings like chocolate cookie bits, popcorn and Japanese candy.