"Yoga made me see the beauty in me. I started seeing beauty everywhere. It was like putting a battery on a recharger."

"Bhakti is about having devotion for something or someone else. This will give you self-worth, which is real and not created by the ego."
It is the intensity of her gaze that surprises you in the beginning. She peers hard into your eyes for a while before her face creases into a wide smile and she envelops you in a big, warm hug. Erica Kaufman is visually impaired. The world around her is one massive Picasso painting with its medley of colours and strokes. Given this impairment, it is a mystery how she has become a popular yoga teacher in the US. "I can spot a wrong posture in the class. My students are dismayed by this," says Erica, a yoga teacher from New York who founded Lila Yoga. Lila Yoga, as the name suggests, is inspired from Krishna leela. So the moves are flowing, at times resembling a sensuous dance.
Erica was initiated into yoga when she was only nine years of age. She was a sickly child with chronic asthma and eczema, illnesses which eventually led to her visual impairment. Her mother Florence Kaufman, a follower of Indian philosopher J. Krishnamurti and yoga guru Krishnamacharya, never gave up hope and used the knowledge of yoga she garnered through various books to help little Erica.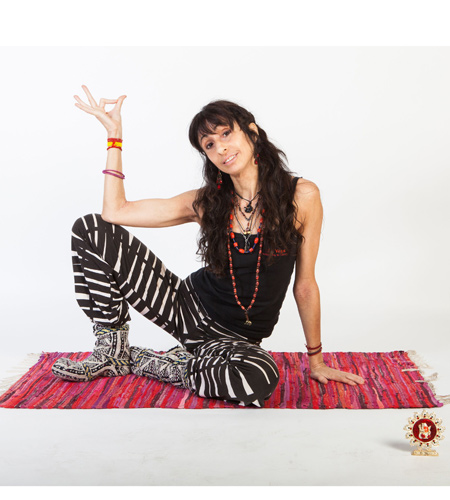 "My relationship with illness changed on the first day my mother took a class for me. The class was not intense and hardly had any asanas in it, considering my physical condition. It was mostly pranayama and visualisation with gentle movements of the body," she says. "When we finished, I felt so good, I asked my mother, 'what happened?'" an overwhelmed Erica recalls. She says her fantasy till that time was to leave her body. "Not to join the eternal; I was so sick I wanted to die," she confesses.
Thus yoga became a friend—the one who taught her it is worth living. "Yoga made me see the beauty in me. I started seeing beauty everywhere. It was like putting a battery on a recharger," she says.
Her own learning of yoga gave her a new perspective on the practice. Lila yoga is a fusion of hatha yoga (physical practice) and raja yoga (the philosophy). So, when doing Lila yoga, the state of one's mind is important. "Yoga means 'to yoke'. If you are angry while doing yoga, you are fighting and not yoking," she says.
Erica admits that growing up loving yoga in the US in the 70s was difficult. As a teenager, she was considered an oddball until some people found it interesting to do what she was doing and asked her to teach them. "I found a place to teach them which became a studio," she says.
Erica, who grew up in Israel, maintains a strong connection with India. She visits Krishnamacharya Yoga Mandiram in Chennai every year and her students who train to be Lila yoga teachers are required to visit the centre before they complete the course.
Finding self-worth
If there is one thing that binds Erica Kaufman and Jules Febre, other than their hometown New York City, it is their commitment to yoga. Like Erica, Jules too got a second chance in life through this Indian spiritual practice. A diminutive Jules does not look more than 14 years of age but packs in him a punch that makes his class extremely interesting. Trained in Jivamukti yoga, founded by Americans David Life and Sharon Gannon, Jules sings, jokes and is a lot of fun in class but when he sits down to talk about how yoga changed his life, he gets dead serious.
Jules started practising yoga when he was six. He came to India with his uncle to train with K. Pattabhi Jois in Mysore in Ashtanga Vinyasa yoga when he was 13. He went back home hating the practice. Growing up in a troubled Lower Estate Side in New York, Jules got arrested for second degree robbery with some of his friends when he was barely a teenager. He joined Andrew Glover Youth Program for reformation of juveniles and joined a Jivamukti yoga studio nearby. "I started working as a cleaner, then progressed to managing the front desk, then slowly grew to become the COO of the company at 21," he says. "I didn't quite enjoy being at the desk. That's when I did my teacher's training and became a full-time Jivamukti teacher," he says. Jules is a formidable force at Jivamukti now taking the brand to various countries to train teachers and also set up new studios.
Jivamukti style of yoga, which is hugely popular in the US and some of the European countries like Germany is based on five tenets – ahimsa, bhakti, dhyana, nada and shastra. All Jivamukti teachers are expected to be not just vegetarians but vegans. "We don't make them sign a bond but we expect them to be vegans," says Jules adding that veganism complements ahimsa or non-violence; it asks the followers to not just kill other animals but to not pay to kill as well. "Even if you drink milk, you are contributing to killing that animal because most dairy cows end up as hamburgers," he says.
For a Jivamukti practitioner, bhakti or devotion and nada or sound play important roles in their practice and life. "Most people in the West have very low self-worth. A part of it is because they think of only themselves. Bhakti is about having devotion for something or someone else. This will give you self-worth, which is real and not created by the ego," Jules explains.
A session in Jivamukti yoga begins with the teacher singing a few devotional songs accompanied by a harmonium. Rhythmic music is played through the practice. It might seem jarring to someone who is used to silence in practice but it also makes the class fun. "We experience sound everywhere. We are good at blocking out this external sound. We also block the sound within. People's minds are all over the place. Music gives it focus during practice," he says. He adds that there is sound everywhere and there is nothing called complete silence. "Then why force silence in class?" he asks.
He explains that most of the music played in the class is about Krishna, Shiva and Shakti, which also gives the students in the West an introduction to the basis of yoga and the Indian culture and belief. That is where the fifth tenet of Jivamukti yoga—Shastra—comes in. "My gurus tell me that the job of the yoga teacher is to be a translator. The asana is a good entry point to understanding yoga," he says adding that any Jivamukti class anywhere in the world is like a satsang where all these principles are incorporated.
Ask Jules what yoga means to him and he says, "Yoga helps me create space between incoming information and my reaction to it. Many people think of themselves as victims of circumstances. But yoga teaches you to cross that state and help oneself. Buddha never complained of being raised in a palace. He grew up as a prince, witnessed suffering and crossed over to help the sufferers. Yoga gives me control over my internal environment so I understand the world around me," he says with a smile on his face.