In the recent decades, the foreign media such as the BBC and National Geographic termed them as 'sex places'. Cut back to the Raj era, following the Bhumkal Rebellion of 1910—the largest adivasi uprising in Bastar, Chattisgarh—the British demolished them (another point for Shashi Tharoor?) because they considered their functioning dangerous given it was where young people assembled and discussed politics. They faced flak from others too—Hindu missionaries burnt them because they thought they were places for 'immoral sex' and the Maoists also did not like them and ordered their girls to get back home after dinner.
These were the Ghotuls or Gotuls which are traditional educational centers for youth of Gond adivasis in central India where they learnt about life.
They also learnt about sex.
"Gotuls have laws which are strictly followed. They are not a place for free sex. But only this part of Gotul had attracted journalists and filmmakers in the earlier years," says activist Shubhranshu Choudhary, whose digital initiative CGNet Swara is attempting to revive the tradition starting August this year.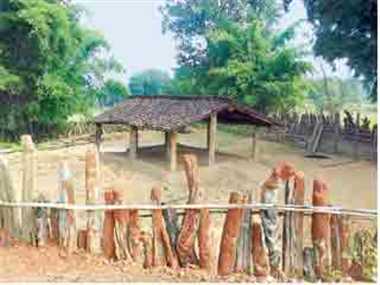 A little distance away from the foundation stone of Naya (New) Raipur, slated to emerge as India's first Smart City, stands Banjari village. Next to larger than life statues of lord Hanuman and lord Shiva in its green fields, an adivasi temple is being constructed, while a site next to it has been marked for the new Gotul. Banjari is a largely Gond adivasi village.
Sher Singh Achala, an elderly Gondi 'dharm guru' who teaches Gondi in the village explains that Gotul is a bottom up, peer to peer, democratic education system. "Here, people aged 9-19 participate in a 10-12 hour daily ritual. They are taught about their culture, traditions, agricultural practices, stories of mythology, amid dancing and singing... With the revival of the system, we hope to self sustain by selling real organic food to people in the cities." Adds Santram Panjam, 50, a village resident, "The education and professions post independence seem to be going away. It's important to reconnect with our roots if we want to be healthy in all ways. The Gotul teaches our kids about ideas of development and revolution and pass on our native language before it gets extinct."
Following Prime Minister Narendra Modi's recent launch of his pet project, Choudhary and others are optimistic. "Gotuls should be seen as centres for skill development. We are part of a movement to restart them in adivasi villages as centers of alternative education where youth can learn from each other. Gotuls can also be linked with modern technological tools like mobiles, internet and radio. We are planning to start a Gotul Radio with the help of CGnet Swara app," he says.
How this will happen
The app will enable people to record their message and song on the phone even if there is no mobile signal. After recording, one Chelik or Motiari (as they call boys and girls in Gotuls) will be assigned to walk to the place where there are mobile signals. As soon as the person reaches the place with signal the phone will automatically upload the recorded messages, songs and photos to the CGnet Swara server.


Moderators will cross-check messages before releasing them. These messages will be a part of a daily radio program which will be aired by All India Radio.


Either Gotuls will have a transistor set or the phones will be able to catch medium and short wave transmissions. The phones will be charged through solar power as most Gotuls don't have electricity.


In Gotuls, the young teach each other about life, work and culture. They will also record the same through their phones with videos added at a later date.


There will be a Bolkar Sangh (union) in each Gotul. Bolkar is new word for oral reporters coined by CGnet volunteers, similar to patrakar which means journalists in Hindi. Each Bolkar Sangh will work as an agent for selling rural materials like organic special rice for diabetes (called Kodo) to patients in cities. They will use mobile phones to do business.


A symbolic Gotul in Banjari in Naya Raipur will come up on August 12 2015. About 50 Gotul-going youth from various villages in Bastar will assemble in the village from August 9 onwards to discuss developing Gotuls as modern democratic universities.