As cruising continues to be a popular choice of vacation, cruise liners across the world are redefining extravaganza by offering unique experiences such as glass viewing capsules, golf courses, water coasters, green spaces, and a lot more. Cruising has something to offer all kinds of vacationers. Be it adventure, leisure, entertainment, fine dining, sightseeing or family time, you can get it all in the same package. Here are interesting features of some of the world's best cruise liners.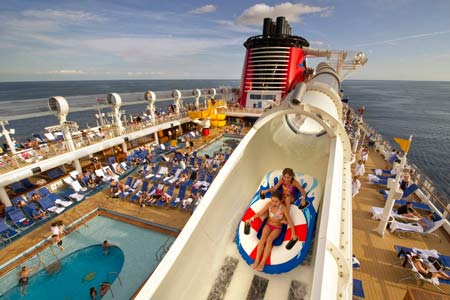 Disney Dream, operated by one of the best family entertainment enterprises, is a sailor's version of Disney Land. The cruise liner is loaded with interesting visual treats such as hidden Mickeys (yes, you can find them on railings, cutlery, and in the artwork), 'Enchanted Art' display (digital paintings that move) and innovative use of technology to create interactive MagicPlay Floors and virtual potholes in the cabins where animated characters interact with guests of all ages. Interestingly, as the ship gets closer to a port or other points of interest, these virtual potholes can be turned into high-definition web cameras for catching a real-time view of the outside of the ship.
Disney Dream also boasts of the first ever water coaster at sea, AquaDuck, a 765-foot-long transparent water slide with a drop of four decks.
Competing with Disney Dream's enthralling experience is its sister ship, Disney Fantasy. Although the two cruise liners are similar in many ways, Disney Fantasy has some unique offerings that are hard to ignore. The top two reasons include more elaborate itineraries than Disney Dream, including a stop at Disney Cruise Line's private island Castaway Cay in the Bahamas, and the recently-opened AquaLab, a 1,800sqft splash zone (water play area) with pop jets and bubblers.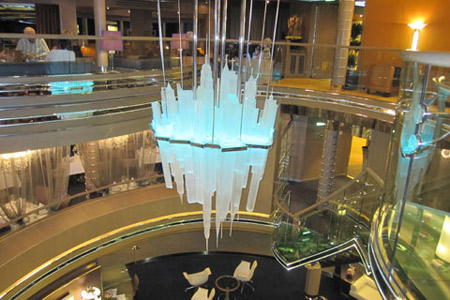 If you are looking for a traditional cruising experience on a ship that embodies sophistication, reflects history and oozes luxury, then Holland America Line's Nieuw Amsterdam will not disappoint you. Although, Nieuw Amsterdam's decor and art collection celebrate the glamour of New York City, it showcases art works, valued at over $3 million, ranging from traditional Dutch artworks, to modern artists' replica of traditional artifacts, and contemporary creations.
One of Nieuw Amsterdam's most well-known possessions is an abstract sculpture of the inverted New York skyline made of translucent blocks. It hangs upside-down from the ceiling. The ship's unique offerings also include an opportunity for guests to learn the art of cooking at the Culinary Arts Centre, presented by Food & Wine Magazine.
If '...for food lovers' is your search phrase when you plan a vacation, then Celebrity Equinox is your answer. The cruise liner has 10 exceptional dining venues that offer cuisines ranging from pan-Asian to European. In addition, it has a dedicated restaurant, Blu, for AquaClass passengers. For health conscious drinkers, the Molecular Bar has specialty cocktails made using herbal infusions, fruits and vegetables, and other natural ingredients.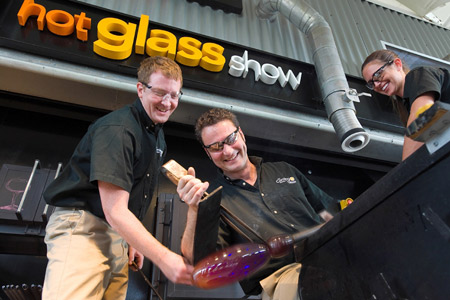 Once you get your fill of the widespread delicacies, you may take a stroll on the ship's freshly-manicured real-grass lawn, sprawled across half an acre on the highest deck of the ship. The guests are allowed to utilise the Lawn Club for casual outdoor activities. One of the most popular activities aboard Celebrity Equinox is the Hot Glass Show, which gives guests a chance to not only appreciate the delicate art of glassmaking but also be part of live demonstrations by professional glassblowers.
Larger than life, Royal Caribbean International's Allure of the Seas is an architectural and nautical marvel, and also the world's largest cruise ship. The ship is divided into seven distinct neighbourhoods, including the Boardwalk, Royal Promenade, and the lush green 21,000sqft Central Park, with about 12,000 varieties of trees, plants and flowers.
For those who hate to miss their daily workouts, even on a vacation, the Allure of the Seas has a wonder of a fitness centre. Its jogging track itself is half-a-mile long, which is nearly twice as long as an Olympic track.
The Allure of the Seas' live shows are almost as popular as the cruise itself. One of its most popular shows, OceanAria features synchronised swimming, acrobatics, aerialism, and incredible high diving in a fountain show staged at the AquaTheater, an outdoor amphitheatre that surrounds the largest and the deepest freshwater pool at sea. The storyline revolves around a mystical ancient underwater civilisation, and the show is known for unparalleled performance by the cast.