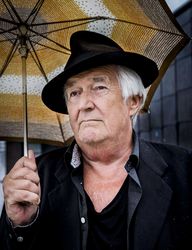 Kurt Wallander has lost his father.
Henning Mankell, the Swedish writer who created the iconic detective, died in his sleep at his home in Gothenburg on October 5. He was 67, and had cancer.
Mankell and Wallander had many similarities: they came from dysfunctional families, had trouble with relationships and drank too much. Mankell divorced thrice before marrying Eva Bergman, the great filmmaker's daughter, in 1998. "It shows I am an optimist," he said.
He wasn't an optimist when it came to Sweden. Through the Wallander mysteries (there are eleven of them), Mankell explored the silent decline of the Swedish welfare state."People… have created this mythology about Sweden, that it's a perfect, democratic society," he said. "That's bullshit and I've tried to correct that."
Mankell's Sweden is noir country—corrupt, racist, crime-ridden, and full of people with ambiguous morals. One can hold Mankell guilty of overstating that vision. After all, Sweden still remains a liberal paradise. But then, Mankell was committed to being the mirror that showed the country its underbelly. And that was what made him beloved.
Perhaps, every country needs its Mankell. India certainly does. Because, these are the times of riots, bans and rising intolerance. And they demand bestsellers less pop-corny than Half Girlfriend and Making India Awesome.