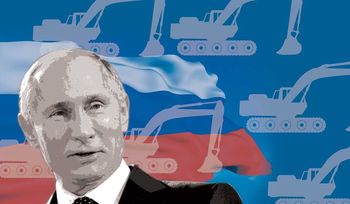 Last week, Belgorod in Russia witnessed a high-profile, albeit bizarre, operation. As armed policemen stood guard, a pack of bulldozers crushed a huge pile of cardboard boxes containing nine tonnes of contraband. The operation took an hour. The contraband in question: cheese.
Russia is waging a war on imported cheese—and on meat (except mutton), fish, shrimp, oysters, dairy products, fruits and vegetables imported from the west. Possession, sale and transport of such products have been declared criminal offence. And the government has been airing footage of bulldozed cheese, burned fruits and even euthanised ducklings.
It's all part of the sanctions war between Russia and the west post the Ukraine crisis. Last year, the west blacklisted Russian companies and blocked Russia's access to foreign capital. With import bans that began last year, the Kremlin has been paying back in kind.
The counter-sanctions are supposed to hit farmers in the west and boost domestic production. But it has not really worked. Farmers in the Eurozone have lost an estimated $6 billion, but that pales in comparison to Russia's losses—a staggering $50 billion so far. And many Russians are questioning the open destruction of food, at a time when the government cannot feed the 23 million poor in the country