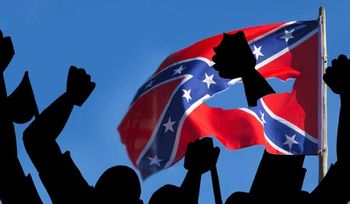 A new challenge has been flagged off on the internet. It doesn't, however, feature a bucket, of ice or rice, and the concept, certainly, is not as nice.
The 'no flagging challenge' dares people to destroy Confederate battle flags displayed on homes and vehicles. The flag, seen by African-Americans as a symbol of slavery, is still used by many as a reminder of southern US heritage.
The challenge seems to be inspired by activist Bree Newsome, who scaled the flagpole at the South Carolina statehouse and tore down the Confederate flag from a war memorial. There was public outcry over the display of the flag after the attack on a historically black church in Charleston, South Carolina, in June.
The videos surfacing on social media show people, mostly black males, running up to cars and homes, tearing down the flags, and running away. Some of these attempts have even turned violent.
"You may not like that flag, but you don't have any right to tear it down from someone's front yard, just like they can't do it to you if they don't like what you are displaying," says Heidi Beirich of The Southern Poverty Law Center, a civil rights foundation. "You wouldn't want your rainbow flag or political sign torn down from your home."
Though the issue has been widely debated online, the challenge itself, fortunately, is not too popular.